Douglas County Commission approved a $29 million jail expansion as over 100 protesters expressed their disapproval at a commission meeting Wednesday, Jan. 29. 
Protesters booed when the commission announced they would fund the project through tax bonds that will increase the city's debt. The expansion will build a new tower on the 186-bed jail, adding between 84 and 112 beds.
Activist group Justice Matters and other Douglas County activist groups held a rally and march to protest the jail expansion before attending the meeting. 
Rosie O'Brien helped organize the rally on behalf of the No Jail campaign led by Justice Matters and Kansas Appleseed. O'Brien is a board member for People's Owned and Operated Collective Housing in Lawrence.
"We are kind of making a final stand in saying ... don't use our tax money, it's $30 million," O'Brien said. "They haven't been listening when we voted in 2018 to not finance this project and they just went ahead and made a plan."
KP Preut is a para at a local middle school. Preut said he opposes the jail expansion and would rather see the money go to solving the homelessness problem in Lawrence. He said he wants the county commission to pressure the city commission to repeal ordinances 14-417 and 14-418 because it criminalizes homelessness in Lawrence.
Ordinance 14-417 prohibits "illegal camping," including sleeping or laying down bedding, storing personal belongings, erecting a tent on any public right of way or public property located within the city zoned a commercial district, and carries a penalty of $1000 and/or six months in jail.
Ordinance 14-418 prohibits "aggressive panhandling", described as touching, blocking, continuing to solicit a person after a person has refused and following or making any statement, gesture, or other communication that would cause a reasonable person to feel threatened, fearful, or compelled.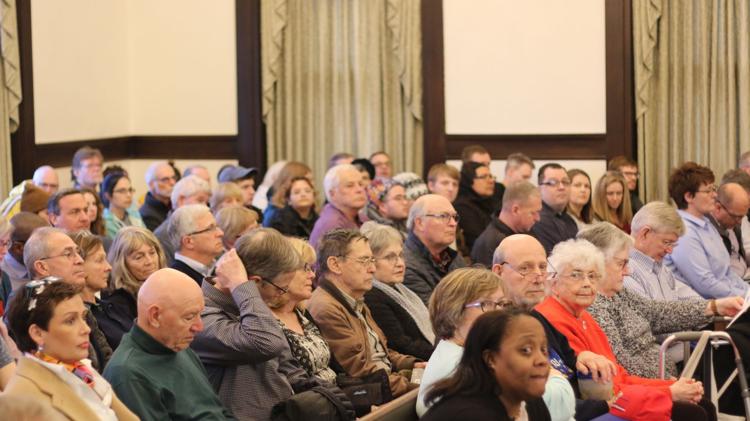 Stewart Lucman, a junior at the University of Kansas, attended the rally and commission meeting in support of the homeless community and said the ordinances are his immediate concern.
"The jail expansion will disproportionately affect the houseless community because of the cycle of criminalization in Douglas County," Lucman said. "City ordinances that target aggressive panhandling and illegal camping send houseless people into the incarceration system like the Douglas County Jail."
The county started looking into the need for expansion in 2014. The current jail is built to house 186 inmates. However, on average since 2015, the jail is home to as many as 235 inmates overcrowding the jail by more than 20%. The jail outsources as many inmates as they can to surrounding counties.
Overcrowding has sustained problems and crises that can arise, according to the city's report. Challenges include compromised safety and security by not properly classifying inmates and by regularly moving inmates in and out of the jail to be housed out of the county.
Other counties only accept low-risk inmates, leaving staff to supervise an increased proportion of difficult inmates. Inmates housed out of county are unable to receive reentry and other available services and inmates housed out of county are farther from family, local support, and attorneys.
"We are trying to meet the immediate need of bringing back inmates housed out of Douglas County," County Administrator Sarah Palinksy said at the meeting. "We want to allow for inmates to be safely housed in the appropriate housing unit ... and we want to build a financially sustainable solution."
The county put funding for the expansion up for a vote, called Proposition One, in 2018 . The county wanted to fund the expansion with a sales tax percentage proposing a sales tax increase that city officials determined would be the best way to raise the money needed for the expansion. Douglas County tallied 26,000 voters and the proposition was defeated by 1,542 votes.
For voters, the issue was finished. But for the Sheriff's Office and the County Commissioners, the conversation was far from over. The jail is still overpopulated, the funds still needed to be raised and the county is paying out more than $1 million a year to neighboring jails to house Douglas County inmates according to a 2016 report. 
Voters like Rosie O'Brien said she has a sense of "voter's remorse" thinking that the vote in 2018 had defeated the expansion altogether and that the county commissioners are not listening to the people.  
"They were going to do this all along," O'Brien said. "The 300 people that got up and spoke at the fairgrounds 2 years ago against this project was just a show to them."