Faculty, students and community members gathered outside of Allen Fieldhouse on Tuesday, Feb. 2 to protest a policy approved by the Kansas Board of Regents to make it easier to suspend tenure and fire faculty. KU is the only public university considering implementing the policy.
Associate professor Gregory Cushman attended the protest after catching COVID-19 while teaching at the University last semester. While at the protest, he held a sign that read "KU gave me COVID, now wants to fire me."
"For a long time KU didn't even bother to track whether faculty and their families were safe," Cushman said. "That made me feel like they didn't care whether I live or die."
The protestors, led by the Graduate Teaching Assistants Coalition, stood outside of Allen Fieldhouse with signs and chanted to students waiting to get into the KU men's basketball game. Other protestors stood on the side of the road, engaging cars in the demonstration.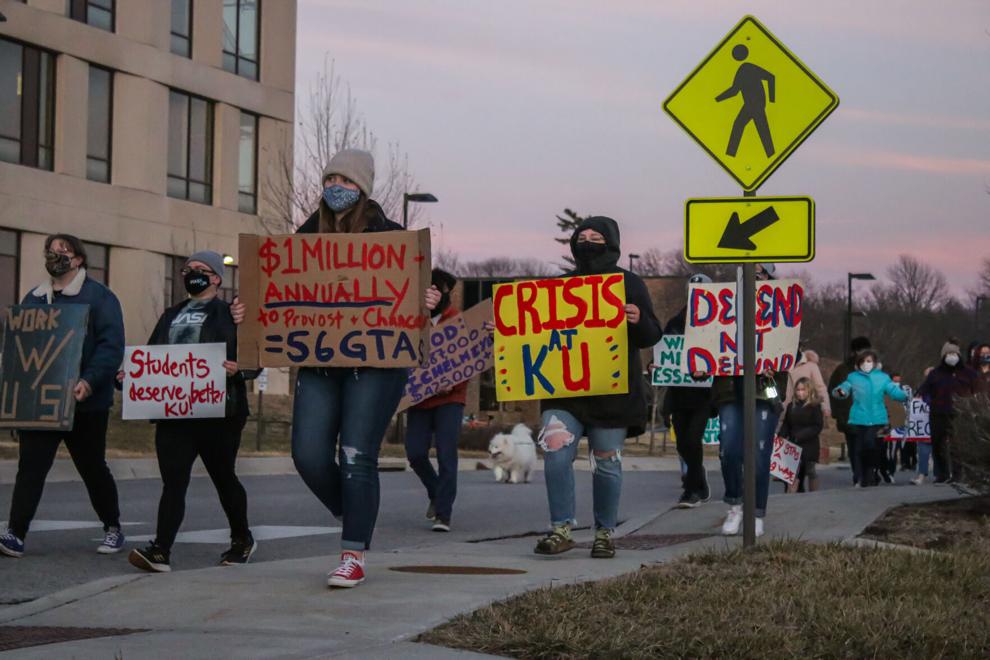 "Without the education that people come here for, we also have basketball," GTAC president Neill Kennedy said. "The university is more than just basketball."
The decision to protest comes after KBORs suggested policy, but after KU proposed a two-year pay freeze with no fee reduction for Graduate Teaching Assistants. 
"It's just really upsetting that they're using COVID as an excuse when this spending has been going on for a long time," said Emma Whitaker, a member of the Jayhawker Liberation Front.
Governor Kelly's proposal "may or may not" ultimately affect KU's final budget, according to a statement released by Chancellor Douglas Girod. The chancellor asked the community for "continued understanding of the unprecedented budget challenges we face."
"As we have consistently communicated to you, KU faces a projected Fiscal Year 2022 shortfall of $74.6 million – which could worsen depending on state funding – that will require us to eliminate programs and departments, reduce services, and implement furloughs and layoffs," Girod's statement said.
OneKU, a faculty group organized to promote and defend quality public higher education, joined the GTAC for the demonstration. 
Join us at 5:30 tonight at Allen Fieldhouse! See press release.
"The crisis at KU was not created by students and their families, the faculty, the graduate students, or the researchers who make this university... our communities are worth defending"#DefendKU pic.twitter.com/DSWwAt7861

— OneKU: Let's Defend not Defund (@OneKUFaculty) February 2, 2021
"OneKU is demanding that the KU administration decline to implement a new Kansas Board of Regents Policy which gives top administration a free hand to dismiss employees without regard for tenure or due process protections, with just 30 days notice," a OneKU press release said.
The protest also follows the firing of two staff members after the reorganization of the Diversity, Equity, and Inclusion Unit, according to GTAC's press release. OneKU is meeting at Town Hall Thursday, Feb. 4 to provide more information about the KBOR policy. 
Stef Manchen contributed to this report.