Former Student Body President Tiara Floyd called for the resignation of the student body president and student body vice president during a Diversity, Equity and Inclusion Committee's meeting Wednesday night.
Current Student Body Vice President Grant Daily compared working for Floyd's administration to "modern day slavery" in April during a Senate vice presidential debate. Floyd, a Black woman, said she did not receive a sincere apology from Daily for his remarks, which occurred after he was fired as government relations director earlier in the spring semester.
A member of the Diversity, Equity and Inclusion Committee asked Floyd what a sincere apology would entail in this case.
"At this point, if I'm being completely honest, standing in all my truth, a resignation from the both of them, or even just Grant, would be an apology," Floyd answered.
At this point in time, Floyd said the only apology she will accept from Daily would be his resignation, and said she would like to see a resignation from current Student Body President Apramay Mishra.
The Kansan called Daily and Mishra multiple times before publication, but neither could be reached for comment.
Daily shared an apology on Facebook following his comments made during the debate in April. 
"When reflecting on my time working for Student Senate I evoked the terminology 'modern day slavery' when thinking about my former employment," he wrote in part. "I apologize to everyone for my poor choice of language, but more specifically I apologize to any person of color who was hurt by my rhetoric. Everyone should expect more of me and so do I."
Floyd said she believes the public apology was ultimately a campaign tactic before Senate elections. 
"Anyone who read that would know it turned into a political statement very quickly and a campaign post," Floyd said. "It didn't actually acknowledge what he had said to who he had said it. He said very racially charged comments and blatant lies to a Black woman."
She also said Daily spoke to her about the comments in private, but described it as "barely an apology."
Floyd was invited by the chair of the Diversity, Equity and Inclusion committee as a guest. Floyd previously chaired the committee.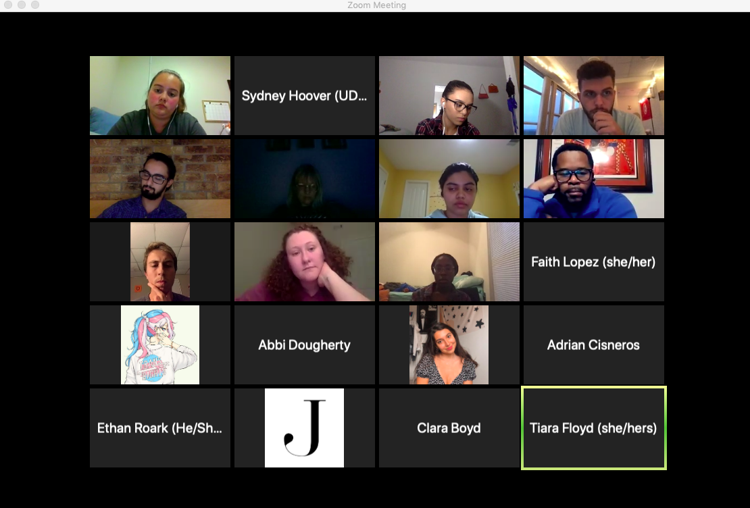 Following the Senate elections, Floyd started a social media campaign called #BlackatKU to spread awareness of her experiences on campus and those of other Black students in the KU community. 
"If I'm being very honest and open about it, the reason I started it was because of my experience in Student Senate as the first Black woman and woman of color president," Floyd said. 
She said her biggest issue with Senate is that despite the work she's seen put in to make it a more equitable space, she hasn't seen much change over the years. Through legislation, there is a want to make things better, she said, but there are still "open wounds" and things that haven't been resolved in regard to how underrepresented students have previously been treated.
Floyd also said she recognizes her role in some of these issues being a person in power during the 2019-20 school year.
"For lack of a better phrase, I think there needs to be a 'come to Jesus' moment with everyone in Senate, and I think that needs to start with a lot of questioning, and questioning of the current administration especially," Floyd said.
Earlier in the meeting, Floyd described Senate as a "racist space," rather than a white space. The committee's chair, Ximena Ibarra, said during the meeting she appreciated the term, as it creates a more active role of the inequity within Senate.
Floyd said she did not expect anything out of the majority of those involved in Senate and said some members of Mishra and Daily's campaign coalition, the Free Staters, apologized to her over the summer. She said overall, she understands the harm that came out of the situation was from a specific few people involved.
"Let's be honest, no one forced Grant to say those things," Floyd said. "No one forced Apramay to run with him. No one forced anyone to really support them."
It is unclear whether the committee will pursue Floyd's call for Daily and Mishra's resignation. Ibarra, the committee's chair, told the Kansan at this time she cannot give an answer.