Herman Cain touched on just about everything during his lecture at the 50th Annual Vickers Lecture Series, a staple of the School of Business.
Throughout the speech, Cain spoke about the values of capitalism and railed against socialism. He also touched on allegations against him during his presidential campaign and recent news he is being considered by President Trump to be nominated to the Federal Reserve Board.
Cain characterized America as being in a war between capitalism and socialism. He continually referred to the "socialism creep" that has been working its way into American culture and the need to fight it.
"Capitalism is responsible for the United States of America becoming the greatest country on the planet," he said.
Free markets and competition are what Cain said have allowed the country to accomplish what it has.
"I have learned a few things over the years about competition. It works. It lowers prices," he said. "It allows more entrance into that segment of the market."
Cain spoke out against the current push in the Democratic Party toward a Medicare for All healthcare plan.
"Medicare for All means no choice. You can't choose your doctor, you can't choose your hospital, the doctors can't choose the rates, the hospital can't choose the rates, you can't even choose which of your illnesses you want treated," he said.
Cain continued to speak against Democratic candidates who say that health care is a right.
"Is a Cadillac a right? Is eating a right? Jesus said in the Bible that man who does not work does not eat," he said.
Next, Cain turned his attention to the proposed plan to combat the use of fossil fuels.
"When God is ready for us to not have fossil fuels he'll find a way and we'll figure out how not to depend upon fossil fuels," he said.
Cain said eventually in his career money was not enough, and he wanted to make a difference, so he ran for president.
"You reach a point in your successful career when making more money isn't inspiring enough," he said.
In 2011, Cain was leading in the polls and he was surprised once his executive assistant told him.
"I had to go in my office and sit down and say a prayer. That's scared the crap out of me. I'm serious," Cain said.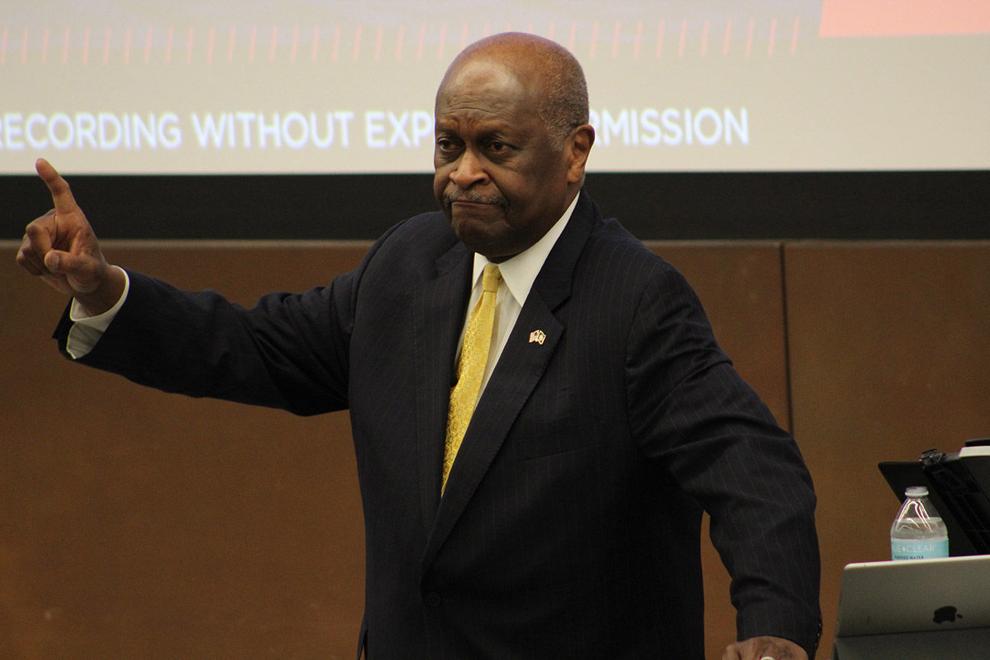 Cain continued by saying that's when "the blood sports" started, which led to the sexual misconduct allegations.
"Not one accusation was ever proved but the media kept repeating it and repeating it and repeating it as if it were," he said. "They decided I was guilty and it was up to me to prove that I was innocent. That's socialism and that's what we are fighting," he said.
As for the battle to receiving a seat on the Federal Reserve Board, "Bring it on," Cain said. He also expected to be attacked right away.
"If I have to go through Senate confirmation bring it on. I'm not intimidated by anyone up there," he said.
Tyson Merritt, a senior studying information systems, said he really enjoyed the lecture.
"Herman Cain was a wonderful speaker. Personally I agree with just about everything he had to say. He was a very passionate speaker and funny too," Merritt said.
Yoni Kaszynski, a freshman studying supply chain and finance, also said he liked the lecture.
"I liked how he related it… It's inspirational. If you're trying something that doesn't work out, get up and try again," Kaszynski said.
When it comes to the allegations and the University's decision to have Cain as a speaker, Kaszynski declined to comment.
On the other hand, Merritt did not know much about the allegations.
"Personally, I don't listen to much mainstream news. So personally, I don't know what the allegations are," Merritt said. "Personally though, after having heard him I don't see why they wouldn't have him. He sounds like a great guy and he has a pretty good story and good things to say for sure. I liked him."