The University of Kansas wants to remove a non-discrimination clause from its memorandum of agreement with a graduate teaching assistant union, potentially removing protections for GTAs who identify as transgender, members of the union say.
In ongoing contract negotiations between KU and the Graduate Teaching Assistant Coalition, KU's counsel is arguing to strike the non-discrimination clause, which provides specific protections for GTAs who identify as transgender, GTAC member Elise Higgins said. 
Instead, KU wants to adopt the state of Kansas act against discrimination statute. The statute does not provide specific protections against discrimination based on "gender identity, gender expression and genetic information," as the current memorandum of agreement between KU and GTAC does. The clause protects GTAs who identify as transgender from retaliation by an employer based on their gender identity.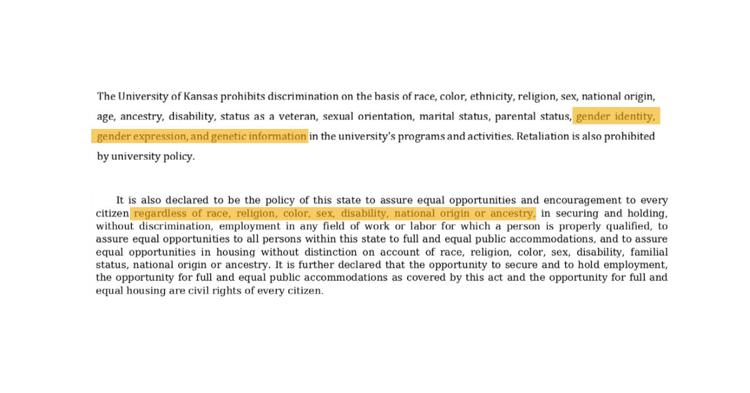 "Our non-discrimination language is stronger than the non-discrimination language used by the state of Kansas," Higgins said. "We want to make sure that all of our trans GTAs have the protections they deserve to be treated equally by their employer."
Higgins is not a member of the team negotiating GTAC's contract with KU.
GTAC's non-discrimination clause was added to its memorandum of agreement in the last round of contract negotiations in 2018, Higgins said. KU argued that the clause duplicates the non-discrimination statute of the state of Kansas, they said.
KU spokesperson Erinn Barcomb-Peterson did not respond to the Kansan's requests for comment in time for publication.
"Protections at the state and federal level can change depending on who's in office. That has become really clear over the last four years, especially for trans folks," Higgins said. "We don't want protections for workers at KU to depend on who happens to be the governor or the president. We want these protections to live in our contract permanently."
GTAC Negotiations Chair Patrick Gauding said in a negotiation update that the union's priorities are to bargain wages, hours of work and working conditions. Negotiations, which occur every two years, began on Sept. 23.
"Collective bargaining is a very powerful tool for workers of all kinds. In a lot of workplaces, it is literally the only thing that prevents employers of abusive and negligent treatment of their employees," Gauding said in the update. "That's why our contract negotiations that are happening right now are so critical."
KU hired an outside counsel to handle contract negotiations with GTAC, something it has not done in years past, Higgins said.
KU signed a contract with McAnany, Van Cleave & Phillips — a law firm based in Kansas City, Kansas — on July 7 to "engage on an as-needed basis to assist with legal issues, which may arise through University operations, or through one of its schools, programs or affiliates" according to the university's contract with the firm, which was obtained by the Kansan through the Kansas Open Records Act.
The contract between KU and MVP Law extends to Dec. 31, 2023. KU will pay the outside counsel's legal team members each between $105 and $280 per hour when their services are requested, according to the contract.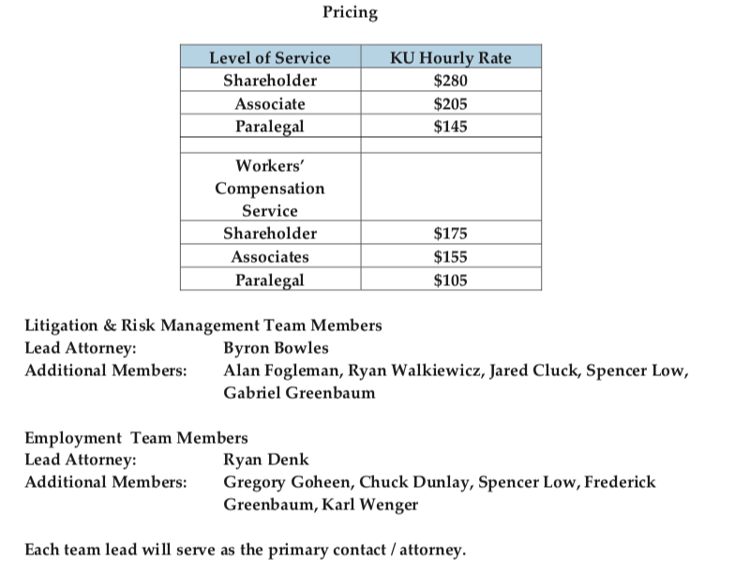 "At any time during the term of the Contract, KU Office of the General Counsel may determine that the University would benefit from the Contractor's services," according to the contract.
The lead attorney in negotiations with KU, Ryan Denk, has defended public and private employers against claims of discrimination based on race, gender, age and disability, according to MVP Law's website. In 2009, Denk defended Wyandotte County after the county's Kansas Fraternal Order of Police brought charges of mistreatment from their employer to the Public Employee Relations Board.
The Kansas Fraternal Order of Police is a non-profit organization dedicated to representing police officers. The Public Employee Relations Board handles unfair labor practice complaints against public employers in the state of Kansas.
Denk represented Wyandotte County in 2016 when contract negotiations between Kansas City, Kansas's International Association of Firefighters union were stalled for three years.
"In the past KU has not hired an outside lawyer," Higgins said. "We know that Ryan Denk has been used against the firefighters union here at the city level which is very concerning."
Barcomb-Peterson did not respond to questions as to why KU sought outside legal counsel.