Following days of protests in cities across the United States, hundreds of demonstrators flooded Massachusetts Street Sunday evening in outrage over the circumstances that led to the death of George Floyd, a black man, in Minneapolis, Minnesota.
The protest lasted multiple hours. It started at Lawrence City Hall, located off of Sixth Street. Demonstrators spanned blocks as they marched down Massachusetts Street, chanting Floyd's name and, "I can't breathe."
They held signs that read, "400 years of oppression and brutality," and, "There comes a time when silence is betrayal."
Former student body president Tiara Floyd was one of many who attended the protest Sunday night.
"It's especially important for black people to go [to protests] because it not only shows your heart and your souls, but also, you know, it shows that you're here for your community," Floyd said. 
I'm in downtown Lawrence with @lucyepeterson tonight covering ongoing protests for @KansanNews. Hundreds of people are marching down Massachusetts Street. pic.twitter.com/A6K0RQPk4B

— Nicole Asbury (@NicoleAsbury) June 1, 2020
Right before hundreds of demonstrators came to a pause in South Park, Lawrence police officers offered water bottles to demonstrators. The police department had previously blocked off Massachusetts Street for protesters to move through downtown Lawrence with ease.
Demonstrators at South Park gave speeches and led chants from the gazebo as the crowd chanted and cheered along with them.
"We've been dying since we became citizens of this country," one demonstrator said to the audience. "Help them. Don't pull out your phones, help them."
University of Kansas Provost Barbara Bichelmeyer said in a statement she and Chancellor Douglas Girod "respect and support your right to have your voices heard" ahead of the protest Sunday night.
A Statement from @KUBichelmeyer: "Chancellor Girod and I know a protest is happening this evening starting at City Hall in Lawrence at 8:00 p.m. We respect and support your right to have your voices heard." pic.twitter.com/evqP34uoYF

— KU Provost Office (@KUprovost) May 31, 2020
The protest was largely peaceful throughout the night, but there were a handful of tense moments between demonstrators and outsiders. 
Video near the intersection of 11th and Massachusetts streets shows demonstrators advising a vehicle to turn around, right before the driver places his foot on the gas pedal and moves toward protesters. Demonstrators quickly jumped out of the way.
Other than almost getting mowed down by a lady in a Toyota 4Runner, documenting tonight's events in #LFK was a success. pic.twitter.com/k5vOkg36Kx

— Kyle (@kyle_944) June 1, 2020
The Kansan reached out to the Lawrence Police Department to learn if any injuries spurred from the incident. The department did not respond by time of publication. 
Over the course of the night, protesters moved in between Massachusetts Street, South Park and outside the Lawrence Judicial & Law Enforcement Center. Outside of the Judicial & Law Enforcement Center, protesters took down the American flag and replaced it with a black and white American flag.
Demonstrators have just replaced an American flag on the courthouse with a black and white flag. pic.twitter.com/DpLwDBwIT6

— lucy peterson (@lucyepeterson) June 1, 2020
Floyd said the demonstration was not just about George Floyd, but about Breonna Taylor, Ahmaud Arbery, Trayvon Martin, Tamir Rice and others who have been killed by police.
"This is something that is much bigger than all of us," Floyd said. "This is something that is truly affecting all of us and we want systematic change in this country."
"That's why it's important to get out there, not only for George but for the countless people that have died at the hand of the police," Floyd said.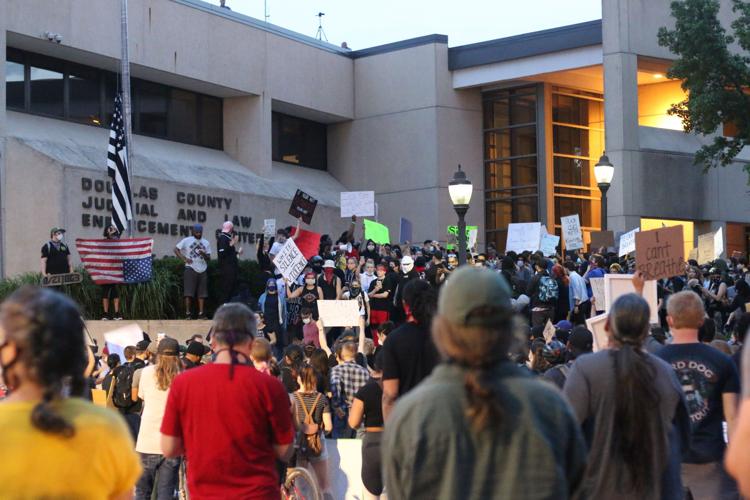 Kansas City, Missouri
KU students also attended demonstrations in Kansas City, Missouri. The protests have spanned over three consecutive days at the Country Club Plaza.
Niya McAdoo, a senior from Columbia, Missouri, studying visual arts, said the Plaza was filled with a lot of good energy from protesters on Saturday, amid police who were "100% ready for war."
McAdoo said she felt tense being in close proximity to the police, but the surrounding protesters brought her comfort, even as complete strangers.
"It definitely was one of those situations of a tug-of-war because people are conditioned — especially people of color — to be non-threatening around police for the simple fact that they have weapons, they can harm you," McAdoo said. "That is a reality for a person of color."
On Sunday, the Kansas City Police Department used tear gas to disperse an "unruly" crowd after the city's 8 p.m. curfew, according to a tweet from KCPD. Police declared it to be an unlawful gathering after items were thrown at officers. 
Police also used tear gas against Kansas City demonstrators Saturday night. 
McAdoo said she was afraid, but felt positive about the protesters around her. 
"Besides a few windows that got broken, for the most part, everybody was pretty much peaceful," McAdoo said. 
Nicole Dolan and Sophia Belshe contributed to this report.