University of Kansas students protested in front of Strong Hall Friday afternoon to call for campus to be closed after photos emerged of large gatherings over the weekend and coronavirus cases continue to increase in Douglas County. 
The protest, called a "die-in," was to "remind administration who they serve," according to a tweet from Jayhawker Liberation Front, the student organization that organized the event. The die-in came after previous calls from students, faculty and staff to close campus due to rising COVID-19 cases in Douglas County. 
Around 10 students participated in the die-in, with others showing up periodically. Students laid on the lawn in front of Strong Hall. A banner, which read "Close KU,"  was placed in front of them. 
Jam Hoffmann, vice president of JLF, organized the die-in as a way to make the group's demands from its Labor Day strike last week more visible to administrators. 
"The only problem with the strike is that it's not really visible," Hoffmann said. "We wanted to do something a little more visible, something that people could see and physically identify the discontent we have with the administration's handling of the pandemic."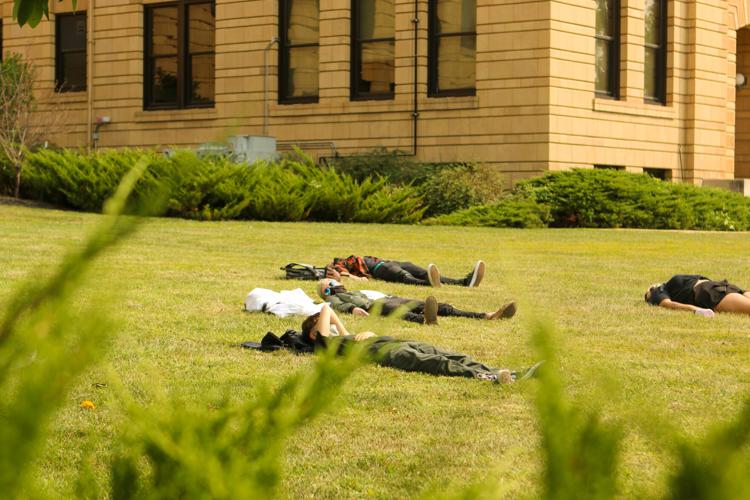 JLF's demands since the Labor Day strike have remained the same. The demands include a campus closure, providing exit testing for all students should campus close and ensuring that KU workers receive hazard pay. 
"There's not really a reliable contact tracing regime, or testing regime at KU," Hoffmann said. "If someone isn't chosen for the random testing, but they're positive [for COVID-19], there's really no way to determine that people who are infected aren't going to class."
"It also puts anyone that they're interacting with at risk, like their families, any Lawrence residents they may run into at grocery stores, at gyms, and any custodial staff that have to be on campus," Hoffmann continued.
Hoffmann disagrees with the argument that if students don't want to be on campus, they should take all online classes, or not attend school at all.
"That's missing the point," Hoffmann said. "There are so many people who can't choose to not be on campus — so many university workers whose livelihoods rely on them being on campus for their jobs."
JLF will continue to pressure KU administration to close campus, Hoffmann said, and the tactics the group will use moving forward will be more hands-on and disruptive to ensure a response from administrators. Hoffmann did not specify what tactics the group intends to use.
The Kansan reached out to KU spokesperson Erinn Barcomb-Peterson for administrators' response to the die-in, but did not receive a response in time for publication.
Demonstrators witnessed roughly five police officers sitting in the entry way of Strong Hall, Hoffmann said. Near the end of the protest, a few JLF members went inside to use the restroom, and they were followed around the building by a police officer. 
"When we asked him why he was following us, he said that he wasn't and he called it a routine building check," Hoffmann said.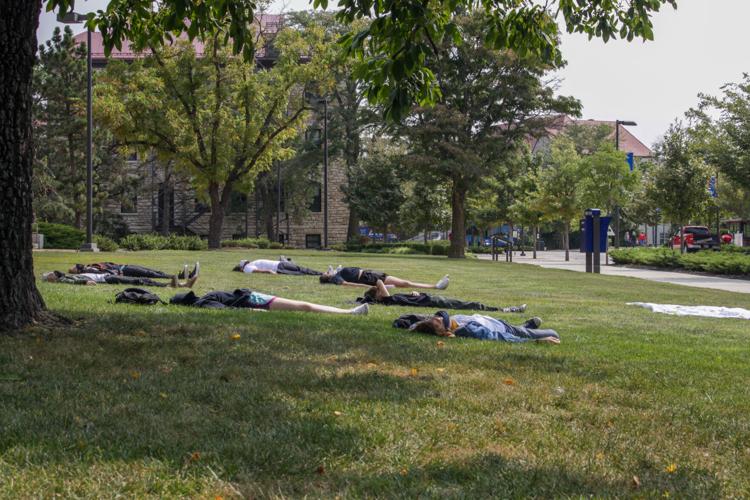 Deputy Chief James Anguiano, the spokesperson for the KU Public Safety Office, told the Kansan in an email there were officers on patrol in the area. 
"We are out in vehicles and foot patrols," Anguiano said. "It's not uncommon for officers to go in buildings or walk around campus."
A K-9 officer and Phog the Dog were out on Jayhawk Boulevard, Anguiano said. 
The die-in was the latest in a string of actions by individuals who are upset by campus reopening.
Separately, throughout the past month, unknown individuals vandalized KU property with requests to close campus.
The south east wall of Strong Hall was spray painted with graffiti around 11 p.m. Wednesday, according to a crime report, and again around 4 a.m. Friday, Anguiano told the Kansan in an email. The graffiti done on Wednesday said "Close KU" and Anguiano said the graffiti done Friday was similar. 
The front doors to Strong Hall were briefly locked with bike locks Friday morning, Anguiano said, but did not cause any damage. Investigations are ongoing for all three incidents.
JLF does not have any affiliation with those acts, Hoffmann said. 
"I do think it is a little bit unfair to pin the JLF as the only body of students who could be responsible for such a thing," Hoffmann said. "The petition we had has at least 700 signatures, so there is a pretty significant body of students at KU that is unhappy with the way that the university has done this."
Sophia Belshe contributed reporting.