The Kansan has verified the identities of and is withholding the last names of several protesters due to concerns of retaliation from their home governments. Additionally, names with an * next to their names requested that the Kansan use an alias.
Article last updated 9/30/22 at 10:59 a.m. to clarify a chant and to remove the name of a protester.
Chanting "justice for Mahsa" and "Women, Life, Freedom," protesters gathered at Wescoe beach Thursday afternoon to stand in solidarity with Iranian women against compulsory hijab rules following the death of 22-year-old Mahsa Amini.
Amini died Friday after being arrested by Iran's "morality police" for not complying with mandatory hijab rules. Since then, Iranian women have been protesting in the streets for five days, burning their hijabs and cutting their hair short. Junior Yasi Farah said she believed that the reason given wasn't true at all.
"We just thought it was really important to spread the word," Farah said. "[Protesters] are saying 'no' to the Islamic Republic that's hiding behind the name of Islam to be violent and aggressive towards its citizens."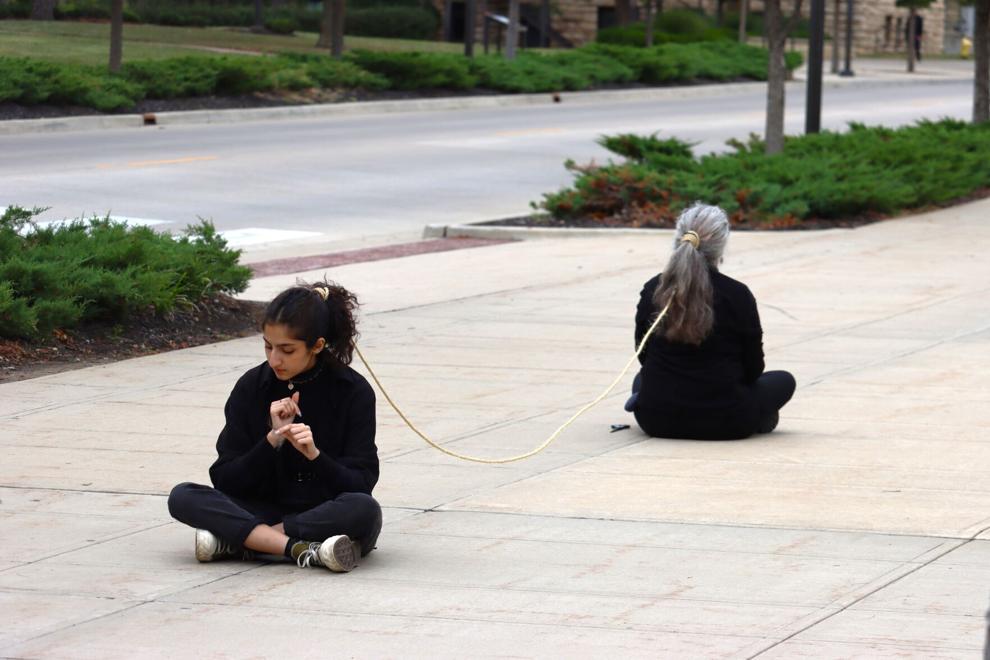 As a form of visual protest, Farah tied a rope onto her ponytail and the other end of the rope to another woman's ponytail. The rope represented the common fate and pain of all Iranian women who are all being discriminated against. While spreading the word to passersby, the performers only spoke in Farsi to convey the current issue lost through language barriers.
"What we are feeling today as performers, I'm feeling really angry," Farah said. "I think this anger will dissipate into sadness soon because we just found out that they shot down the internet in Iran so people can't contact the outside world. We're trying to be the voice for them."
Lilly*, a student at KU, had a poster taped to herself depicting a picture of Mahsa Amini with the words "We are all Mahsa Amini" printed on top. Lilly said that many women are in the streets right now trying to stand up against the government and their so-called "dress code."
"This tyranny is from our government against us, not the foreign government," Lilly said. "We feel loneliness, we feel like we don't have any support, we don't have any media here. Only a few people know what's going on."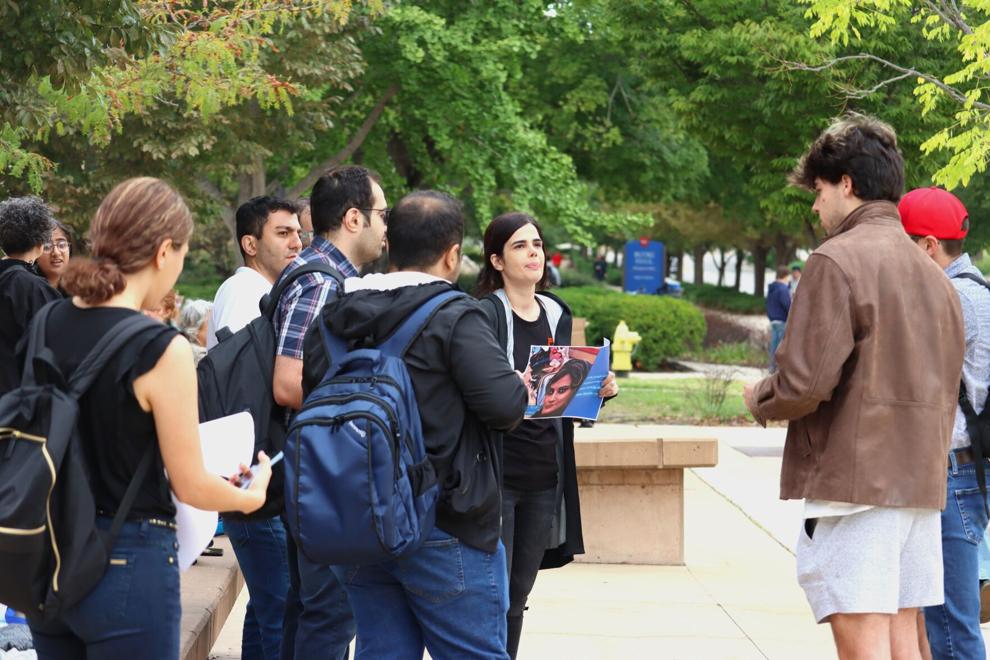 Iran recently shut down the internet as unrest in the country grew. Kaveh* said that they are worried about not only their family and friends, but also their community members' families and friends.
"Our family members and friends are under pressure. They may get arrested at any time. This is devastating to even think about," they said. "It is one of the worst situations in which a human being can be."
Additionally, Kaveh* said that anyone anywhere can help by sharing what has been happening in Iran.
"We need the world to know about the oppression and brutality that the government is imposing on people," they said.
Even so, Kaveh* said that the Iranian Community Association, who organized the protest, would like to provide support to its members. The protest and performance were ways to raise awareness as well as for people to talk and share their feelings.
"The Iranian community, and the KU community, are so supportive. I am sure that we will feel better soon because we have each other's back," they said.