Once a month, the KC Roller Warriors gather at Memorial Hall in Kansas City, Kansas, to shove and bump elbows, wave rainbow flags and roll around the track before every match. The ever growing sport of roller derby is attracting fans and players from Kansas City to Lawrence, including KU graduate student An Sasala, a Kansas City Roller Warrior in training.
The KC Roller Warriors is a local derby league with four teams: The Blackeyed Susans, The Dreadnaught Dorothys, The Victory Vixens and The Knockouts.
The culture and community of roller derby have become much more than a safe place for women to be aggressive and release anger — it's become a safe place for the LGBTQ+ community, a confidence boost, as well as a group of women who support each other despite the competition.
"It's just a very supportive community," said Autumn Kastner of the KC Roller Warriors. "We play each other, we're hitting each other but we're all giving each other high-fives and hugs as soon as it's over."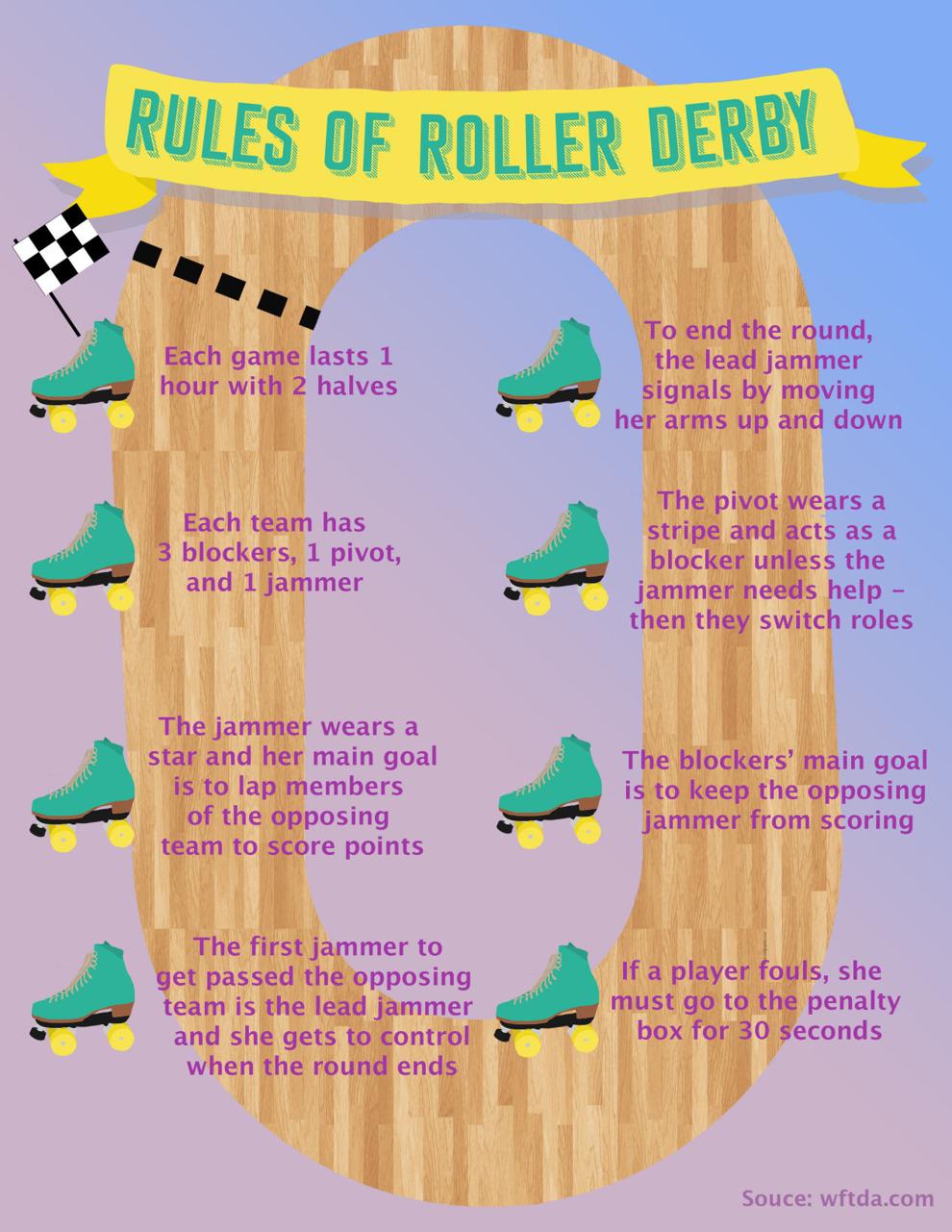 Part of what makes the derby community strong in KC is that it is completely run by the players. If a team isn't competing, it is at the front selling tickets or merchandise. Even though the sport itself is very competitive, it's a highly collaborative organization, according to members of the KC Roller Warriors.
"I like how encouraging everybody is," said Amara Seng of the KC Roller Warriors. "Everyone's always lifting you up even if you're messing up a lot. People are always ready to tell you what you're doing well and then give nice constructive criticism to help you do better."
According to the National Center for Biotechnology Information, over 50,000 women participate in the Women's Flat Track Derby Association in the U.S. with over 300 leagues in the world. In Kansas City alone, there's a community of over 75 players in the association.
"If somebody's having a bad day or gets hurt or needs literally anything, you'll have like 80 people that are now your whole community," said Spice Jam of the KC Roller Warriors.
Many of the derby players use the sport as an escape from their everyday lives and as a way to gain confidence and release aggression. Some players including Lady Killshot, Jessikaboom and Bones have also gained some fame in the scene, and they frequently sign autographs after matches.
Several of the women said that they keep their derby life and their work life as separate as possible. This is one of the reasons the players opt to have a pseudonym or a "derby name" as opposed to their real name. Many of them also have costumes and makeup that goes along with their alter egos.
"I was transitioning from being a stay-at-home mom to a full-time middle school teacher," Kastner said. "And my adviser was nudging me to just remember that I had this. I was looking for something to kind of be a confidence boost and I thought that I'll just go do something that terrifies me."
For many of the women, derby has become a method to try something new and different. It's become a vice for them to show a different side of themselves and exert some belligerence.
"Derby culture is about challenging yourself and others to try something a little crazy and falling in love with yourself and the sport because of it," said Sasala. 
According to the KC derby league, roller derby reached its peak in the 1970s and slowly dissipated after. When a local league started in 2004, KC began working to revive the derby community, helping it grow into something larger. The league started with just a few women rolling around in a parking lot and is now considered to be one of the top leagues in the country, with a growing number of fans every year.
"Everybody's trying to get everybody to improve. We're here for everybody mentally and physically – just to make sure we're all in a good place," said Kastner.