When two transgender students requested special accommodations to live in campus residence halls this fall, University housing officials worked with them to make it happen.
It wasn't the first time the University had received such requests, but this year Student Housing added a statement to its website that explicitly speaks to students with diverse gender identities and encourages them to reach out if they have a special accommodation request.
"I think that being comfortable in your living environment is really critical to student success, so we want to help that as much as possible," said Diana Robertson, director of Student Housing.
The language changes are part of a growing recognition at the University of the needs of transgender students and come at a time when college students here and elsewhere want more control over how they're identified, addressed or seen.
Adam Alexander, a sophomore from Shawnee and a member of the Spectrum KU executive board, identifies as bigender. Bigender, he said, falls under the umbrella of transgender and means he identifies as both male and female. Transgender means that a person's gender identity doesn't align with the sex they were assigned at birth.  
Click to enlarge graphic.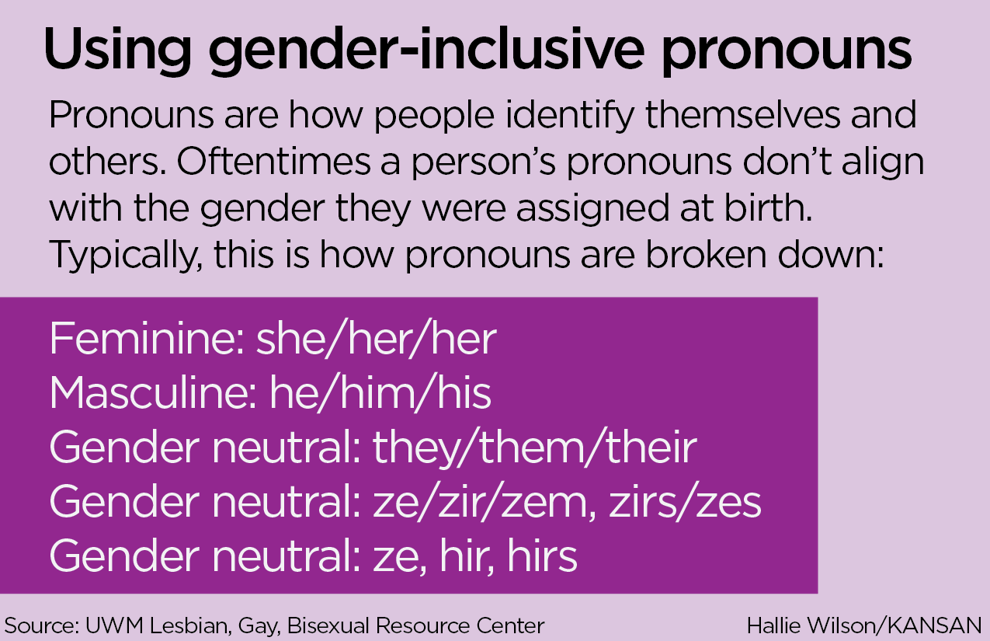 Over the past year, the University has added more gender-neutral bathrooms, hired its first full-time employee as a resource for students with diverse sexualities and opened a room in the Kansas Union designated as a safe space for LGBTQ+ students. 
Alexander said having the space in the Union, part of the Center for Sexuality and Gender Diversity, is a step toward increased inclusion.
"I love having the center because it's a place I can go and just be me," Alexander said. "I never have to worry about being uncomfortable there."
Alexander said the University dedicating that space to the community is huge. Because of the center and in part because of other programs that the University has recently introduced, Alexander said he feels "confident and hopeful about the things the transgender community can do on campus now."
He said he would love to see more gender-neutral bathrooms on campus and a residence hall for LGBTQ+ students and allies.
Currently, there are 11 buildings on campus that have gender-neutral restrooms. Vanessa Delgado, assistant director of the Student Involvement and Leadership Center and coordinator for the Center for Sexuality and Diversity, said she would like to see more.
"We have very old buildings on campus, which is great for tradition but not so great for trying to accommodate all trans students," Delgado said. "It's hard to change the infrastructure of many of the buildings because they are so old, but we try to do the best we can."
Delgado and the Center for Sexuality and Gender Diversity have worked with several campus departments to provide training on inclusivity, including gender identity.
Jenny McKee, a health educator and grant coordinator for Watkins Memorial Health Center, said Watkins employees specifically have been "trained on gender identities and the variance individuals may have when they come in here."
"They learn not to make assumptions about a student right when they walk in the door," McKee said.
One issue that McKee and others said could use more attention is the forms students use for applying to the University. The forms don't allow applicants to input their preferred name or gender identity. Instead, the form requires students to identify as male or female, and they must use the name on their birth certificate. This information is then available to campus departments.
Student Housing uses the registrar's information when students fill out their housing contracts.
"Our housing assignments are gender-specific because they are assigned based on the information you give in your application to KU," Robertson said. "But we can work around that."
And while they can't change the computer system, Robertson said Student Housing will work with students to make sure they have comfortable room assignments.
"The request for assistance is usually about wanting a private bath or a single room with bath," Robertson said. "After students move into the halls, they sometimes are asking for help in identifying a different roommate — someone open to them being transgender."
Watkins also uses the registrar's information for basic patient needs. However, to ensure that all students are as comfortable as possible when they visit Watkins, the health center has adapted its system to allow students to list their birth name, preferred name, assigned gender at birth and gender identity in the Watkins database.
"This ensures that our staff knows each student's preferences and needs every time they walk in our doors," McKee said.
But other parts of campus life can be more difficult to navigate. Transgender students may be faced with an issue if they change their name during their time at the University. Account usernames for the University's online services typically include an individual's initials and cannot be changed by KU Information Technology, McKee said. So if someone's initials change because of a name change, their login must still remain the same.
"This could be very painful for a transgender student to have to relive their former self every time they login to anything KU-related," McKee said.
While the online ID issue is one that can be an obstacle for students, other departments on campus, like the Ambler Student Recreation Fitness Center, strive to improve accommodations for transgender students.
"A student can identify as they please and use our facilities accordingly," said Jason Krone, associate director of facility management.
Last year, the Rec Center established what it calls an "accessible" bathroom, Krone said.
"We call them accessible restrooms because they can really be used for anything — gender-neutral, breast-feeding and so on," Krone said. "Bottom line, we believe that the restrooms should be accessible to the entire KU campus community. Our whole goal is to for all KU students to feel as comfortable as possible in our facility."
— Edited by Derek Skillett
Correction: An earlier version of this article misnamed the associate director of facility management at Ambler Student Recreation Fitness Center. His name is Jason Krone, not David.