The University of Kansas Alumni Association filed plans with the City of Lawrence for a roughly $30 million remodel project for the existing Adams Alumni Center and a 50,000 square foot addition of the new "Jayhawk Welcome Center," according to records obtained by the Kansan.
The new building would be an extension of the KU campus and Jayhawk Boulevard and house the KU Alumni Association, as well as the offices of enrollment and admissions, according to the application filed with the city. The welcome center is expected to cost about $21 million, with the renovations to the existing structure amounting to $8-9 million, according to KU Alumni Association President Heath Peterson.
"The building will function as a welcome center for KU and will house the admissions department," said Evan Fox, principal at Helix Architecture and Design, the firm in charge of the project. "All tours for prospective students will be run out of this building."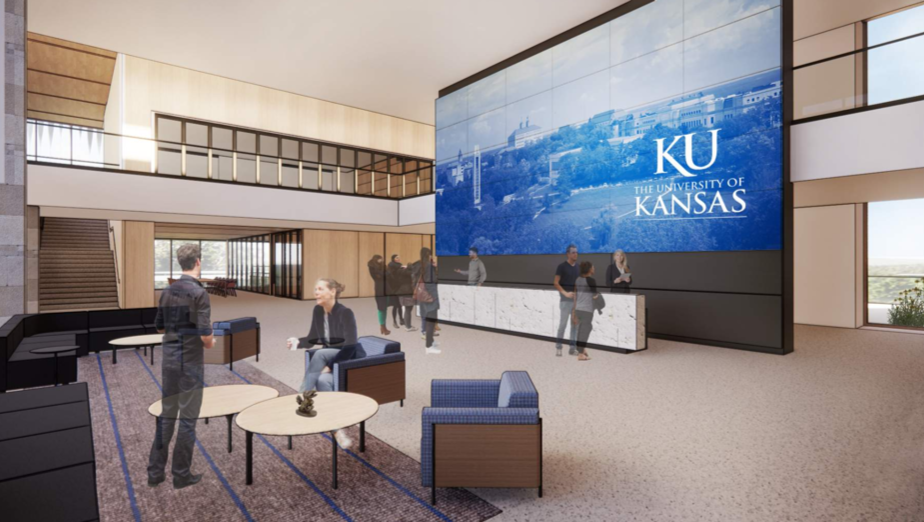 The plan, first reported by the Lawrence Journal-World in late March, drew criticism from KU Faculty Senate members, given KU's current budget crisis and the possibility that tenured faculty could be terminated to ease the financial strain on the university under a controversial Kansas Board of Regents policy.
"Faculty have noted with great concern, anger, and frustration the recent news reporting a multi-million dollar project to build a new welcome center on Jayhawk Blvd," Faculty Senate President Lua Yuille said in a written report to the University Senate on March 25.
KU Provost Barbara Bichelmeyer responded to criticism by distancing KU's administration from the project in the University Senate meeting on March 25.
"The welcome center is a project of the Alumni Association," Bichelmeyer said.
Yuille responded to the provost's response in the Faculty Senate meeting, which commenced immediately after the conclusion of the University Senate meeting.
"It's disingenuous to think this wasn't the administration's idea," Yuille said. "The chancellor should have stepped in and stopped this."
In a design review application submitted to the City of Lawrence, Fox said the project had the backing of KU Chancellor Douglas Girod.
Peterson confirmed Girod was supportive of the project in an email he sent to the Kansan. He added the idea was developed with KU leaders.
"The Chancellor has identified the Jayhawk Welcome Center as a critically important priority for KU," Peterson said. "The project emerged in discussions among University leaders about the daunting enrollment challenges that confront KU and all of higher education."
Peterson also defended the expenditure during KU's financial crisis and clarified the addition of the Jayhawk Welcome Center and renovation to the existing alumni center were privately funded.
"Donors and philanthropists generally don't give to solve budget challenges," Peterson said. "The reality is, if this project were not occurring, the dollars would not be available to solve budget challenges."
The provost's office declined to provide the Kansan with further comment by the time of publication.