University of Kansas employees who earn more than $50,000 annually will see a reduction in their salary for six months in order to ease the effects of a $120 million revenue loss due to the coronavirus pandemic.
The reductions are tiered and based on the employee's salary — those who make more will see a larger reduction percentage, Chancellor Douglas Girod and Provost Barbara Bichelmeyer said in an email to staff and faculty Friday. Student employees, such as graduate teaching assistants or student hourly workers, and employees working on H-1B visas will not see a salary reduction.
"Our decisions continue to prioritize equity and reflect our commitment to protecting KU's most vulnerable populations," the email said. "As a result, we believe these are the appropriate next steps to ensure KU's health, limit drastic impacts to employees, and allow KU to continue its mission well into the future."
The plan will go into effect Aug. 23 and will remain in effect until Feb. 20, which covers 13 pay periods, according to the email. Administrators estimate the plan will generate roughly $7.9 million in savings for the University.
Employees who make between $50,000 and $59,999 will see a 1% salary adjustment. For each salary increase of $10,000, the reduction for the individual's pay goes up by 1%. Employees who make more than $200,000 will have an 11% reduction to their salary.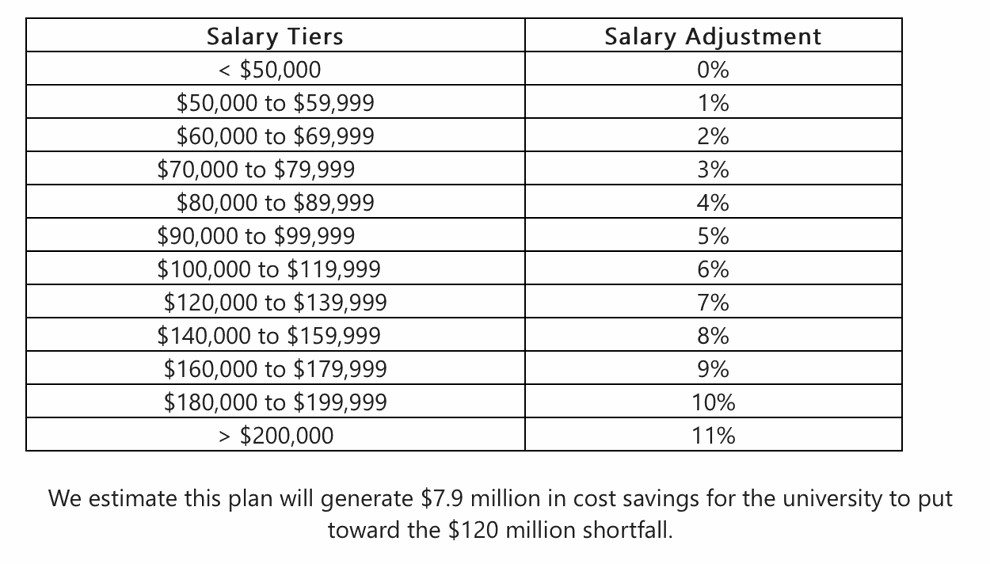 Health insurance coverage will not be impacted by the plan.
KU is not planning any university-wide furloughs right now, the email said. However, individual departments may need to plan furloughs, according to the email. The commitment to paying KU employees through the end of the fiscal year ends on June 28.
"Please note, these newest measures will not fully address our projected $120 million shortfall," the email said. "Additionally, as we've said previously, there are still a number of unknowns that prevent us from having a full picture of the pandemic's impact on the university."
KU leadership estimated around $38 million will come from individual departments that saved money from vacant positions from the 2019-2020 fiscal year, and from those departments' carry forward. Another potential $16 million in the next fiscal year will be put toward the $120 million shortfall, after KU does an internal review of its operations and academic offerings. 
"By now it's clear we are facing one of the most challenging times in KU history," KU leadership said in the email. "We hope it's also clear we do not take lightly the financial decisions we have to make."