The College of Liberal Arts and Sciences will cut approximately 25% of its budget for graduate teaching assistants and lecturers for fiscal year 2022 in order to save $5.8 million, according to a memo sent to CLAS department chairs written by Director of Finance and Planning Mark Reynolds.
Department chairs in the college were advised to review their lecturer and GTA budgets and consider how tenured and tenure track professors, teaching professors and multi-term instructors can be redeployed from courses such as electives and special seminars to essential courses, according to the memo obtained by the Kansan.
"Moving toward a more efficient use of all of our instructional resources will reduce the overall number of new GTA commitments we can make for fall 2021, thereby impacting graduate admissions," Reynolds wrote in the document.
GTAs who are already working in the college or who were previously offered a position for the 2021-2022 school year will not lose their teaching position. The college is expecting to face a 5-10% budget cut due to lost tuition revenue and state budget challenges — a loss of between $5.4 million and $10.8 million — Reynolds wrote in the document.
GTAs make around $17,750, according to KU budget books.
The memo did not specify how many lecturers and GTAs the college will lose.
The College's previous budget cut of $6.2 million in 2019 translated largely into reducing faculty members, according to the memo. Reynolds wrote that department chairs will need to look at flexible components of their instructional budgets, primarily lecturers and GTAs.
"Essentially, departments will need to maximize use of tenured/tenure track faculty, teaching professors, current GTAs with ongoing commitments of funding, and other multi-term instructors in order to meet instructional loads for FY22," according to the memo.
Reynolds declined the Kansan's request for comment and directed the Kansan to CLAS spokesperson Heather Anderson. Anderson directed the Kansan to Director of Internal Communications in the Provost's office Jill Hummels. Hummels said she hasn't seen the message from the college and directed the Kansan back to Anderson.
Anderson did not respond to further requests for comment by time of publication.
Hollie Hall, a Ph.D. candidate from London, lost her job as a GTA in the humanities department after previous budget cuts in the College for the 2021 fiscal year. While the impending cuts don't affect GTAs already working in the College, Hall worries it will have a lasting impact on graduate students who come from low-income families.
"Unless you're from a very rich family, [the cuts] are going to make ascertaining a graduate degree very difficult for students that are low-income or first-generation," Hall said. "We already know that universities and higher education systems are dominated by people from affluent backgrounds that have social and economic mobility, and it's just going to make it that much more difficult for those students that are trying to make something of themselves to get a degree."
When Hall lost her job, she lost funding for research and health insurance along with it. She said low enrollment in humanities was a factor, but it was the coronavirus-related budget cuts that ultimately lost her the job.
Once the specific amount of funding becomes clear, department chairs may be able to offer more GTA positions, according to the memo. Chairs were asked to consider several questions in determining whether a course was essential for the department's schedule of classes:
Is the lecturer/GTA solely responsible for the instruction of the course? (e.g. - leading labs, discussion sections, drill sessions, or otherwise listed as the instructor of record, etc.)
Is the course required for the major or completion of the degree?
Is the course a service course or does it fulfill a KU Core requirement?
Has the course met the minimum enrollment of 12 students per section for the past three years?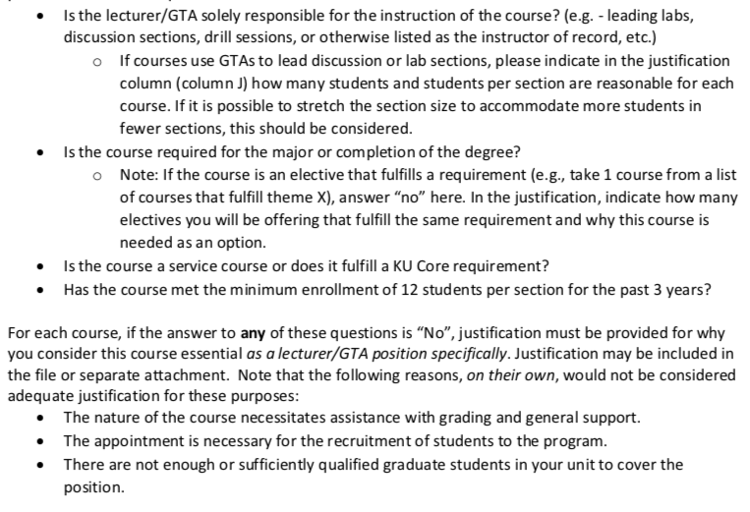 If the answer to any of the questions is "no," chairs must provide justification as to why the course is essential for a lecturer or GTA position, according to the memo. Justifications such as "the nature of the course necessitates assistance with grading and general support" or "the appointment is necessary for the recruitment of students to the program" are not considered adequate on their own.
The College cut 211 of 1,184 "unique" courses from the fall 2020 course schedule due to low enrollment, according to the memo.
"Given our current situation, we will need to focus on offering what is essential in our curriculum so that we can offer a quality education to students with much greater budget efficiency (i.e., fewer classes but greater enrollment in each class)," Reynolds wrote in the memo. "This will allow us to meet upcoming budget cuts and reinvest our budget in additional critical faculty hires."
Chancellor Douglas Girod announced on Oct. 30 that KU is facing a budget shortfall of $47.6 million in the current fiscal year due to the financial impact of COVID-19. The deficit comes from a loss in general fund academic operations, auxiliaries such as KU Student Housing and Parking, and affiliates such as Kansas Athletics and the Memorial Union.
Girod didn't provide a breakdown of how much money individuals schools lost, but an overall enrollment decline of 2.8% contributed to "cost-saving measures."
"Graduate school is already competitive, and now it's going to be more competitive just to get funding," Hall said. "Those disciplines, such as the humanities, are super important to how undergraduates learn. Less of a value is placed on classes which really impact a person's critical thinking skills and those are classes that are taken in the college. I think that's a really big shame."