The KU Field Station, managed by the Kansas Biological Survey and Center for Ecological Research, offers students a unique escape from the campus buzz.
The biological research station, established in 1947, is only a 20-minute drive from campus and includes over 1,800 acres of prairie, woodland and water resources. Sheena Parsons, the station manager, said the seemingly mundane stretch of land serves the community in various ways.
"You can kind of think about it as a big outdoor classroom, essentially our laboratory," Parsons said. "People can use it to study pretty much all aspects of the ecosystem. You have people that focus on one small part of a particular organism or genetic components all the way to the whole ecosystem level. Other people use this station for like natural inspiration, studying in various different ways. It's not just science or environmental."
Covering a large area, the station's maintenance is year-round to sustain the environment and its inhabitants. During the winter when temperatures fall, most growth enters a dormant state, and field burning becomes a priority.
Burning fields helps clear areas for new growth and leads to more diverse prairies. Parsons is also the fire planner for the station, revitalizing the area through controlled burning efforts.
"Fire is a tool, right? And we can apply it in different ways to sort of target different goals," Parsons said. "This is kind of the time that we really have time to slow down and like think about the broad plan for throughout the season," Parsons said. "[We've identified] certain problems or things that we want to address. And so now we're cutting fire lines, getting ready for those burns. It's a period to kind of reset."
The keys to a successful prescribed burn are right fire, right place, right time. And lots of education! Our fire manager, Sheena (orange hat), taught a group of student researchers how to safely burn their research plots yesterday.#kufieldstation #goodfire #lawrenceks pic.twitter.com/0o62zF1hj2

— KU Field Station (@KUFieldStation) January 7, 2023
Even though it may seem counterintuitive, the fact that the landscape of the station is not "pristine wilderness" makes it more practical for studying the environment. Since the land has already seen considerable human activity, Parsons said that it facilitates research projects that would otherwise lead to unprecedented changes in the ecosystem.
"There has been a lot of historic disturbance on a lot of the parcels that we have that are post-agricultural," Parsons said. "Instead of like a native remnant prairie or something where you want to try to minimize large scale disturbances, [on] some of our land, we have the capability to do these sorts of more manipulated projects without as much impact initially because it's already been disturbed."
While research is a key focus of the station, it also provides the public with a variety of experiences. A five-mile trail system offers individuals the opportunity to explore an environment they may not frequently engage with up close, with the added bonus of stunning views and a litany of informational plaques.
The field station also works to put on educational events for Kansas students and the public. The station hosted its first Science Sunday in January, a series of talks exploring natural science, often directly related to research happening at the station. The first talk, given by KU Biodiversity Institute Ph.D. candidate Lucas DiCicco, discussed his research into the movement patterns of red-tailed hawks in the Great Plains.
Wendy Holman, the station's education program coordinator. She has been responsible for recent education and outreach programming, which she said has shown the demand for a resource like the Field Station in Lawrence.
"As we begin to offer public education programs at the KU Field Station, we are seeing that the community really wants to engage with their local environment," Holman said. "By providing education and facilitating opportunities for people to connect with the environment, we are able to help them make positive changes in their lives and become more active environmental stewards. We are really excited to see how many people are eager to get outside, learn about local ecosystems and connect with like-minded people."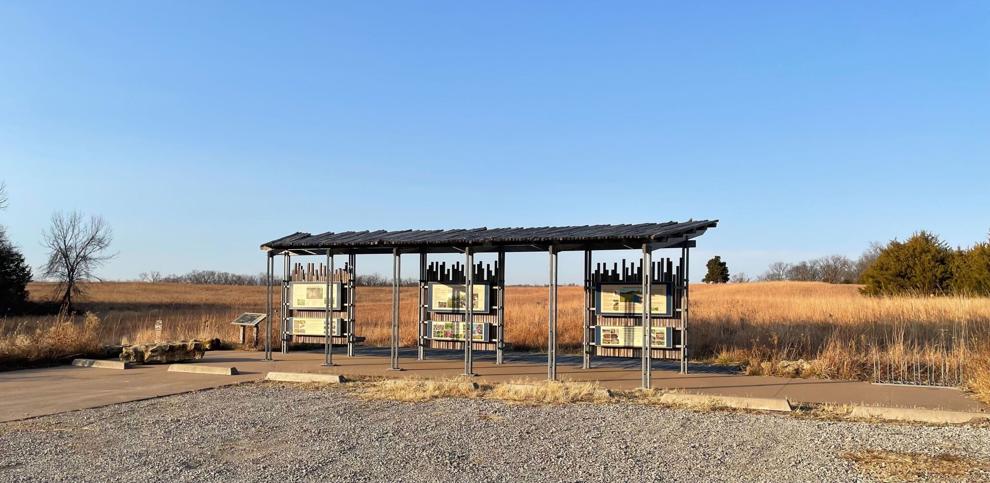 These various components come together to create a resource that provides students with unique opportunities to experience nature. Rory Sweedler, a junior from Boulder, Colorado, and co-president of the EnvironsKU, said that the field station has many interesting and interactive possibilities for engagement.
"I think that the field station is super valuable because it provides a way to have a physical place to teach students about the environment and about things that impact it. It's also got some incredibly interesting areas [such as] the Henry Fitch reservation," Sweedler said. "KU Environs goes out and does trail restoration there, so it's a great way for us to get outside and help out."
Like all natural areas, the field station is ever-changing and always offers something new to experience, whether that be new growth at the beginning of spring or the serene stillness of the trails as the year draws to a close. Parsons is grateful for the opportunity to witness the station through all of its stages and encourages others to walk the trails throughout the year and take notice of its differences.
"I feel like there's a lot of people that just think about, like, the wildflowers or something, and then they'll miss that really awesome buttery crinkly fall that emerges after, and then the winters," Parsons said. "When you have the snowfall, that's when you capture all of the other critters that you don't even notice are around just based on the tracks that you see everywhere."
For updates on the KU Field Station, follow @KUFieldStation on Twitter or subscribe to its newsletter.