While many students are turning to social media to raise awareness for Black Lives Matter campaigns, two recent University of Kansas graduates are taking it a step further by donating profits made from their small business. 
Katie Lamar and Shayna Brochstein started "Druncheese" back in September 2019 during the start of their senior year. It's a mac n' cheese and grilled cheese stand open to KU students on Tuesday nights near 14th and Tennessee Streets.
The Druncheese stand temporarily closed in March due to COVID-19 and KU transitioning to online classes. But Lamar and Brochstein decided to reopen for one night on June 13 and donate 100% of their proceeds to Black Lives Matter organizations.
"We saw the protests happening around the city and wondered how we could make an impact that was beyond just posting on Instagram or making a single donation," Lamar said. "We decided to hold Druncheese one last time as a way to unite and hold each other accountable to start a conversation for making a difference in the future."
Lamar and Brochstein picked three different charities to donate to: Midwest Innocence Project, Kansas City Community Bail Fund and Campaign Zero.
Midwest Innocence Project is a non-profit organization that works to exonerate wrongfully convicted prisoners in Arkansas, Iowa, Nebraska, Kansas and Missouri. Its website states there is up to an estimated 7% of inmates that are innocent of the crimes they've been convicted of.
Kansas City Community Bail Fund is an organization that helps raise money to bail people out of jail while they're awaiting trial. The organization believes it is important for people to be able to keep their jobs, stay in school and be with their families until their trial, according to their website. It's currently helping people who have been arrested at recent protests.
Lastly, Campaign Zero is a platform with the goal of ending police brutality in the United States. According to the platform's website, more than 1,000 people are killed by police each year and nearly 60% of the victims are unarmed.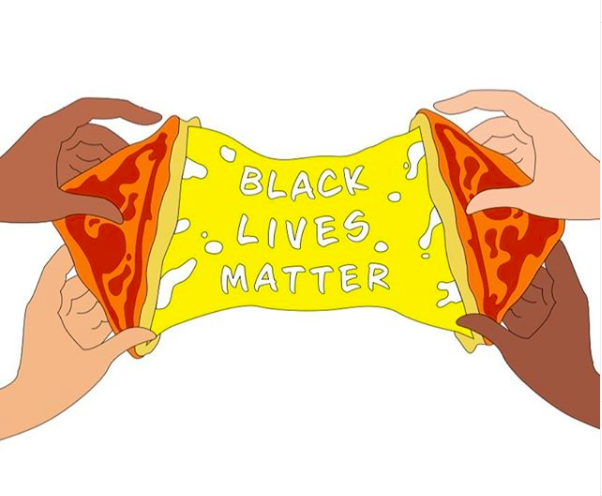 After marketing the fundraiser on social media, Lamar and Brochstein were blown away by the amount of people who came to support these charities and also eat grilled cheeses.
"It was truly an incredible night," Brochstein said. "So many people showed up to support the cause and many others donated through Venmo. The whole thing went far beyond my expectations. It was so powerful to witness the impact made by all of us coming together."
Together they raised nearly $3,500, which they split up evenly between the three organizations.
"Our original goal was $500, which we made in the first couple hours after promoting it on social media," Lamar said.  "It was so amazing to see people from all over the country donating."
Even though they will be leaving Lawrence soon, Lamar and Brochstein don't want Druncheese to end. That is why they recently came up with the idea to start their own website, www.druncheese.com, which they hope to launch next week. 
"Katie and I both want to continue sharing our passion for food with others in a way that creates a community, so that is why we are creating our website," Brochstein said. "This will be a lifestyle brand blog focused on sharing love and unity over food. We will be selling stickers and merchandise with a portion of the proceeds going to different Black Lives Matter organizations."