While fewer international students have been coming to the U.S., numbers continue to climb in Canadian universities.
In the U.S., international students pay higher tuition rates than in-state students and do not receive federal aid. In the 2018-19 academic year, over 1 million international students contributed around $45 billion to the U.S. economy, according to an Open Doors report from the Department of Homeland Security.
The number of international students in the U.S. went down by 17.86% in 2020 from 1,251,569 in 2019, according to a U.S. Immigration and Customs Enforcement report.
The current decline in international student numbers has economic effects on the U.S. and on the University of Kansas. In 2014, the University relied heavily on projected international student tuition to fund its Central District project, according to an article from the University Daily Kansan.
When international student numbers began to decline, the University had to cut spending, use emergency funds and offer buyouts to professors with higher salaries, according to the article.
Ira Kirschner, KU assistant director for student engagement, said the Trump administration discriminated against international students, especially Muslim and Middle Eastern students, driving them away from the U.S.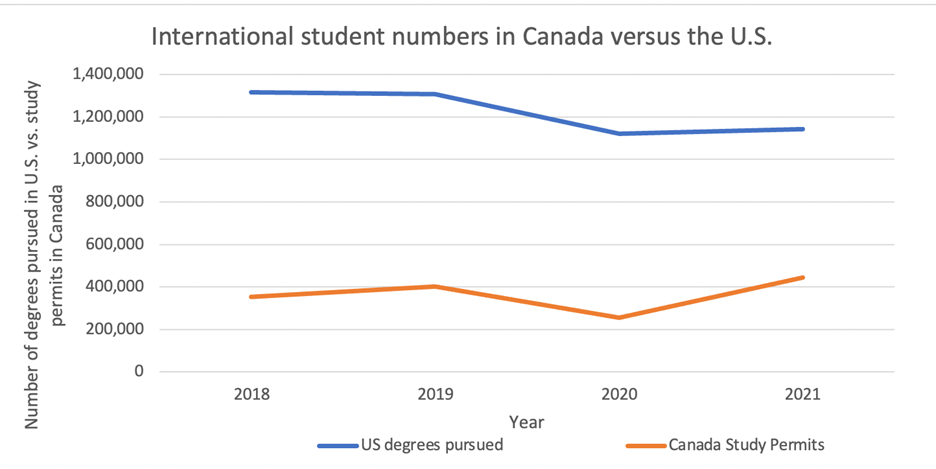 "There was a lot of negative sentiment coming from the Trump administration, which led to decreased enrollment for many international students," Kirschner said.
KU is a known destination for international students, Kirschner said. However, technological developments have impacted students' choices. With the increase in internet usage, students can find information about smaller, lesser-known universities.
"Other smaller colleges and universities also were able to start saying, 'Hey, we're here, and we're cheaper, and we want you because we're really hungry for international students,'" Kirschner said.
According to application and enrollment numbers, Kirschner said KU expects higher numbers of international enrollment next semester, but he did not provide specific data.
Jose Leyba, a Venezuelan computer science student who arrived in the spring, said he'd had safety concerns living in the U.S. after hearing of shootings and discrimination cases. However, he hadn't faced any himself.
"It's been a hardship mentally mostly," Leyba said. "It's a constant pressure."
Is KU the only university affected in the Midwest?
In addition to KU, Indiana University, the University of Missouri and the University of Colorado Boulder experienced a decline in international student numbers before and during the pandemic.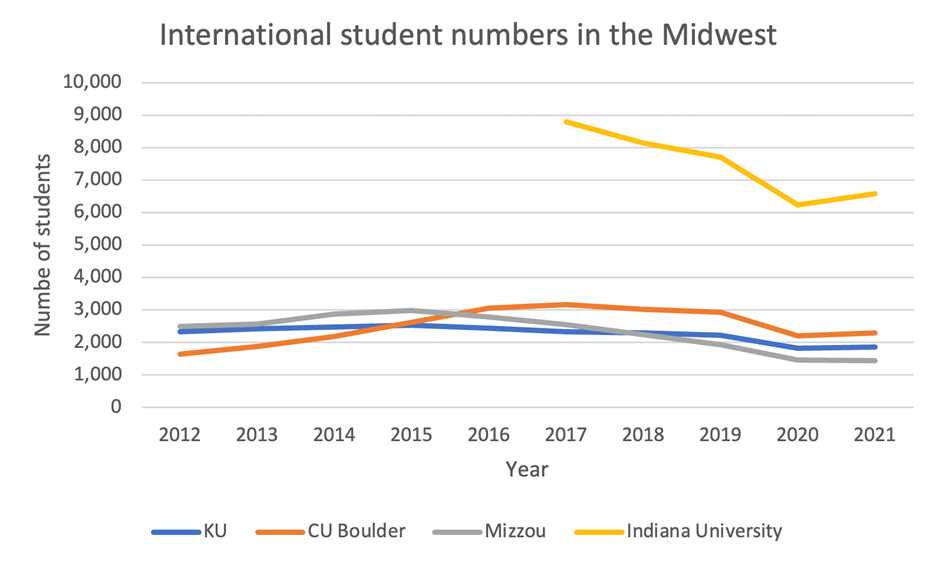 The University of Missouri attributes the decline in international student numbers to the pandemic, the Columbia Missourian reported.
"We continue to work with international students to assist them in whatever way we can," Liz McCune, MU spokesperson, said to the Columbia Missourian.
President Donald Trump made it difficult for universities to attract international students, Kathleen Fairfax, Colorado State University vice provost for international affairs, told 5280.com.
"When Trump became president, there was so much negative rhetoric about whether these students were welcome," Fairfax said. "Before schools could get a handle on that situation, however, the pandemic hit and made everything more complicated."
Why are more students going to Canada?
In short, more students go to Canada because of immigration-friendly policies.
Staying after graduation
The U.S. allows F-1 students to stay for one year to participate in Optional Practical Training after graduation, according to the U.S. Citizenship and Immigration Services.
In contrast, students can work temporarily in Canada for up to two years after graduation or even apply to permanently live in Canada, according to the Canadian government.
Working off-campus
Full-time international students in Canada can work off-campus after they acquire a Social Insurance Number and don't need a work permit, according to the Canadian government.
International students in the U.S. can only work off-campus either as a part of an internship that's approved by the university or under severe circumstances, according to the U.S. Citizenship and Immigration Services.
International students can work 20 hours a week on campus when classes are in session and 40 hours during breaks, according to KU International Support Services.
Sergio Andres Solera Valverde, a KU sophomore from Costa Rica studying aerospace engineering, said he arrived on campus in fall 2021 after two online semesters due to COVID-19 concerns.
Solera Valverde tried to get an internship through Curricular Practical Training, a program offered to international students who want to gain professional experience while in the U.S.
However, he couldn't enroll because the U.S. government requires students to spend two semesters at the university before they can enroll in CPT, Solera Valverde said. He is looking for jobs within the U.S. Department of Defense.
"They're not impossible, but they're way harder to get compared to U.S. citizens," Solera Valverde said.
Humberto Gomez Salinas, who is from Mexico, came to KU to study economics and history after receiving a scholarship for his first year but did not receive scholarships in the following years.
"Any domestic student could get two jobs, three jobs, work 40 hours," Salinas said. "We are only limited to those 20 hours."
Visa durations
Canada allows students to extend their visas from inside Canada before they go home.
The U.S. issues different expiration dates for visas, sometimes depending on nationality. Some students get a visa valid for one year only. After a visa expires, the U.S. Immigration and Customs Enforcement allows F-1 students to stay in the U.S. if they maintain their student status.
However, students who leave the U.S. will need new visas, which are sometimes not easy to get, especially when the Trump administration issued several travel bans. This causes students to feel hesitant about leaving the U.S. before they graduate.
Some international students in the U.S. that Salinas knows haven't seen their parents in years because of travel bans, Salinas said.
"Thankfully, I'm from Mexico, and we have like a relatively good relationship with the U.S.," Salinas said. "Any country that has a bad relationship with the U.S., the people are kind of f***ed."
The 2024 election may affect international student numbers immensely, Salinas said.
"I can totally just see international students continue to say like, 'Hey, you know what, I don't think I should go to the U.S.,'" Salinas said.