The international student community at the University of Kansas sent a list of demands to the institution's administrative leadership Monday after KU nearly doubled the international student fee for the upcoming school year. 
Starting in fall 2020, the international student fee will increase from $160 to $310 per semester, according to the KU tuition and fees proposal that was approved by the Kansas Board of Regents last week. International students pay this fee in addition to the student fee paid by all KU students. 
The proposal held tuition and fees for all students flat, except the international student fee. 
The letter to KU administration was written by several international students. Thirty student organizations and Student Senate co-signed the list of demands. 
"We feel that the University is exploiting and alienating us … exacerbating divides between students domestic and international already present in the Jayhawk Community," students wrote in the letter. "We implore the University to treat us better and embody the values of Diversity and Inclusion that KU has proclaimed as paramount." 
University administrators say the increase was necessary. The International Student Services Office, which supports international students and is funded by the fee, faced significant cuts in the previous fiscal year. 
"I am so glad students are raising their concerns on this as their voices are critically important," said Charlie Bankart, associate vice provost for International Affairs. "They are heard and we see them."
The letter lists four demands: 
The international student fee should be held flat at $160 for Fiscal Year 2020.
KU should consider diversifying funding sources to International Student Services so it doesn't rely solely on international student fees.
KU should be more transparent about how the fees paid by international students are distributed.
The hiring freeze limiting students' ability to work should be lifted.
Students also started a petition on change.org with the same list of demands. By Tuesday afternoon, it had over 1,600 signatures. 
"The University cannot say that they care about everybody in the pandemic, and how it's affecting everybody, and then hit the people that don't even have familial resources in the country," said Hollie Hall, a KU graduate student from London who co-authored the letter. 
'A separate category'
Hall, a Ph.D. student in the Department of Educational Leadership and Policy Studies and president of KU International Grads, said the increase is particularly harmful, since many international students already face obstacles financially and with immigration status. 
International students are only allowed to work 20 hours per week, and can only be employed on campus, said Humberto Gomez Salinas, a senior from Santiago de Querétaro, Mexico, and director of diversity and inclusion for Student Senate. 
There's uncertainty about the campus jobs international students rely on, since KU is in a university-wide hiring freeze because of the financial implications of the coronavirus pandemic. 
Plus, visas are not being issued by the United States, which limits international students' options when it comes to fall enrollment, Gomez Salinas said. Domestic students may have the option of taking time off from school, but international students often face the risk of losing their visa. 
"If you're not able to prove that you can afford the University, even if you're a couple of dollars short, they may not let you into the country," Gomez Salinas said. 
Sarif Tusuubira, a doctoral student in the Department of Ecology & Evolutionary Biology from Kampala, Uganda, agreed it feels unfair for KU to keep tuition and fees flat for all students except international students.
"It makes it seem like we ... are not considered students of KU, because we don't fall in with all students," Tusuubira said. 
Jessy Ayestas, a Ph.D. Candidate in Educational Leadership and Policy Studies from Honduras, said she feels alienated by the decision.
"Being alienated or being singled out from this idea that the University wants to remove burdens from students, and having international students be put in a separate category … it's wrong," Ayestas said.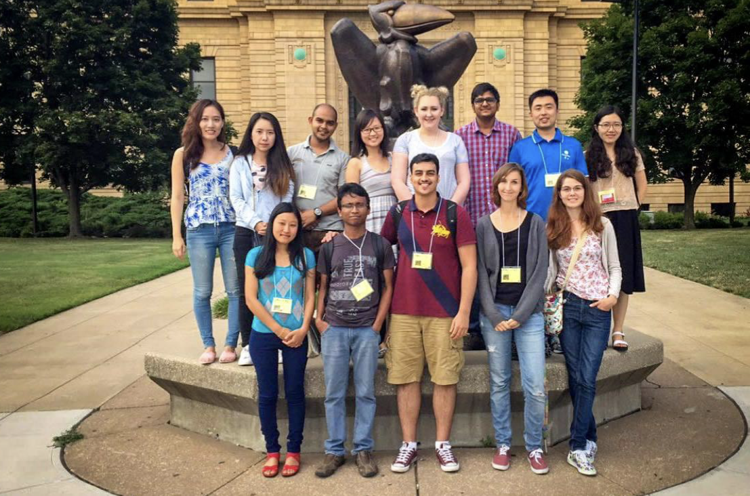 'An enormous financial impact'
The international student fee is used to fund International Student Services, specifically the advising staff that serves international students, Bankart said in an email to the Kansan. 
Hall thinks it's unfair that international students alone fund ISS, especially since other student fees pay for resources not used by all students. 
"Just because ISS helps international students, we have to fund it ourselves," Hall said. "We are still Jayhawks, we are still students and we feel that creates a divide between domestic and international students."
Declining international enrollment and the financial impact of the coronavirus pandemic has left fee revenue inadequate to fund ISS, Bankart said. In past years, revenue from the Applied English Center helped cover costs, but enrollment decline at the AEC and the lowering of AEC tuition "had an enormous financial impact."
International enrollment has gone down at KU in recent years. In fall 2015, 2,363 international students were enrolled at KU, according to ISS data. In spring 2020, there were 1,896 enrolled at KU.
Before increasing the fee for the upcoming year, the ISS office budget was cut dramatically and significant staff reductions were made in order to keep the fee as low as possible,  Bankart said. Bankart did not specify what those staff reductions were.
"This was a painstaking process, and one we did not want to undergo," Bankart said. "We know this is a very difficult time for everyone and unfortunately, holding the International Student Fee constant for so many years to keep costs to students down has meant a more significant increase now."
In 2012, when Hall first came to KU, the international student fee was $40 per semester, according to the 2012-2013 comprehensive fee schedule. 
The fee has since increased. In 2015, it was $60. It was set at $90 in 2016 and raised in 2018 to $100. In 2019, it was increased to $160, Bankart said.
In past years, international students paid a flat fee each semester, including the summer. The summer fee now reflects that summer is only eight weeks long, Bankart said. Students enrolled in summer semesters going forward will pay roughly half the amount of fees typical for the spring and fall semesters if enrolled full-time, and a per credit hour amount if enrolled in fewer than six hours. 
"Our number one priority is our students – always," Bankart said, "and I am saddened that a fee increase is needed to ensure we maintain our focus on that core priority."
Bankart said despite the increase, the fee for international students at KU is low compared to other universities. 
At Kansas State University, international students paid $2,941 annually in required campus fees for 2019-2020 — including international student fees, international student health insurance and fees paid by all students. Non-international students at K-State paid $1,065 annually in required campus fees, according to the admissions office. 
At Wichita State University, new international students pay a one-time fee of $200 that covers services used by international students, according to the university's website.
The fee varies across other Big 12 schools. Oklahoma State University charges a fee of $60 per semester for international students, according to the Office of the Bursar. At the University of Oklahoma, international students pay $75 per semester.
Although these numbers are lower on the surface, the fee structure and the structure of the international student services office varies at each university, Bankart said. For example, at some universities, the flat fee per semester may be lower, but students may be charged more for individual services. Plus, the size of the international student population, work demands and the office staff size also need to be taken into consideration. 
The student fee at KU is set annually by Student Senate, approved by the chancellor and then presented to KBOR. For the international student fee, a proposal is made by International Affairs to the Provost's Office, then submitted to KBOR, Bankart said.
The student fee paid by all students was held flat by Senate for next year at $491.95. Senate originally approved a fee increase of $15 per semester, but then revised the proposal after Chancellor Douglas Girod asked them to keep it flat.
"[The increase] goes directly contrary to what the University put out at the beginning of the pandemic," Student Body President Apramay Mishra said. "The messaging was to hold tuition flat in order to ease the burden on students, and raising fees on one specific group of students just at its very nature seems wrong.