As the Kansas City Chiefs and Kansas football competed in their season openers this past weekend, KU students around the Oread neighborhood held large, visible social gatherings in their front and back lawns, disregarding guidelines from the Centers of Disease Control and Prevention during the COVID-19 pandemic. 
Social gatherings at two houses near the intersection of Mississippi and 11th streets are the most recent to attract public attention. Multiple photos and videos that circulated on social media throughout Saturday showed dozens of presumed KU students gathering across a lawn and front porch, with no masks or physical distancing present. 
The University of Kansas issued a public health ban to individuals from two off campus residences for social events they hosted over the weekend, KU spokesperson Erinn Barcomb-Peterson said in an email to the Kansan. Public health bans typically prohibit those individuals from setting foot on campus, unless they're going to Watkins Health Services, for 14 days. 
"Most of our students are doing the right thing, but we will not tolerate selfish and irresponsible behavior that puts the health and safety of our community at risk," Barcomb-Peterson said. 
Barcomb-Peterson further said KU has received reports of off-campus parties, but "often there has not been enough information to act on — for instance, reports that don't contain names of individuals or organizations involved."
"We are acting when we have enough information to pursue a public health ban and/or the student conduct process," Barcomb-Peterson said. 
Ward Lyles, associate professor of urban planning, saw the parties on Mississippi Street as he walked through the Oread neighborhood Saturday night. Lyles recorded a video on his phone and posted it on Twitter. 
Lyles, who studies disasters, spoke to police who were on the scene and said police told him there was nothing they could do to break up the party, since there is no law against public gatherings. Another individual filed a noise complaint, but police said since there was noise from the stadium, there was nothing they could do. 
"It showed the system failure, that the police can't do anything," Lyles said. "The public health department, who is, in theory, supposed to be able to shut this down, is closed. KU can't do anything."
"And even if all three of those things were working, it's reactive. The damage has been done," Lyles continued. "And what's frustrating to me, as both a neighborhood person and a KU scholar with some expertise in this area … We have the pandemic medical team that seems to be driving all the decisions, but we don't have a pandemic behavioral science and social science team."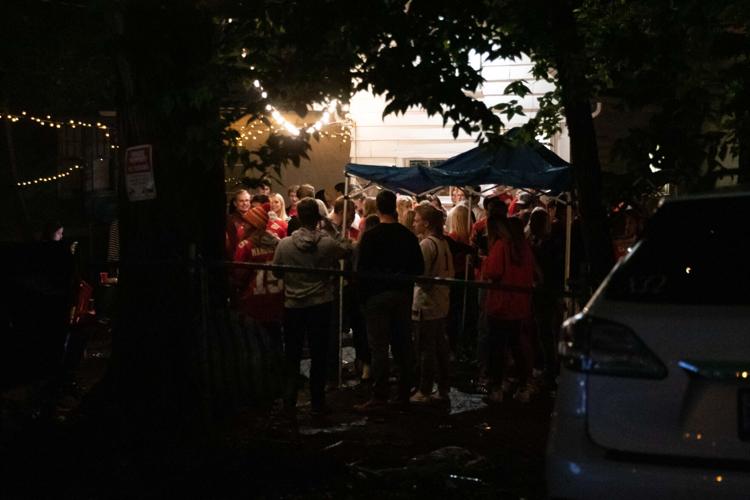 These parties have been going on for weeks, since students returned to attend class at KU. On Thursday, reporters from the Kansan observed similar gatherings off Kentucky Street during the Chiefs' season opener Thursday. Lawrence police arrived at the scene, but left shortly after. The party did not end after police arrived.
This isn't the first time KU students have caught attention for violating public health guidelines.
Members of two fraternities, Kappa Sigma and Phi Kappa Psi, were previously banned from campus by KU leadership and issued cease-and-desist orders by the Office of Student Conduct, for not following recommended health guidelines. 
KU administrators also took punitive action against the same two fraternities for not social distancing when the fall semester began. Both Kappa Sigma and Phi Kappa Psi members were banned from campus buildings — with the exclusion of Watkins Health Services — for two weeks by Chancellor Douglas Girod. 
"Based on observed behavior of not wearing masks, not physically distancing, and gathering in a large group that creates a public health and safety concerns related to COVID -19, I have determined that your presence on campus may create an imminent threat of public health danger to persons," KU Provost Barbara Bichelmeyer wrote to those fraternity members in a letter obtained by the Kansan. 
That letter addressed to members of Kappa Sigma and Phi Kappa Psi detailed that if members violated the public health ban, they would be subject to arrest for trespassing.
Douglas County health officials advise not to host gatherings that have more than 45 people. Video from the social gatherings held at both houses on Mississippi Street show the events exceeded the limitations recommended by local health officials. 
Police are supposed to uphold public health orders, according to Kansas law, said Dan Partridge, director of Lawrence-Douglas County Public Health, in an email to the Kansan.
"Kansas statutes regarding public health orders specify that enforcement is the responsibility of law enforcement," Partridge said. "We have been working with them to see what is possible but more discussions are needed … [I]t is the responsibility of every individual to be smart and safe thereby protecting others from COVID. The spread of COVID will be slowed not by orders but by all of us doing our part."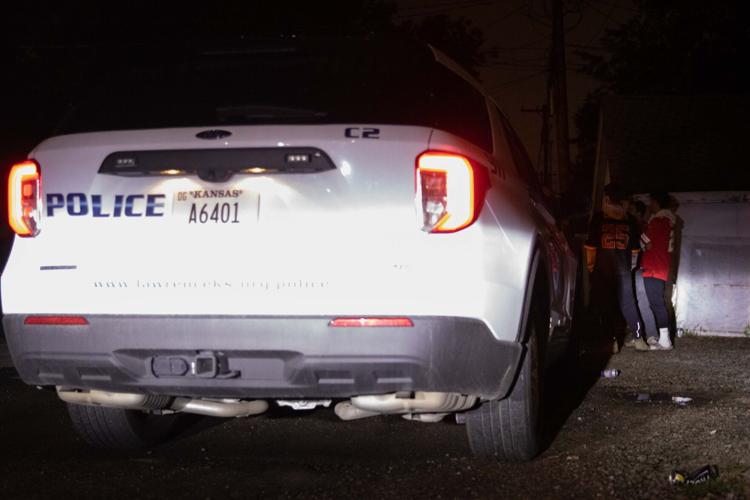 Other community members noticed the party going on throughout the day, Lyles said. 
Lyles said it was the biggest event he has seen in the neighborhood since the weekend before classes started. 
"There's definitely less partying this year. I think it would be a misrepresentation to suggest that it's like normal," Lyles said. "But there are these exceptions that are the ones that are clearly, from a public health standpoint, really dangerous."