She walked the runway nervously, but with her head held high. Determination etched across her face. A gold handcrafted body cuff snaked around her torso, gleaming as the light bounced off the edges and into the audience. 
The Society of North American Goldsmiths held its 48th anniversary conference in Chicago. Charity Poole, a senior metals major from Iowa City, Iowa, had the honor of presenting her work on the runway. The theme this year was glitz and glamour, officially called Aurum. 
"So I submitted sketches because I hadn't finished the piece yet. I had designed just the 3D printed part, and it just comes in like a plain white plastic," Poole said. "So what I did is I took a photo of that and then I sent them a sketch of my full idea, hoping that I could actually execute it because I wasn't sure."
Poole was accepted three months before the conference, giving her a quick turn around to merge her idea of metalsmithing and Matrix 3D design.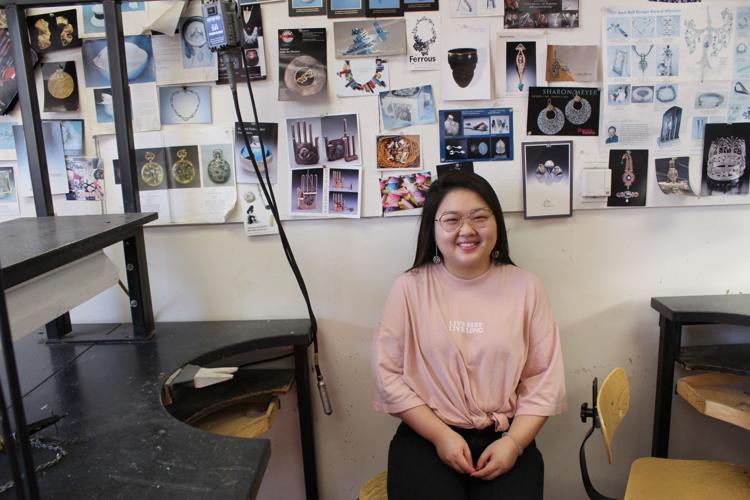 "So the one part of it was made on Matrix and 3D printed in plastic, and then the other part of it is the actual part that wraps around the body," Poole said. "I hand forged the metal because I really like that idea of marrying technology with tradition — to take old metalsmithing techniques and combine them with this new technology of matrix the digital design."
While metalsmithing classes are common within her degree, Poole learned the computer design portion for her artwork from professor Sunyoung Cheong, who teaches a class on the basics of 3D computer design at the University of Kansas. 
"I'm not the computer designer. I'm more like an artist," Cheong said." So I did teach the computer design, but I always tell the students that you have to incorporate with, you know, metals or other materials."
Cheong's goal in this class is to teach students how to use the design programs, how to work with outside companies to print their work and how to sell their work once it is completed. According to Cheong, to get a job in the jewelry industry, artists need to know about the manufacturing process. 
"I teach the commercial side of the jewelry, too, because even if we are in [the] art department, when you study the jewelry, after you graduate from undergrad, you have to get a job in [the] jewelry industry," Cheong said.
Since Cheong started teaching, Poole has not been the only student to have success with the computer design side of metalsmithing. Xinchen Li, a senior, started at the University as a sophomore studying computer science, but after exploring options through the KU Core curriculum, she found a love and passion for metalsmithing, and ended up in Cheong's class.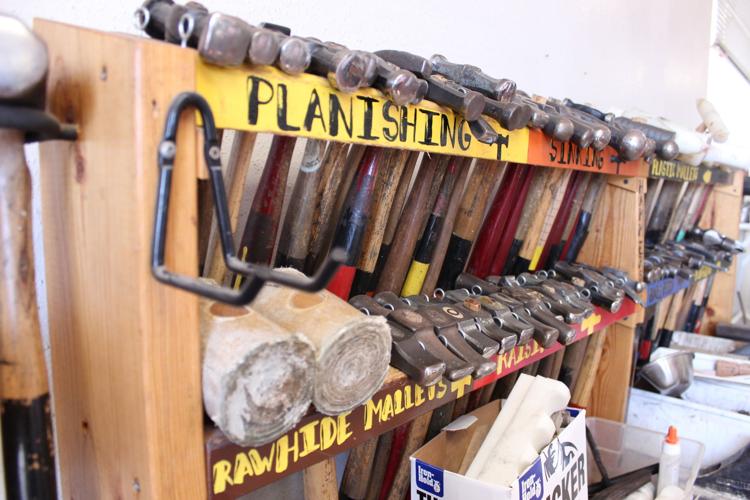 "It's totally different. The computer background I have is more like coding, or it's like programming something, but in here, it's brand new for me," Li said. "We learn the Rhino basic matrix, 3D jewelry program." 
Through this class, Li was able to design three pieces of art and went on to win a scholarship for her computer design with the Women's Jewelry Association. She created her winning piece in Cheong's class, pulling from her childhood love of Disney Movies.
"I grew up with Disney movies. That probably has some inspiration from that because you can tell a little bit about my childhood experience," Li said. 
At the core of her class, Cheong wants to see her students grow confidence in what they do, and for Poole and Li, that is exactly what happened. 
"I'm really not good at computer science. So I kind of feel like I'm a failure. That's really bad. But when I'm in here [the studio], I kind of feel like I'm good at something. I think that's the best part of this program," Li said. "Every time when I finished my work, I can feel like I kind of succeed."