The University of Kansas' latest plan to reopen campus in the fall, called Protect KU, includes social distancing plans for lecture halls and student housing facilities, as well as guidelines for wearing masks and getting tested for COVID-19.
The guidelines, which Provost Barbara Bichelmeyer released Monday, show adapted learning spaces which have been configured to maintain proper social distancing. Budig 120 — the largest lecture hall in Budig Hall, which seats 1,000 — will be the only lecture hall open in the building and will seat only 98 students.
Both lecture halls on the third floor of Wescoe Hall will remain open, but will seat only 45 people each. At full capacity, these lecture halls seat 268.
"If, individually and together, we follow the measures set forth in this guide, our combined effort will promote a safer environment for all Jayhawks who learn and work on our campuses while reducing the risk of spreading COVID-19," Bichelmeyer and Chancellor Douglas Girod said in the document.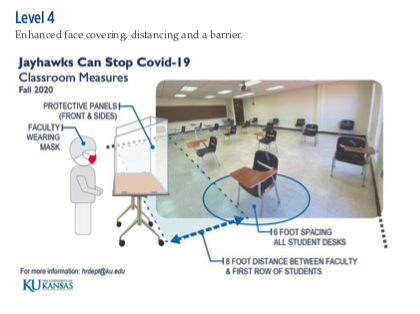 Instructors will be able to choose between four levels of protection in their classroom while teaching. Each level maintains at least eight feet of distance between the instructor and the first row of students, includes different rules on mask wearing, and gives instructors the option to utilize a protective panel while lecturing.
Masks will be required for every person on campus, in accordance with Gov. Laura Kelly's mask mandate for the entire state of Kansas. Cloth masks will be provided to all KU students and disposable masks will be provided to campus guests, according to the plan outline.
Passing time between classes will be increased in order to avoid extremely dense sidewalks and hallways. Buses will still be in transit, however passengers will only be allowed on the bus if there is enough space to sit while still maintaining social distancing guidelines.
Students living in residence halls will have to make move-in appointments for the fall. Move-in will be spread out over a longer period of time rather than on a single day. There will be rooms in residence halls which are designated for quarantining anyone who tests positive for the coronavirus.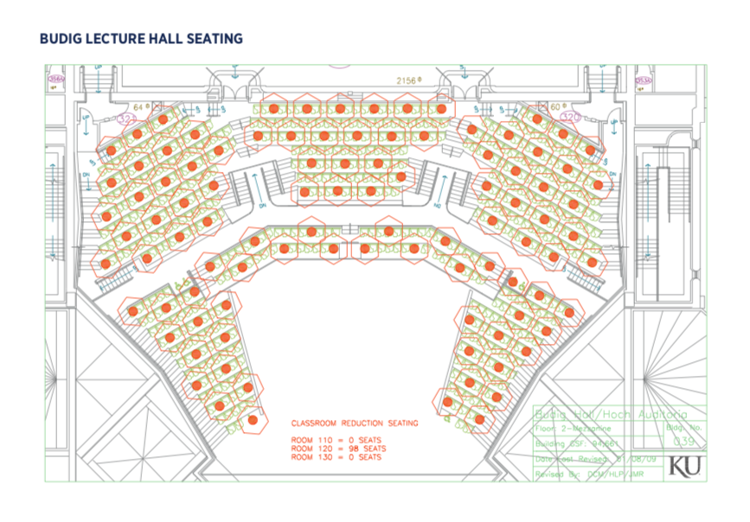 KU has also partnered with a health app, CVKey, to monitor students' symptoms and more easily transition back to in-person learning. Students will be prompted with questions about their health on the app each day, and those who do not show symptoms of COVID-19 will be provided a QR code that will allow them access into campus buildings.
Students who do show symptoms will be asked not to attend class and instead should contact Watkins Health Services or Lawrence Memorial Hospital for testing.
"Each member of the KU community who is present on any KU campus must appreciate that they play a role in preventing the spread of COVID-19 and that acting in ways contrary to the University's required mitigation efforts puts themselves and others at risk," Bichelmeyer and Girod said in the plan outline.
Protect KU is a fluid plan, Bichelmeyer said, and will be adjusted as health officials make new discoveries and recommendations.
"We must be nimble and flexible in our response to COVID-19, and Protect KU will surely evolve to meet the needs of the Jayhawk community," Bichelmeyer and Girod said.