A University of Kansas organization called KU Solar Car, founded in 2017, has set out to build the University's first solar-powered race car to compete in the 2020 Formula Sun Grand Prix.
Everything started when three engineering students, juniors Michael Srimongkolkul, Zachary Hall and Lance Erickson learned about solar car initiatives at other universities.
They then spread the word to any potential interested parties and managed to get quite a hefty list of recruits. The team currently stands at 25 active members with an executive board of seven members.  
Nikhil Kanukolanu, the team's operations director, said KU Solar Car is always looking for new ways of funding.
Kanukolanu said KU Solar Car tries to meet with various departments on campus, such as the Mechanical Engineering Department and the School of Business, to raise money for the organization.
"But in the long run, the majority of our funding will hopefully come from companies that we reach out to for sponsorship," Kanukolanu said. "And in return we'll place their logo on our car."
Student Senate's Environmental Advisory Board Chair Bisher Anadani said supporting student organizations politically and financially is important.
He said any organization that provides University students with exposure to renewable energy solutions plays an extremely vital role in the Jayhawk experience.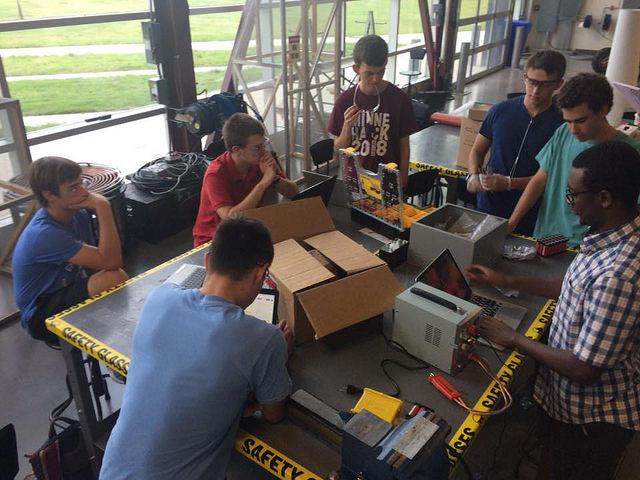 "We need students to be involved in these organizations because they will gain very valuable experience in building solutions for the biggest obstacle facing our generation: climate change," Anadani said. "Solar Car provides ample opportunity to get involved with the design, manufacturing, business, marketing and almost every aspect of building a product that uses renewable energy."
The organization's mission is structured in three parts: to promote interdisciplinary learning and cooperation across the University, to give members a real world and full product development experience, and to promote green and sustainable motor vehicle technology.
Michael Srimongkolkul, the team's program director, said he thinks people should join because it's an organization full of people from diverse backgrounds. Srimongkolkul said the organization is similar to a small business in that creativity and innovation are key.
Additionally, he said students who major in fields outside of engineering have a great value to KU Solar Car.
"So you can really get anybody to be involved whether it's journalism, business, marketing or art and design students", Michael Srimongkolkul said.
The car itself is currently still in the design phase but is due to be built in early spring of 2020.
KU Solar Car meets every Monday and Thursday from 6 p.m. to 8 p.m., and Saturdays from 12 p.m. to 2 p.m. in 3152 Learned Hall. New members can familiarize themselves with all the sub-teams before choosing which one to join.