After a video emerged of a Kansas City police officer kneeling on the back of a pregnant woman during an arrest, protesters — including some University of Kansas students — gathered outside of City Hall in Kansas City, Missouri.
Protesters initially gathered in front of City Hall last Friday night. At the end of the protest, people remained to set up an occupation, calling it the "People's City." 
They made official demands to terminate KCPD Chief Rick Smith, terminate the officer who knelt on Deja Stallings during her arrest and cut KCPD budget by 50%.
"We want a reallocation of that money into life-affirming policies and programs like access to affordable healthcare, housing and reinvestment into poorly resourced schools," said Jam Hoffmann, vice president of Jayhawker Liberation Front at KU. 
Daniel Davidson, a freshman from Lawrence arrived at city hall on Friday night. He didn't expect the protest to turn into an occupation, but decided to join. Since then, Davidson and other protestors have been sleeping in tents every night.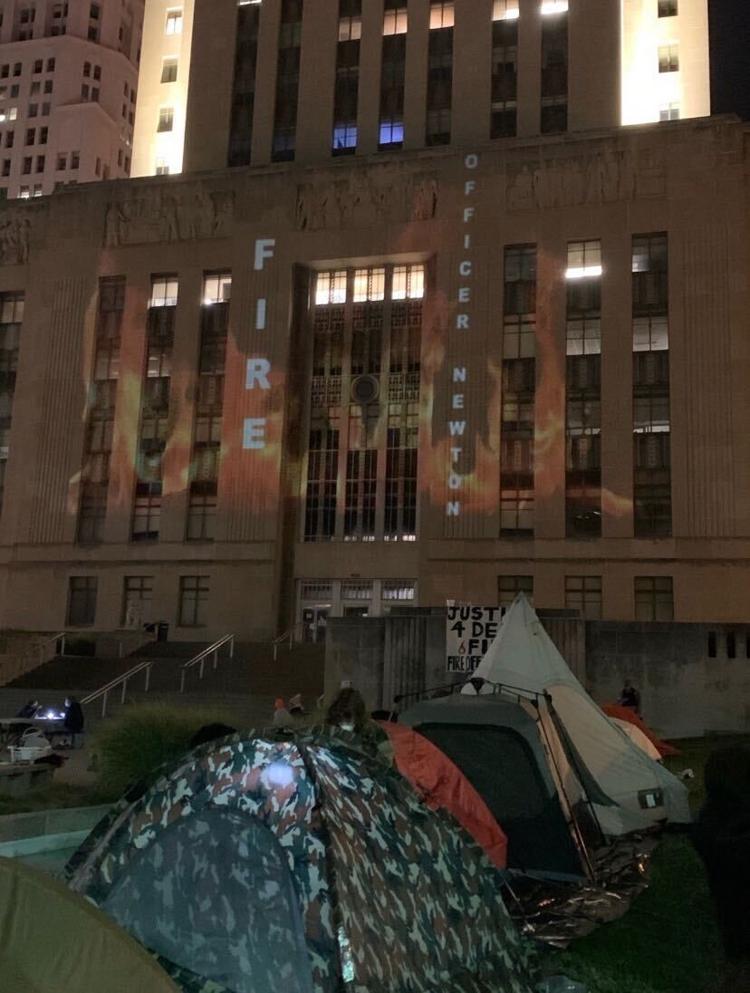 "I've been out here most of the time since then," Davidson said. "I really hope that the occupation continues, and people are not going to leave unless they're forcibly dragged out. It's not going to end before our demands are met."
Sam Aylward, a sophomore from Wichita, joined the occupation late Wednesday, after hearing about it from JLF members. 
"It's the nicest feeling of community I've ever felt," Aylward said. "We all have a common goal, which is liberation."
Davidson also said it's a positive environment to be in because people of similar ideals have come together. 
"I've met some really great people that have given me hope," Davidson said. 
At the "People's City," food is provided for free in a cafeteria set up by protesters. There's a library where books have been donated for others to read. Political education also takes place during the day.
"Since we've been able to assert the legality of our presence it's been a very fun and safe environment," Davidson said. "They had an expert on prison abolitionism speak, then they divided people into groups to chat about that."
Protesters are taking precautions due to COVID-19. Masks are mandatory and there are occasional temperature checks.
Protesters also hold daily press briefings. Signs with police brutality victims' names are held up during these briefings. 
"Many of those happened under Chief Rick Smith's leadership, and none of the officers have been fired or anything like that," Hoffmann said. "He's not handled any of the instances of vicious police brutality. The mayor, the board of police commissioners, they've all refused to do anything about it."
Hoffmann said there have been city council members who are supportive of the occupation, and have come out of city hall to speak with protestors.
The KU students who are protesting plan to camp out indefinitely, until the group's demands are met. 
Aylward said Mayor Quinton Lucas has told protesters he's not prepared to meet their demands, which is what Aylward expected. 
"But this is one of the largest movements and one of the first occupations to ever take place in Kansas City, so you never know what could happen," Aylward said.