The Kansan has verified the identities of and is withholding the names of several protesters due to concerns of retaliation from their home governments.
Iranian protesters gathered in front of Wescoe Hall to dissent against women's rights abuses by the Iranian government on Wednesday, including the recent water poisonings that affected schoolgirls all over the country.
The gathering was described as a continuation of protests against the ongoing women's rights violations by the Islamic Republic of Iran.
Protesters held signs saying, "Human rights for Iran. Women rights are human rights," "Woman. Life. Freedom," and "Islamic Republic is a child killing regime."
An Iranian man, who wanted to remain anonymous, said his niece in Iran has stopped going to school since the poisonings started.
"Fortunately for her, she did not experience any attacks, but she's not going to school anymore because of the fear that they might attack her school," he said.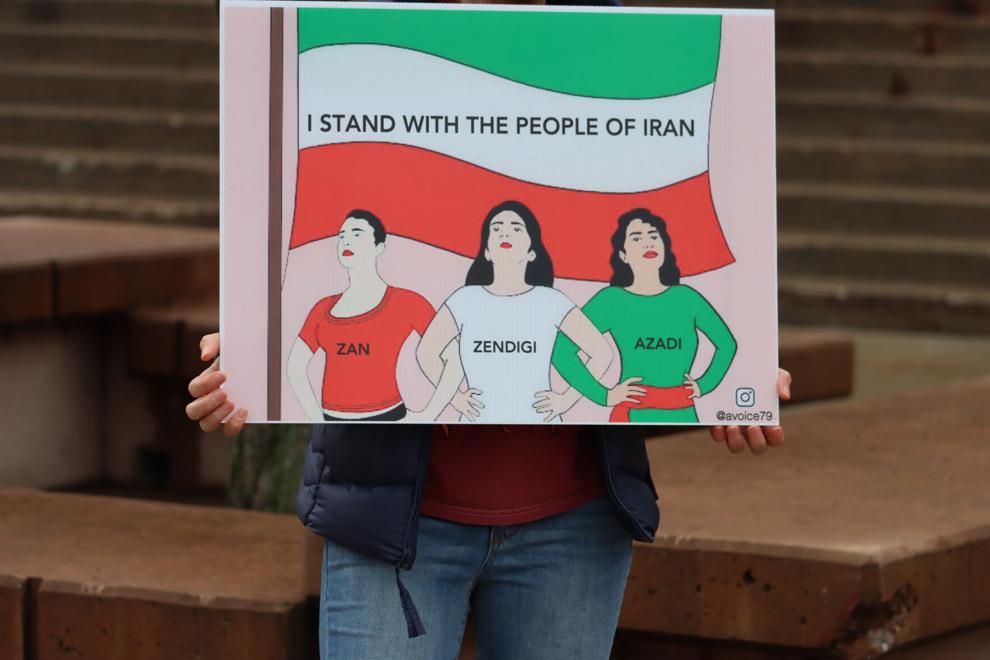 Another man, who asked not to be identified due to fears of retaliation from the Iranian government, said this year's International Women's Day is special because of the women's rights movements sparked by the death of Mahsa Amini. Amini, a 22-year-old woman, died in September 2022 under suspicious circumstances after the morality police arrested her for allegedly breaking hijab rules.
"Because women were the leaders of this movement, they wanted to do a revenge," he said. "The government must stop this kind of attacks that is happening now."
The protester said he also has nieces in Iran who go to elementary, middle and high schools who have stopped going since the attacks took place.
"My hometown is very small town," he said. "This kind of attacks also happened two days ago, even like to my hometown. It's not just happening to the big cities; it's all over the country."
A woman at the protest, who asked not to be named, said she thought the groups carrying out the attacks were related to the government.
"That's a very, very actually suspicious," she said. "The government has many, many security services … They can detect very, very small things."
The regime's blaming of foreign countries for the attacks is illogical, she said. There can't be so many foreign agents to carry out attacks at this scale, she said.
"They are trying to fool people, and people are too smart to believe these stupid things," she said. "This is so funny; this doesn't make any sense."