Members of the Lawrence community stood together in South Park on Massachusetts Street Friday night to continue the nationwide protests against climate change. 
The Sunrise Movement in Lawrence and the Wakarusa Group of the Kansas Sierra Club collaborated on their second organized climate change protest of the day, after multiple KU students, staff, faculty and Lawrence residents protested on Wescoe Beach Friday afternoon.
Activists' signs peppered throughout the crowd included messages such as "raise your voice, not the sea level" and "nature points out the folly of man." 
Multiple guest speakers shared their thoughts on the issue, including Lawrence Mayor Lisa Larsen and Kansas Democratic Congressional candidate Abbie Hodgson.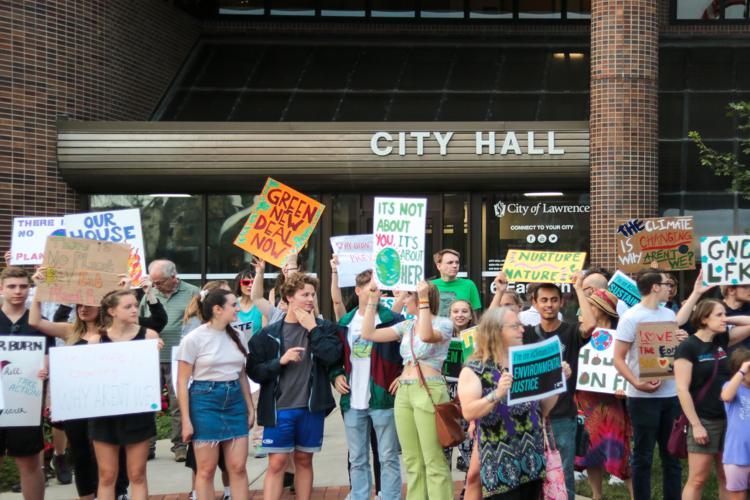 Larsen began her speech by demanding the Lawrence community hold elected officials such as herself accountable regarding climate change.
"Do not let us off the hook," Larsen said. "We can't let up. You've got to put the pressure on us to follow through with our plans."
Matt Dunn, president of the KU chapter of the Sunrise Movement, reiterated the importance of students and the University's role in preventing climate change.
"We as students are all here for the fight," Dunn said. "We have to ensure that the institution of [the University of Kansas] is ensuring a sustainable future for our world."
Joshua Potratz, a freshman at the University, emphasized the role of younger generations in the fight against climate change.
"It's important for us to step out and advocate because most people don't vote in general," Potratz said. "The more we advocate for ourselves, the more we get out and say our piece, the more likely we are to be heard."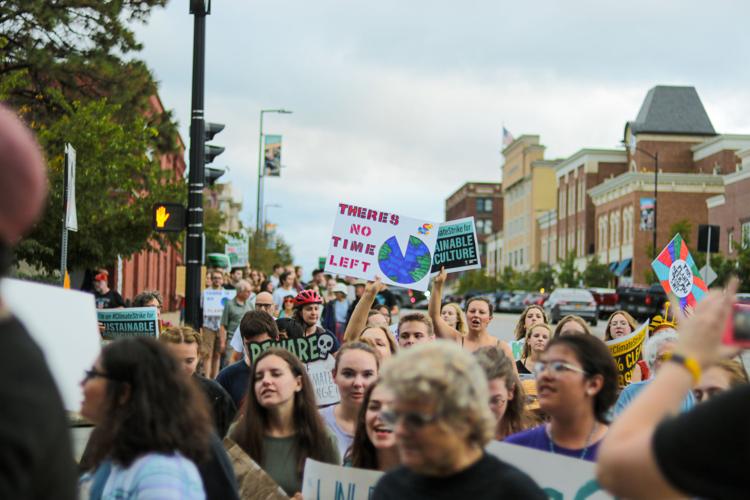 Similar to Friday afternoon's protest on Wescoe Beach, the protest organizers passed around a petition pushing for the city of Lawrence to declare a climate emergency.
During her speech, Hodgson signed an agreement which limited her acceptance of monetary donations from fossil fuel companies. 
The protest concluded with those in attendance marching to Lawrence City Hall to demand a declaration of a climate emergency.