The staff at Prestige Hair Studio in Lawrence held a seminar on Monday called "Breaking Barriers in the Hair Industry." The event focused on how professional barbers and stylists can combat racial bias through a series of discussion questions and skits.
Isaiah Bell, head stylist and co-owner of Prestige Hair Studio, said events like this are needed because the hair industry is a microcosm for the greater systemic issues found in the United States.
Isaiah runs the business with his sister, Breanna Bell. It is a hybrid barbershop and salon which accommodates men and women, and promotes inclusivity among races. 
"We make it an atmosphere for diversity, so we have all different types of hair and ethnicities coming through the door," Isaiah said.
Isaiah said the biggest racial barrier to break is education. Most states, including Kansas, don't require cosmetology schools to teach Afro-centric hairstyles for both genders.
"If people would just know this information was available to everyone, we'd be more culturally educated on different things," Isaiah said.
It's especially troublesome during the coronavirus, Isaiah said, as people see hair salons and barbershops as essential for self care and a good trim.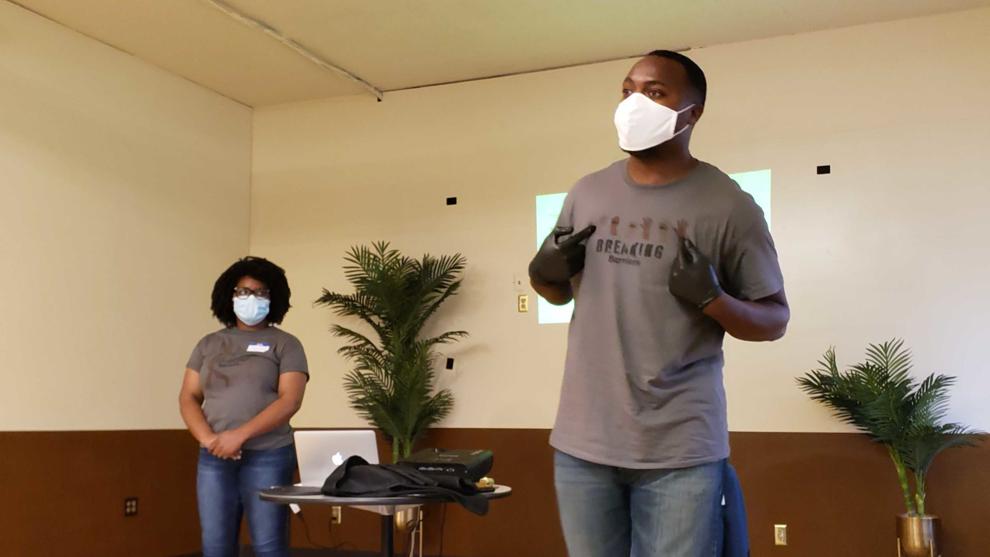 "We're not just stylists or barbers, we're therapists, they come to us for everything," Isaiah said. "So how can we create a positive effect with what's going on right now?"
He explained during the discussion that one of the reasons for this comes down to the systemic segregation found in cosmetology schools and their state board.
The Board of Cosmetology and Barbering enforced practices that dated back to the Jim Crow era such as racial segregation of hair styles. 
"For so long what's been ingrained into us and is still taught today is that white people are supposed to do white people's hair and Black people are supposed to do Black people's hair," Isaiah said. 
The board rarely teaches how to cut curly hair. The owners of Prestige saw this as an opportunity to re-educate. 
Audience member Hayden Gardner, from Prairie Village, said in cosmetology school, the lack of diversity is real. 
"We have teachers teaching us to fry your hair off, basically, and students who are saying 'No, here, I can help,' and being totally shot down," Gardner said.
There are a growing number of potential clients with curly hair shifting instead to YouTube. Breanna Bell, the salon's co-owner and recent University of Kansas graduate, got her start on social media.
Breanna said with cosmetology schools shut down for the summer, she wanted to be more involved with education. She wants to teach cutting specifically tailored for curly hair to people without the knowledge. 
"I was able to talk with different members on the Cosmetology Board to look at different innovative ways that I can keep in contact with students and with stylists and even transition education to online," Breanna said.
She created 'Curlology,' where patrons can learn about curly hair theory. Prestige also offers classes on this during the year.
The majority of the talk helped apply this knowledge through skits which featured real-world scenarios found in the hair industry and how to make them more racially equitable.
One of the skits featured a moment where a white salon patron was educated on not using the term "looking Black" when referring to a hairstyle. The patron then educated his friend, who made a similar mistake. 
Their hope is that some of these solutions could then be applied outside of the salon and into the world.
They ended the seminar by crafting a possible set of solutions to the industry's issues, including spreading awareness and encouraging diversity in conversations with patrons.
"With our platforms we can make a huge difference from right behind the chair," Breanna said. 
Stylists, barbers and salon managers made up the more than 60 people who attended the discussion over the course of two days. The event gathered a large following on social media.
"The more people we get this knowledge out to is just revolutionary," Breanna said.
The Bell family's main message came in one final phrase: "Hair is hair, it's not attached to your skin color."