Look for stories and more coverage from Kansan.com.
6:20 p.m. Chancellor is closing the event, thanks crowd for being here. 
6:07 p.m. Forum still going, students and faculty still speaking
5:55 p.m. Forum still going, students are speaking over the Chancellor when she tries to talk. 
Black Student Union president interrupted the meeting. #kuconvo #BlackOnCampus #RockChalkInvisibleHawk pic.twitter.com/IJrwD9SdvJ
— Jameelah Jones (@sunnydaejones) November 11, 2015
5:45 p.m. Audience members are leaving but room still over halfway full, people still speaking.
Audience member speaking at the microphone asks that the video from today's  meeting be shared as widely as possible. 
5:33 p.m. It is 30 minutes past allotted time and students/faculty are still speaking out and the room is still packed. 
5:30 p.m. Chancellor says she interested "in outcomes" and will look at list of demands from student group
5:23 p.m. Rock Chalk Invisible Hawk, the student group, has finished reading their list of demands, says they won't comment publicly and have left the room. 
Crowd emptying out of the room but still a mostly packed house in Woodruff. Students are still commenting.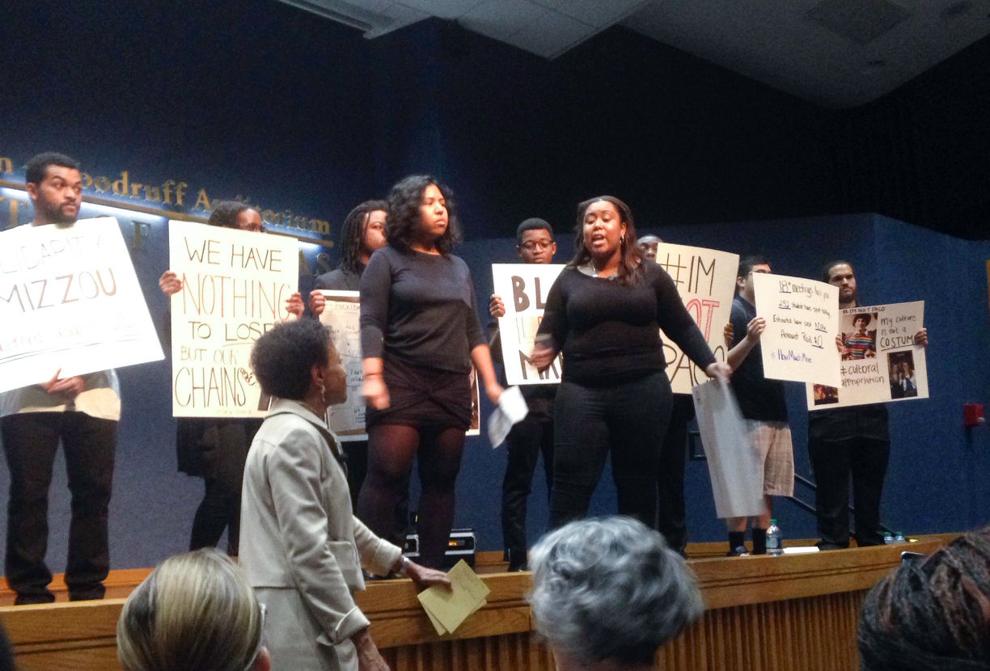 5:20 p.m. Student group entitled Rock Chalk Invisible Hawk is now listing their demands on stage. 
5:15 p.m. Gray-Little tries to close the forum, but student protesters started speaking over the Chancellor. Protesters on stage are now speaking. 
5:07 p.m. Student protesters are now on stage, and Black Student Union president now speaking. 
5:02 p.m. Chancellor is wrapping up event but encourages students to look for ways to "continue this conversation" — says she will be talking to faculty and staff about ways to go forward. 
4:50 p.m. Students offering solutions: get off Yik Yak says KU should publish those who commit racist acts. Says reaction should be equal with cheating on a test. Another says Latin American history, African American history etc. should be required. "Why do I have to learn your history but you don't have to learn mine?" 
4:45 p.m. Room is still packed, and audience typically erupting after every audience member finishes speaking. 
According to the Union's reservation website, Woodruff holds approximately 500 people. Nearly every seat is filled and people are lining the walls. 
4:43 p.m. Audience member: "I don't know why it is my job to leave my place of work to tell you what you need to be doing" 
4:40 p.m. Chancellor: student concerns are "The university is not preparing students, or not providing an environment where a sense of respect and valuing other people is not happening." 
4:38 p.m. Student audience member: Asks why the burden is on students to educate the institution.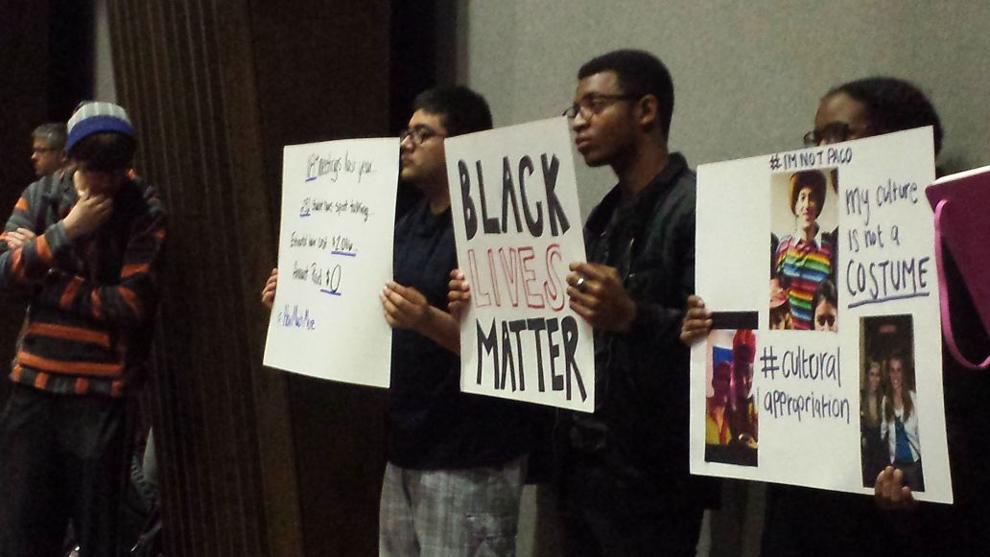 4:30 p.m. Student audience member/GTA: I was once asked to speak in a Spanish accent by a colleague who thought "it was funny." 
Added: "Why would you expect me to get a PhD here if I don't feel safe here?"
4:26 p.m. Student audience member: "I want KU to give a shit about black people"  
Chancellor has a question: what does taking responsibility mean? What does that look like? #kuconvo

— KU OMA (@KU_OMA) November 11, 2015
Student: education. Professors ignorant to the fact that "these things don't happen" #kuconvo

— KU OMA (@KU_OMA) November 11, 2015
4:10 p.m. An audience member cites issues with the "rhetoric of diversity," meaning instances when administrators won't use terms like anti-black racism. 
The chancellor replies that the language is not used with the intent to diminish racism.
4:08 p.m. "We cannot legislate what people think," Gray-Little said. She added that we need to encourage thoughtful conversation, but it needs to be civil. 
The floor is now open for questions from the audience. 
4:05 p.m. "I applaud all of your for joining the conversation today," Gray-Little said. She also added events around the country and on KU's campus are not isolated or new. 
4:00 p.m. The meeting is set to begin with opening remarks from Chancellor Gray-Little.
3:50 p.m. Nearly a full house inside Woodruff Auditorium about 10 minutes before the start of this afternoon's town hall meeting. 
Students walking in with poster board signs with #RockChalkInvisibleHawk and #ConcernedStudent1950. #KUconvo

— Michael A. Chavez (@chavezm77) November 11, 2015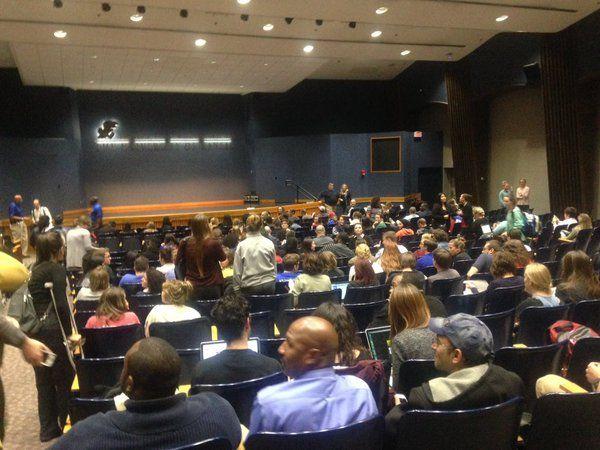 3:22 p.m. Chancellor Gray-Little plans to give opening remarks then take questions for 55 minutes during the event, according to the Chancellor's office. 
3:19 p.m. Students begin walking to the Union.
3:07 p.m. About 20 students will start at Wescoe and will walk to the Union together at 3:15 or 3:20 p.m.
Students will still be walking as one from Wescoe to the Student Union prior to the Town Hall meeting. @KansanNews

— Cassidy Ritter (@CassidyRitter) November 11, 2015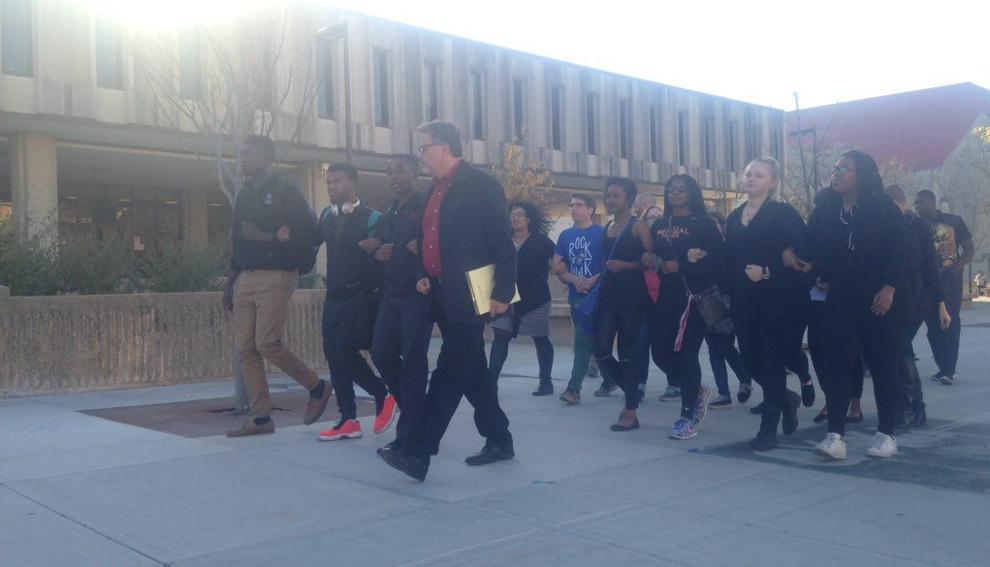 ---
Chancellor Bernadette Gray-Little will moderate a town hall meeting on the topic of race, respect and responsibility on Wednesday, Nov. 11, at 4 p.m. in Woodruff Auditorium of the Kansas Union, the University announced. 
We will post updates on this blog starting around 4 p.m. Follow @KansanNews on Twitter for updates on social media.
Before it begins, read our previous coverage:
How KU students are reacting to the recent events on the University of Missouri at Columbia campus.
After racially charged events and protests at the University of Missouri, the Black Student Union at KU opened up its meeting Monday night to a candid discussion of personal experiences with racism on campus. Below, see some of the questions asked and stories shared.
Chancellor Bernadette Gray-Little will moderate a town hall meeting about race, respect and responsibility on Wednesday. The meeting is open to students, faculty and administrators, and its goal is to further the national conversation on these topics.
Joshua Robinson writes: "As a graduating senior who is preparing to leave KU, I want to the University of Kansas to do more to protect marginalized students."