After a period of transition, the Office of Diversity, Equity, Inclusion and Belonging (DEIB) is on the road to stability with the hiring in October of permanent vice provost, Nicole Hodges Persley.
The Kansan sat down with Hodges Persley on Oct. 27 to discuss her goals for her now permanent position.
The office has undergone substantial reorganization in the past couple years while having changes in leadership. In February of this year, KU launched a search for a permanent vice provost following two years where there were three interim vice provosts.
Hodges Persley took over the role of interim DEIB vice provost after D.A. Graham, also an interim vice provost, resigned following a plagiarism scandal in January 2022. Graham took the interim VP position in December 2020.
Jennifer Ng served as the interim VP before him. The last permanent vice provost was Jennifer Hamer, who announced she would be leaving the university following the 2019 school year.
Hodges Persley's journey to VP
Hodges Persley has been involved with equity efforts at KU since 2009 and says she has made it her mission to make the spaces she works and lives more equitable.
"I think in my new role, my goal is to help the institution really think through what does a 21st century chief diversity officer look like and thinking about the ways that the institutional structures and policies also align with making sure the campus is a safe space for everyone and where everyone feels included," Hodges Persley said.
Having been an associate professor, associate dean and now a vice provost, Hodges Persley has experienced KU from many perspectives.
"I wanted the job because I love KU, and I've had a great experience," Hodges Persley said.
She has had both great and challenging experiences at KU, and a lot of the challenges related to the identities she holds, Hodges Persley said.
Hodges Persley said she started in 2009 as the only African American professor in her discipline within the theater department. She worked to make her department more equitable, before moving to serve other parts of the community.
"But the bigger picture for me is, I could take those experiences and be upset and not want to contribute, or I could turn them into opportunities where I can leave each space that I serve better than I found it," Hodges Persley said.
A VP's day-to-day
Hodges Persley's routine as the new vice provost looks different every day, but she says her goal is to make campus an equitable space for all Jayhawks.
Her days consist of engaging faculty and staff and listening to students who may have concerns or challenges they are facing. Hodges Persley may bring in other campus resources like the Office of Civil Rights to make sure that concerns are addressed properly.
"When I receive any types of comments, whether it be from students, faculty, or staff that I'm obliged to report, those are things that may or may not align with our policy and practice. But I can't make that judgment myself," Hodges Persley said.
She also meets with other vice provosts, faculty affairs, student success and faculty development to make sure the University's policies and practices are being implemented. 
Thirdly, Hodges Persley says she focuses on programmatic engagement. She attends and co-sponsors programs that focus on diversity. The programs range from undocumented programs from student affairs, Iran protest conversation and misinformation presentations.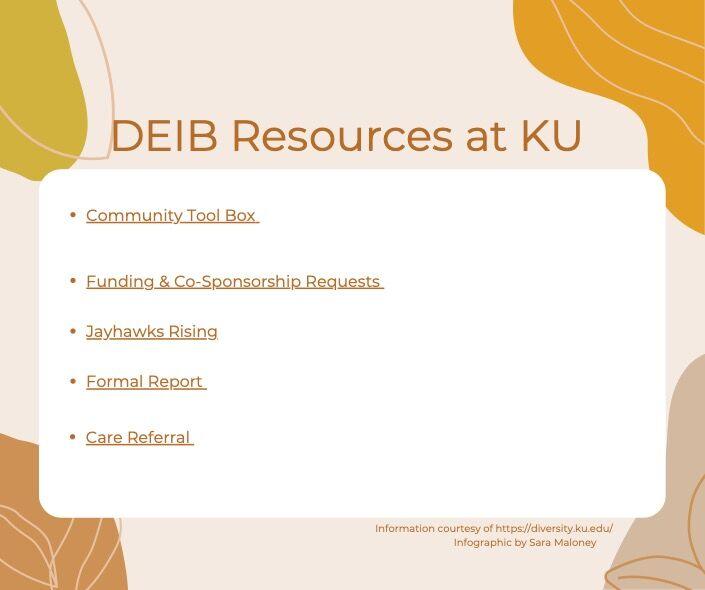 "Students have such a sophistication about intersectionality, and that's our framework, that students are leaving powerful conversations and discussions, and administrators, faculty, staff, we need to be listening closely to students," Hodges Persley said. 
Changes in DEIB office
Hodges Persley has worked with the DEIB office to implement new ways to get faculty and staff involved in the conversations they are already having at a DEIB level.
The Center for Service Learning is working with DEIB to implement a resource portal that will help faculty, staff and students step out of their comfort zones campus wide. The first draft of the portal will be functional by the end of November.
"This is a community toolbox, and we will have opportunities to help the campus think about different action items they might be able to take," Hodges Persley said.
Hodges Persley said it can be hard work to implement new resources and get people engaged with it, but it is possible to make it a comfortable process.
"What we want to do with faculty and staff is to meet people where they are, maybe this is hard, maybe you've taught the same syllabus for five years, and your class is going pretty great," she said. "And now at the institutional level, we're saying, 'but you know what, you need to diversify that.'"
These changes may come in the form of diversifying professors' vantage points on certain concepts. Hodges Persley used feminism as an example. Instead of centering feminist teachings on white feminist authors, it is important to look at who else is talking about the subject, she said.
Hodges Persley said DEIB will also be implementing a student coalition to give students a direct line to their office and administration. The coalition will allow for more transparency and give students a way to voice their concerns fully and confidently. Hodges Persley hopes the coalition will begin meeting next semester.
"It's really about what type of resources do students need to feel like they can advance the story and make KU a stronger space of belonging," Hodges Persley said. "We also want accountability. We want students to know that if they see something unjust, if they have an unjust experience, that they don't have to feel intimidated, they can come directly to our office."
She feels it is a vital lifeline to make students feel as though they can themselves do the same kind of work someday.
Hodges Persley said she will put a call out for applicants before holiday break.
One of the biggest changes to DEIB is the new strategic plan, Jayhawks Rising. The plan will focus on intersectionality, a concept which student are already familiar with, Hodges Persley said.
Jayhawks Rising will look focus on advancing KU to a community that lifts each member and advances society. The plan has 13 objectives under three institutional priorities for the university, Student Success, Healthy and Vibrant Communities and Research & Discovery.
Hodges Persley will work with Human Resources, Student Affairs, and other campus offices to map out ways to strengthen recruitment, retention, and organizational accountability.
"This is really about thinking about a worldview shift and how can we look at equity as the benchmark of excellence," Hodges Persley said. "No one wants to be a part of anything where they feel as if their identities are impacting their experience in ways that are negative."
The new plan stresses that the DEIB office is not a supplementary part of the university, but should be a necessity to all programs, Hodges Persley said.
"DEIB has really been structured in crisis or our educational programming and I think this is a moment where we can say it's beyond just diversity, equity, inclusion, it's about creating a culture of care and a culture of belonging."
Equity advisors have also been implemented to help students get more information specific to their field. Hodges Persley said the goal is to have an equity adviser in every unit of campus so people don't have to come to the DEIB office but can have information and resources on site.
Equity advisors are now in most of the schools on campus, but Hodges Persley said they are working to add them to administrative offices.
Margaret Marco has served as an equity advisor for the School of Music for about a year. Although there is so much more to address, she believes they are taking baby steps towards progress.
Marco has been working with the School of Music's DEIB program to bring in artists and musicians that offer the community a front-facing look at diversity. Most recently the school hosted events for Latinx Heritage month, Marco said.  
"We engage with the community so much more maybe than other departments," Marco said.
The school has posters around the building that direct students to a website where they can address any inclusivity-related concerns, and Marco said she hopes more students will start using the form. 
"We have not been vigilant and good listeners to our diverse student population, faculty population, staff population. We have not been attentive to their needs, or their cultural considerations," Marco said.
Marco thinks her role is important, and the role of equity advisers in all schools is vital.
"We're paying more attention, and we're listening more carefully," Marco said.
Finding stability
Erin Duran, assistant vice provost of DEIB, thinks Hodges Presley will bring stability to their office.
She will bring a new vision and clear goals, especially with her experience as a faculty member, Duran said.
"She's got history, roots and connections here that I think will be really beneficial as we roll out this new framework, to help get the community bought in and informed and connected to the work that we're trying to do," Duran said.
 Duran started at KU a little over a year ago and has seen the transition through leadership changes, but believes things are coming together.
"I think at KU you have a lot of potential, but a lot of room to grow. I've joined the community at a really promising time," Duran said. "I feel like I joined the university at an exciting time, where a lot of things are coming together to allow us to advance change in a different way."