Dozens of students stopped outside the Kansas Union to play video games with their friends at an official Nintendo event Thursday afternoon.
The Nintendo Switch: Together Tour is a series of events that promote several Nintendo Switch games at over a dozen college campuses. "The Nintendo Switch: Together Tour gives you and your friends a chance to hang out, experience some of the hottest multiplayer games available for the Nintendo Switch™ family of systems, and walk away with sweet giveaways," according to the official Nintendo website.
The tour, which is free for students to participate, has already been to the University of Iowa and will continue to other colleges in Kansas, Oklahoma, Texas, Arizona and California. It is stopping at the University of Kansas on Oct. 10 and 11 from 11 a.m. to 5 p.m.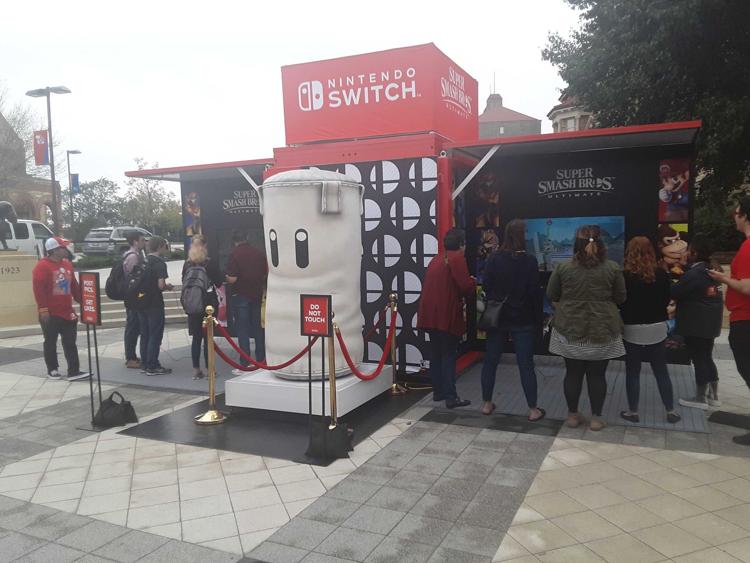 "I came out of an exam, and I was kind of stressing about it," said Meredith Wilcox, a KU junior. "And then I saw this across the street, and I was like, 'OK, I know what I'm doing.'"
While students can play a variety of games, from single player games like Super Mario Maker to multiplayer blasts like Mario Kart 8 Deluxe, Super Smash Bros. Ultimate and Super Mario Party, the games themselves are only part of the tour. Students can also take pictures with a go-kart from Mario Kart or the Sandbag from Super Smash Bros.
Additionally, if a person takes part in six different attractions, which include both the photo ops and the games themselves, they are given a random prize such as sunglasses, a fake Mario mustache or a Nintendo-themed fanny pack.
"It's pretty cool that the campus would bring this. It's not something that I would regularly check out," said KU junior Dawson Krug after playing several games of Super Smash Bros. Ultimate. "I was just kind of walking by, and I've ended up spending a while here."