Religious organizations at the University of Kansas are finding unique ways to stay connected with students on or off campus. Due to the coronavirus and guidance from the Centers for Disease Control and Prevention, many pre-planned events have been postponed or moved online.
Rabbi Neal Schuster, senior Jewish educator at KU Hillel, said members of Hillel had to make adjustments to adapt to the pandemic. Hillel stays connected with students through announcements made on their Instagram.
"It's difficult because what [Hillel does] is fundamentally about connecting with people," Schuster said. "People don't just stumble into a Zoom meeting the same way you just meet people on campus." 
Schuster said an important aspect of Hillel is connecting with freshmen, which became more difficult this year due to the coronavirus and social distancing restrictions on gatherings.
"Freshmen can quickly start to develop a support network [at Hillel]," Schuster said. "It's more difficult to build those relationships but that just means it's important for us to be the ones to reach out."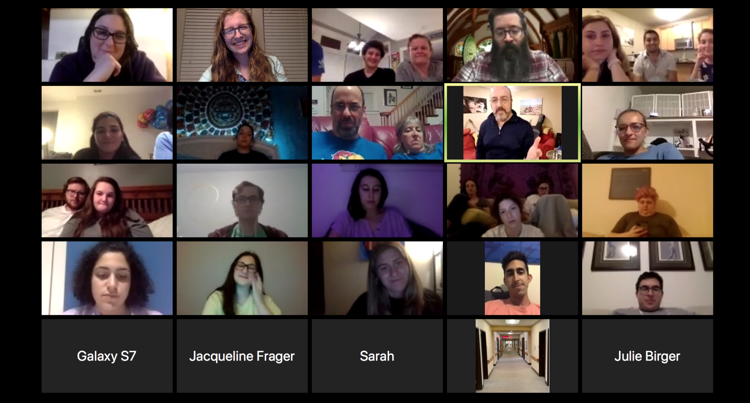 Schuster said the pandemic pushed Hillel to explore different spaces to celebrate Jewish holidays on campus.
"It's that message of 'both, and' — we are trying to be both safe and social," Schuster said. "I don't want [Hillel] to be in the business of turning people away because being welcoming is our most important value."
KU Catholic at the St. Lawrence Catholic Church also modified most activities, including canceling their opening barbecue and their Sunday night suppers.
Father Mitchell Zimmerman, director and chaplain of the church, said due to the pandemic, mass requires masks and social distancing and is also streamed on YouTube. 
Zimmerman said the church is trying to be as open as possible while following CDC guidelines. He said connecting with first-years this year is important so people do not feel isolated on or off campus.
"We have a ton of small groups that reach out to isolated students," Zimmerman said. "We do our part to try to orient freshmen and get them connected so they make the most of their KU experience."
On campus Christian ministry Chi Alpha is also finding new ways to adapt to CDC guidelines while staying close to their faith. Chi Alpha staff member Nicole Hedstrom said it has been difficult but they have continued to grow in faith together.
"We're trying to make the best of the situation," Hedstrom said. "We aren't growing a lot in numbers but we can grow more in depth relationships with the people we already have."
KU's Muslim Student Association has also adapted to CDC guidelines. The Islamic Center of Lawrence has been allowing in-person Jumu'ah (Friday) prayer, with masks required. Students are also required to bring their own prayer mats.
KU MSA has been active on their Instagram stories, promoting different Zoom events to educate their members.
"A lot of the time we've now allotted to [public relations] would go into planning in-person events," MSA President Mohammad Hameed said. "Online was never really an element – everything used to be in person."
Hameed said most of the events were easily able to be shifted online. 
As for the community aspect, Hameed said a main priority is ensuring off-campus students do not feel left out, so they have started having more impromptu events on Zoom to hang out and play games.
"MSA is still here as it always has been," Hameed said. "It may be a little different but [it's] still something [members] can turn to."