The Sexual Assault Prevention and Education Center at the University of Kansas planted 3,318 flags on the lawn outside Watson Library Monday morning to represent the survivors of sexual violence on KU's campus.
In honor of Sexual Assault Awareness Month, the project was organized to "recognize survivors, increase awareness about sexual violence and acknowledge how it affects students on our campus," according to SAPEC's web page explaining the project.
An estimated one in six undergraduate students will experience sexual violence at KU, which equates to an estimated 3,318 of the 19,195 full-time enrolled students at KU's Lawrence campus, according to SAPEC. It is estimated that one in two transgender folks, one in four cisgender women and one in fourteen cisgender men will experience sexual violence. 
"While this number is consistent with other campuses like ours, it's clear that sexual violence has much too great an impact on our community," SAPEC said in an Instagram post on Monday. "We need every Jayhawk's help to prevent sexual assault, and to build a stronger culture of consent on our campus."
Jen Brockman, Director of SAPEC, said KU community members sometimes push back against the statistics provided on the flags and signs surrounding the display.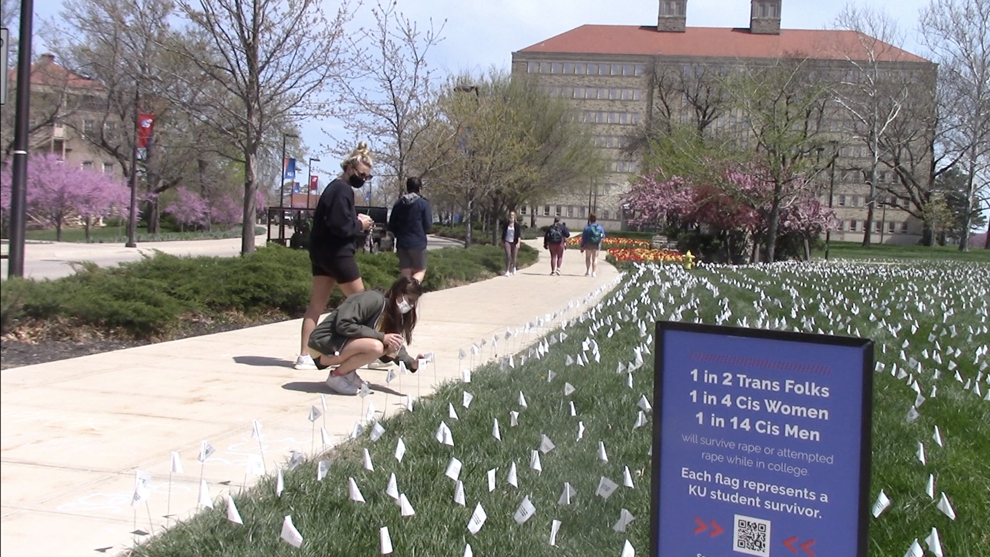 "Oftentimes when we hear that pushback against statistics, it comes from a space of fear," Brockman said. "Because what does it mean if this is right? What does it mean if it's 3,318 students at KU, currently enrolled based on our enrollment numbers? That is terrifying."
Brockman said SAPEC has heard from survivors that the annual display can be difficult to confront for the week it's up on campus. 
"We also have spaces from survivors that we hear and listen to very openly of, 'This is a really hard project to walk by, this is a really hard project to be confronted with,'" Brockman said. "We do our best to notify the community before this project happens."
SAPEC will host events throughout Sexual Assault Awareness Month, including virtual discussions and gatherings. A full calendar of events is available on the center's website.