TOPEKA — Demonstrators marched around the Kansas Statehouse in Topeka Saturday morning to protest the death of George Floyd, a black man who died after being arrested in Minneapolis, Minnesota. 
Hundreds of people met in support of the Black Lives Matter movement on the south side of the state's capitol building. The protest is one of many that have spanned across the U.S. in recent days in response to the circumstances that led to Floyd's death. The white police officer, Derek Chauvin, was charged Friday with third degree murder and second degree manslaughter.
"Police brutality has been a problem in minority communities for decades now, with the black community being exponentially disenfranchised and oppressed by authoritative bodies," said Ryan Reza, a rising junior studying political science and global and international studies at the University of Kansas. 
"Moments like this we need to show solidarity with communities that are disproportionately impacted by police departments, by the government and other systems of power," he continued, before marching with other demonstrators around the statehouse's perimeter. 
At the start of the event, organizers emphasized that they wanted the demonstration to be peaceful. 
"Nothing but positive energy today," one organizer told the crowd. "Today, Topeka, Kansas — we stand up."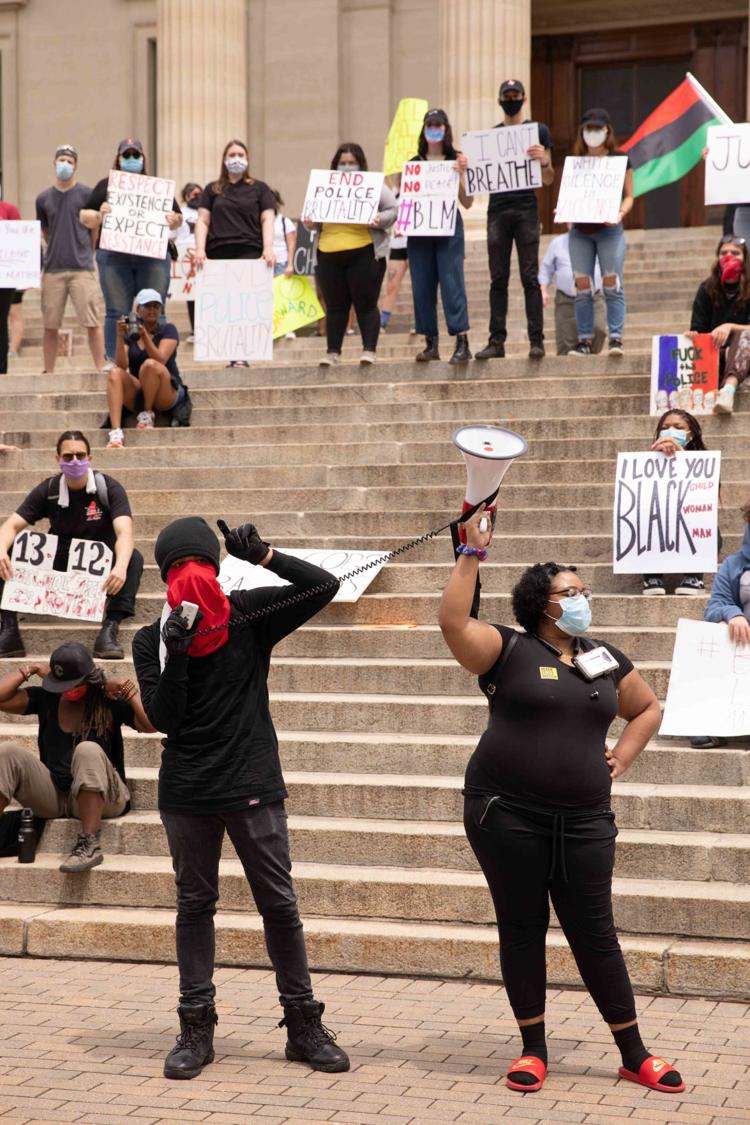 In the crowd of people, most wore face masks to help prevent the spread of the coronavirus. Event leaders were handing out masks to those who did not bring their own. Some attendees stood farther away from the crowd to practice social distancing.
Many people driving by the crowd honked or yelled in support. Posts made to the event's Facebook page said some could not attend in person because of the risk of coming in contact with the coronavirus. They said they would drive by with signs instead.  
As demonstrators marched around the statehouse, they chanted "Black Lives Matter" and names like Ahmaud Arbery, Philando Castile and Dominique White — who was fatally shot by Topeka police in 2017 — along with Floyd's. They held signs that said "I can't breathe," "Silence is Violence," "Justice for George Floyd," and many others. 
There was not a significant police presence at the demonstration. Several police cars circled the statehouse, but officers were not on the scene. 
Kansas Gov. Laura Kelly shared her condolences for Floyd's family in a statement Friday afternoon, calling the death "unnecessary and preventable." 
"His death is the latest example of systemic racism that we must acknowledge — and address — in our communities, our neighborhoods and our places of work," Kelly wrote. 
KU Chancellor Douglas Girod reaffirmed the institution's commitment to diversity and equity in a statement Friday. 
"At KU, we are an inclusive campus climate, and one committed to diversity and equity," Girod said in the statement. "This commitment is of vital importance to us as campus leaders, and we recognize our responsibility to be the change we seek to create in the world, and we pledge to live up to the values to which our university subscribes."
Protests will continue 8 p.m. Sunday in Lawrence. Demonstrators will convene at City Hall, located off of Sixth Street, where three black men were lynched in 1882. They will march down Massachusetts Street toward South Park. Protestors are encouraged to wear masks.