By 3:15 p.m. on Monday, over 100 students had gathered to protest transphobic comments made by their peers at Lawrence High School.
"Lawrence High School administrators have been meeting with students who staged a peaceful protest in that school rotunda today," said Lawrence Public Schools Communications Director Julie Boyle. "The students indicated their concerns stem from disrespectful comments that other students made in an online chatroom last week."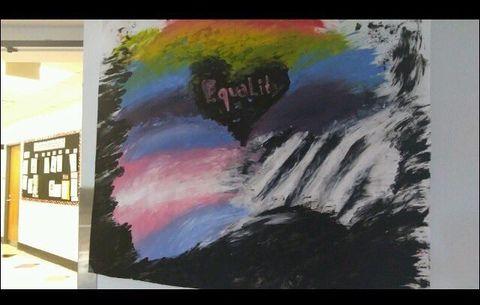 Administration at LHS refused to allow the Kansan to enter the school's rotunda, where students filled chairs, stood along walls and sat on the ground with signs that said, "I shouldn't have to be cis to be safe", "end transphobia at LHS", "trans rights = human rights", and more.
According to LHS senior Rollin Love, who helped to organize the sit-in with student group LHS Total Equality Alliance, the protest was sparked by slurs and threats made in a "senior group chat" on the GroupMe app.
"The entire protest," Love said, "was purposed around the inaction we as students saw from the administration in dealing with transphobia and discrimination going beyond the groupchat."
It started, Love said, last Thursday when students who reported the messages were told, "because it happened outside of school in a groupchat not affiliated with any staff or clubs, they could not do anything." However, after it escalated over the weekend with no response from administration, students like Love felt inclined to take action.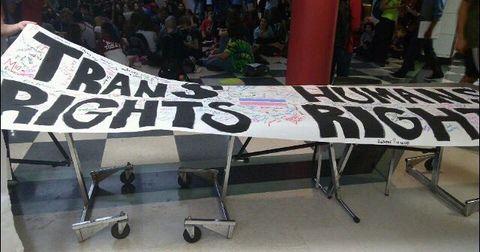 Armed with make-shift signs on wide-ruled notebook paper, the crowd grew from 20 to 50 to more than 100 throughout the school day. They wouldn't leave, Love said, until a list of demands regarding accountability for the derogatory statements made by their peers - specifically members of the LHS football team - was addressed.
According to Boyle, the content of the online comments is not known, but LHS administrators have been meeting with student protesters since 10 a.m. this morning to gather facts.
"They're interviewing kids, trying to figure out what exactly happened," she said.
After all the testimony is gathered, she said, administrators will look to see if the comments violated any Lawrence Board of Education or Student Handbook policies.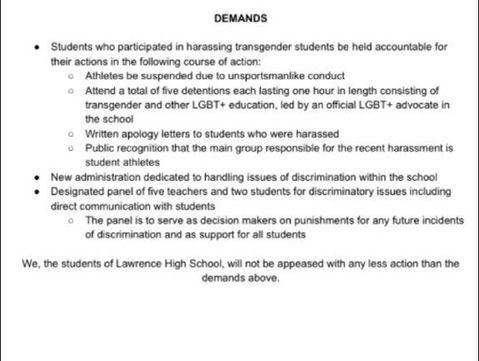 "Lawrence High does not tolerate discrimination or harassment of any kind," Boyle said. "That is part of our board policy, part of our student handbook. So if they do find there has been some discrimination or harassment taking place, they will follow up with that."
According to Love, administration promised several things by the end of the school day in response to the students list of demands. First, he said, to continue reviewing the content of the GroupMe messages and levy appropriate sanctions. Secondly, to practice more transparency with students and ensure safety.
"Soon a safe space will be available with a designated faculty member for anyone fearful of their class environment based on discrimination," he said. "Especially for trans students."