The Lawrence City Commission approved an ordinance to reduce the speed limit on Lawrence city streets from 30 mph to 25 mph unless otherwise posted at a meeting on Oct. 6.
The change comes after a recommendation from Lawrence's Multi-Modal Transportation Commission. An online survey in February 2020 that had 800 respondents, 56% of whom supported lowering the speed limit according to a report from the city of Lawrence.
"Collectors, arterials, our major thoroughfare for through traffic that have higher speed limits will not be reduced to 25," said Dustin Smith, senior project engineer with Lawrence Municipal Service Operations. "We were basing the ordinance on the definition of local streets that is in the city code, which is a two-lane street that provides access to abutting properties," 
The goal of reducing the speed limit is to reduce the chance of pedestrian-related accidents and to reduce the chance of serious injury or death in the event of an accident, Smith said.
In 2018, Kansas had 474 total pedestrian-related accidents resulting in 29 deaths and 417 injuries, according to the Kansas Department of Transportation.
The ordinance goes into effect right away on streets without signs, but enforcement won't begin until after a period of public education and the installation of new signs on streets in spring 2021, Smith said. Installing new signs will cost the city an estimated $200,000 for more than 1,000 new speed limit signs and another $20,000 to design the signs.
According to Kansas state law, unmarked city streets have a default speed limit of 30 mph and do not require a traffic sign. City engineer Dave Cronin said the new ordinance would require the city to install signs on every local street where the speed limit changes from a higher speed to the new 25 mph limit.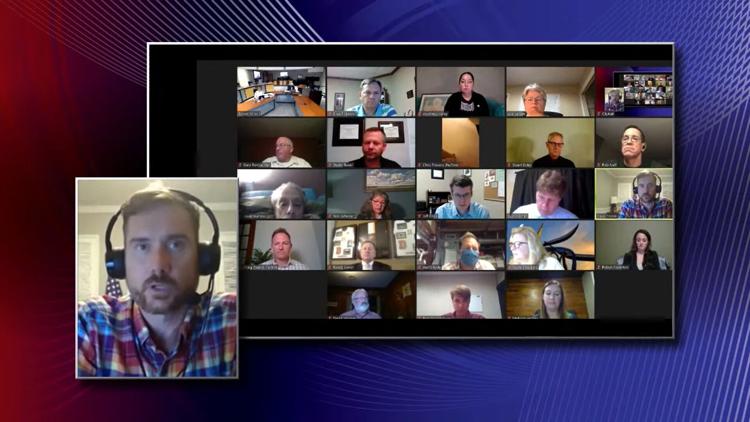 Speeding tickets in Lawrence cost $63 in court costs, plus an additional $50 for violations up to 9 mph over the limit and increasing $6 per mile over after that, according to the City of Lawrence fines schedule. Fines double in school zones.
Smith said 68% of Lawrence's streets in the Safe Routes to School plan would be affected by this change.
Officer Rob Neff of the Lawrence Police Department accident investigation unit said primary enforcement will be data-driven from the city's traffic reporting website. Residents can report excessive speeding on their street and Lawrence police will follow up with monitoring techniques that include traffic strips that count the frequency of traffic and the average speed of passing vehicles. Neff said after a survey is conducted, the department can deploy additional patrols to the problem areas.
As part of the city's Neighborhood Traffic Management Program planning in 2019, Cronin said they allocated $85,000 for additional enforcement that would go to paying officers overtime if needed to enforce speed limits during busier times.
"There is not one single silver bullet to alleviate this issue with speeding," Cronin said. "Just putting up the sign is not going to slow folks down. It really is a combination of educating the community and then doing some evaluation and enforcement to try and make a difference."
Local cyclists and bicycle mechanics Charlie Backus and George Runyan from Sunflower Bikes on Massachusetts Street said they support the change. Backus said he has been biking in Lawrence for all of his life and tries to avoid main roads.
"A five-mile an hour reduction will make me feel a lot safer on the road," said Runyan. "The difference between 25 and 30 on a bike is pretty big."