Sike Song, a University of Kansas senior studying journalism from Wuhan, China, is halfway across the world when her family back home can't leave. 
Song's family, along with the entire town of Wuhan, is under quarantine due to the novel coronavirus, a virus that originated in Wuhan and is rapidly spreading flu-like symptoms across the globe.
The virus has killed 170 people in China, according to The New York Times. Twenty countries, including the United States, have confirmed cases of the novel coronavirus at the time of publication. A possible case was detected in Lawrence Memorial Hospital Tuesday, Jan. 28. If confirmed, the number of cases in the U.S. would rise to six.
"My family and friends are all in Wuhan," Song said. "I just feel like, not helpless, but I can't help anything because I just moved here ... That's my hometown." 
On Jan. 30, the World Health Organization's Emergency Committee on the novel coronavirus met in Geneva, Switzerland, to determine if the novel coronavirus constitutes a public health emergency of international concern. 
Anthony Fehr, a KU assistant professor who researches coronaviruses, said most strains are not serious in humans. The novel coronavirus may have originated in bats and jumped from bats to another intermediate animal which eventually spread to humans, he said.
"Essentially, you have a bat virus that is infecting humans. We are not ready for that. Humans don't have any immunity to these viruses, hence why they are causing more serious disease," Fehr said.
Some of the difficulties with coronaviruses, Fehr said, is that they spread like common colds and create similar symptoms, such as coughing, headaches or sore throat.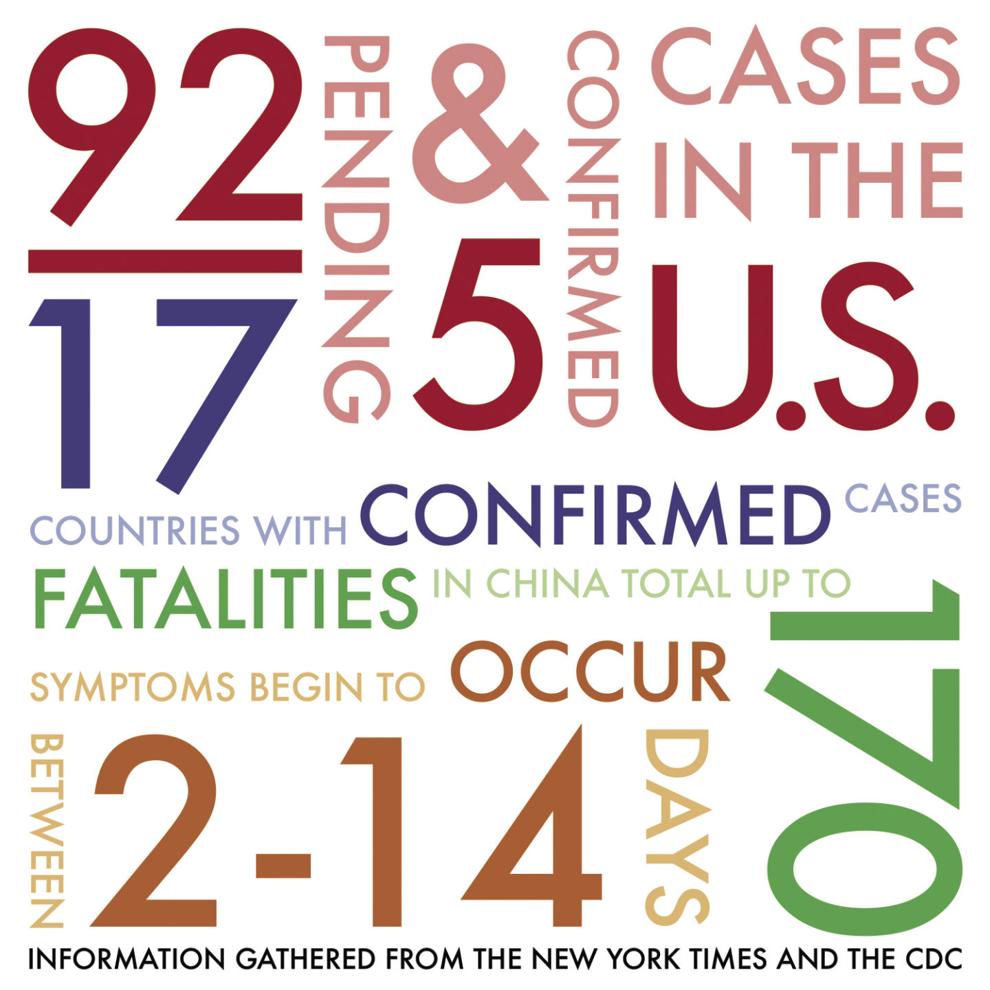 However, the novel coronavirus, like severe acute respiratory syndrome (SARS) or Middle East respiratory syndrome (MERS) coronaviruses, is causing severe, pneumonia-like symptoms, which makes doctors' jobs more difficult.
"[Differentiating between the coronavirus and flu is] incredibly hard to do. That's one of the troubles they have in China right now, is differentiating it," Fehr said. "We have a diagnostic now, so the best way to do it is apply the diagnostic tests and see what it is because it's so hard to tell. Really, the symptoms are probably not any different from a severe flu."
Song said although she doesn't know anyone who has been affected yet, she is worried for her family and friends in Wuhan.
"I'm scared, but nothing's happening to them right now," Song said. "They're just trying to stay calm and be safe."
Song said she is concerned because her family did not believe the novel coronavirus was an issue until the city was quarantined.
"Just before our governments blocked the city, my family still thought it wasn't a big issue because no one else near my family or friends got the disease," Song said. "After the government blocked Wuhan, they became a little bit scared and a little bit worried because even though nothing happened to them … They need to pay more attention and not go outside."
Aside from a potential health crisis, Fehr said he worries that the effects of the coronavirus could be far-reaching, which is why he thinks further research into coronaviruses is necessary.
"[China's] economy is going to be affected by billions and billions of dollars from this outbreak, just like the SARS outbreak," Fehr said. "That's something we need to think about in terms of trying to control these [diseases] and continue to provide research for coronaviruses so that we can be prepared."