Less than a day after several posters saying "It's okay to be white" were posted around campus, the Multicultural Student Government issued a statement of condemnation.
"We would like to let everyone know that we are working towards finding a solution," the statement, posted on the group's Instagram, said. "We will do everything to make sure there is no need to divide the students of the University of Kansas." 
The posters, located on a light pole outside of Smith Hall as well as bulletin boards in Chalmers Hall, were reported as early as Wednesday afternoon. 
In response to question from the Kansan about the University's response, Erinn Barcomb-Peterson, director of News and Media Relations, directed the Kansan to the University's Bulletin Boards and Posting policy.
The policy states, in part, "Those bulletin boards designated 'general use' bulletin boards located at various campus sites are intended primarily for use by KU students, faculty and staff. Informational materials may be posted only on general use bulletin boards."
According to the policy, these materials cannot be posted on the following: walls, utility poles, vehicle windshields, exterior doors, chairs, bus stops, newspaper distribution boxes and other surfaces that aren't designated for use.
So far no one has taken responsibility for hanging up the posters. At the time of publication, several of the posters had been removed.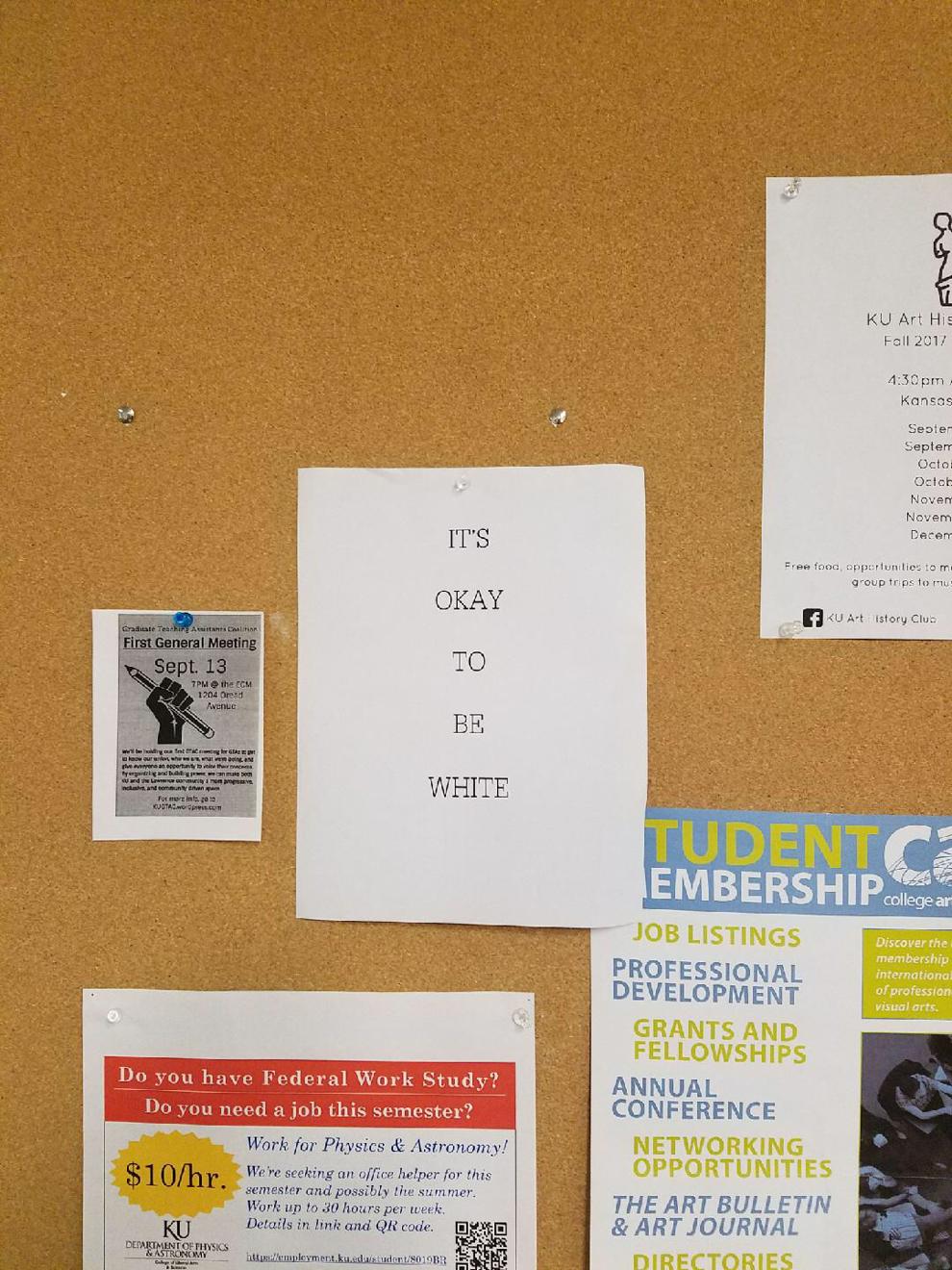 Similar posters have been reported on campuses such as Cambridge in Cambridge, Massachusetts, according to Fox News station in Massachusetts. The same were also found at Tulane University in New Orleans, according to its student newspaper, the Tulane Hullabaloo.
Student Body President Mady Womack said in a statement to the Kansan that messages such as those on the posters should be denounced by individuals at the University.
"I am deeply disgusted that this organized online campaign to divide University communities across the country has come to our campus. It is shameful that anyone would use these posters to promote a racist agenda," Womack said in an email to the Kansan. "As Jayhawks, we must condemn white supremacy wherever we may find it."
According to MSG President Chiquita Jackson, MSG scheduled an "emergency meeting" for Thursday night.