Though a majority of students, staff and faculty at Kansas' six public universities oppose concealed carry on college campuses, guns are coming to campus as a result of pressure from Kansans themselves in addition to, as some believe, pressure from gun lobbyists.
While 82 percent of University's employees and 70 percent of University's students oppose concealed handguns on campus, according to two Board of Regents (KBOR) surveys published in December 2015 and January 2016 by the Docking Institute of Public Affairs at Fort Hays State University, the concealed carry of weapons on college campuses will become legal on July 1.
In 2013, the Kansas State Legislature passed the Personal and Family Protection Act, which allows licensed gun owners over the age of 21 (59 percent of undergraduate students at the University's Lawrence and Edwards campuses are younger than 21) to bring guns into state and municipal buildings. However, public colleges, universities and hospitals were given a four-year exemption to the law, which will expire this summer.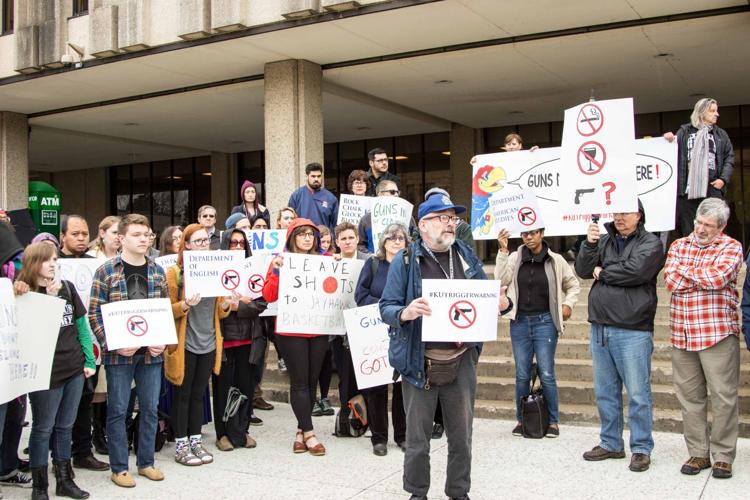 As of Feb. 27, all six of Kansas' state universities have faculty governing bodies that formally oppose campus carry (Pittsburg State University was the last to do so), and according to the January Docking survey, 70 percent of faculty statewide oppose concealed carry on campuses outright. The University's Faculty Senate formally declared its opposition to campus carry in a resolution in December 2016.
Moreover, across the state, 55 percent of students flat-out oppose campus carry, according to the Docking surveys. However, the University's employees and students opposed campus carry significantly more than any other KBOR institution, according to the Docking surveys.
As a result of the diverse views of students and employees across the state, universities have asked for local control from the state legislature, meaning that each university would be able to craft its own weapons policies to fit its unique situation.
In its December 2016 resolution, the University's faculty senate asked the legislature to continue the exemption for colleges and universities or, "to allow our campus communities to choose whether or not weapons are allowed on our KU campuses."
The Legislature has taken no such action, to the chagrin of many across the state and the University. Yet, in the last few months alone, the University has seen a great deal of anti-gun activity as a result of the impending expiration of the exemption.
The University has seen anti-gun protests, opposition in Student Senate campaigns, student lobbying, info sessions, the formation of faculty opposition groups, opposition from the University of Kansas Medical Center, explorations of increased insurance coverage, campus carry notification policies and more.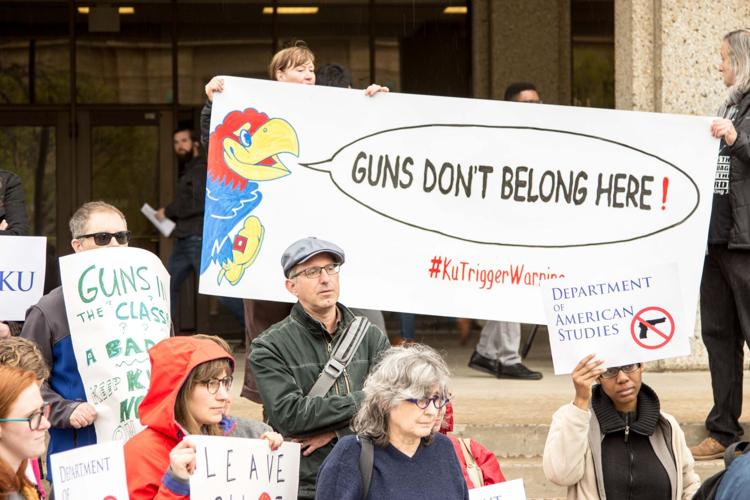 Despite the momentous efforts of University students, employees and community members, the legislature refuses to allow colleges and universities to choose their own campus carry policies, despite the fact that a majority of college employees and students oppose campus carry.
Ron Barrett-Gonzalez, a professor of aerospace engineering, president of the Kansas Chapter of the American Association of University Professors and an expert in various weapons systems, believes this is because Kansas legislators listen more to gun manufacturers and lobbyists than Kansans in regard to gun policies.
According to National Institute on Money in State Politics, the Kansas State Rifle Association (KSRA) gave $24,850 in campaign contributions to Kansas Republicans running for office in 2014, with 50 House candidates receiving $250 each. Previously, the KSRA gave Republicans $6,000 in 2012 and $10,050 in 2010. In contrast, Democrats received $500 in 2016 and $1,750 in 2014.
"These people have been essentially bought off directly," Barrett-Gonzalez said. "They have been personally enriched by, not necessarily even the gun lobby, but by the gun manufacturers."
Barrett-Gonzalez said this special relationship between certain citizens and the arms industry that supplies them is known as the civilian armaments complex. Essentially, the arms industry uses its influence over citizens and legislators to alter public policy, Barrett-Gonzalez said.
"I see behind this direct interlinking between corporate profits and the making of laws," Barrett-Gonzalez said. "We are seeing a microcosm of that in the civilian-armaments complex. This is a mirror of the larger military-industrial complex that hits at the state level and has coupled its own corporate profits to changes in the legislature."
Barrett-Gonzalez said these policies directly harm Kansans.
"I believe that the corrupting and co-opting influence of the civilian-armaments complex is so severe that it has clouded the decisions that are being made and so that the decisions that are being made are directly against the best interests of the people of the state of Kansas and certainly the youth," Barrett-Gonzalez said.
Barrett-Gonzalez said Kansas' politicians' collusion with weapons manufacturers is especially egregious.
"This industry is different because it deals in death," Barrett-Gonzalez said. "The idea that a group of people are making money on machines that would injure, maim or kill faculty, staff and students, impede our academic freedom, drive people away from our institutions of higher education, reduce our national and international standards and harm the most important investment that the taxpayers of the state has ever made, it's abhorrent to me and almost all faculty members."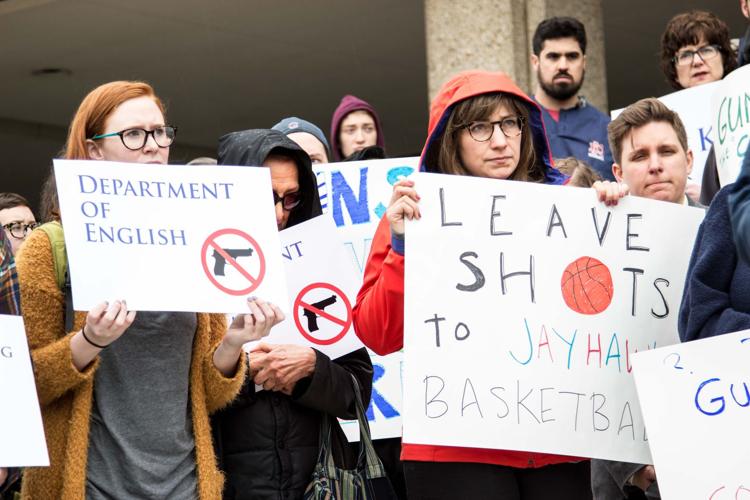 Representative John Whitmer (R-Wichita) is a member of the Kansas House and a University alumnus who supports concealed carry on college campuses. Whitmer said Republican support of the bill has nothing to do with the NRA or with the KSRA.
"I don't think it really has anything to do with the NRA," Whitmer said. "The citizens recognize that there's a constitutional right. The majority of Kansans support Second Amendment rights and so the legislature reflected that. I think it's strictly just a matter of the people of Kansas are pro-gun. We're a pro-guns state, and they support Second Amendment rights. I think that's what it comes down to."
Whitmer said he understands the concerns of those who oppose campus carry but that he has a responsibility to his constituents.
"My district is very supportive," Whitmer said. "They have to recognize that I'm representing my district, and I'm representing the interests of my constituents when I vote for Second Amendment rights. Whether or not I'm a gun owner or whether or not I care personally, I'm representing the interests of my districts, and sometimes people forget that."
Wichita State University showed stronger support for campus carry compared to other institutions. For example, only 66 percent of employees and 45 percent of students at WSU are opposed to campus carry. However, Pittsburg State University and and Fort Hays State University have even more support.
Whitmer said that he believes much of the anti-gun rhetoric is a result of fear mongering.
"Some of it may be more emotional and more fear-based than based on logic or the factual data," Whitmer said. "It's an emotional issue, so I get that, but we've heard testimony from KU students who say that people are going to die and that there's going to be mass shootings. The evidence doesn't support that."
Whitmer said, historically, campus carry offers no harm to students.
"In the last 20 years, there have been 180 campuses that embraced campus carry," Whitmer said. "There has not been a single incident of gun-related violence or gun-related suicide that can be attributed to the expansion of campus carry on campus."
Additionally, Whitmer said he believes that the results of the surveys, such as the Docking surveys, are inaccurate as a result of fear tactics used by opponents of campus carry.
As July 1 approaches, the University will continue to inform faculty, staff, students and prospective students on campus carry policy. Campus carry information can be viewed on concealedcarry.ku.edu.
Other Kansas universities have taken similar steps. Andrew Bennett, faculty senate president of Kansas State University, said that KSU has formed a taskforce to inform students on the new gun laws.
"There is a weapons policy taskforce," Bennett said. "They help prepare our basic weapons policy that has now been approved by the Board of Regents. They are currently working on plans to inform people about the policy."
Bennett said that 63 percent of KSU students, staff and faculty oppose campus carry. However, Bennett said there is less anti-gun activity at KSU than at the University.
"I don't think it has been as active here as it has been at KU, but I'm not that familiar with what's going on at KU," Bennett said. "There's certainly been people speaking out against it, there haven't been open protests yet. I don't think there will be, but I'm often surprised."
This summer, Kansas will join Colorado, Texas, Arkansas, Utah, Mississippi, Wisconsin and Oregon as states where campus carry is legal.
However, with another election in 2018, many view the fight over campus carry laws as just beginning.
"We need to make those people who have so badly damaged the institutions of higher education across the state let them feel the pain," Barrett-Gonzalez said. "And they should feel the pain at the polls. We will do our damndest to convince everybody that they have cost the state jobs, they have weakened our educational institutions and they have threatened the lives of the students, staff and faculty of our state's largest enterprise, and it's not appropriate."
However, Whitmer said that that efforts to repeal campus carry will not be successful.
"I think they'll be those who still want it repealed, but I don't think their efforts will be fruitful," Whitmer said.
— Edited by Ashley Hocking