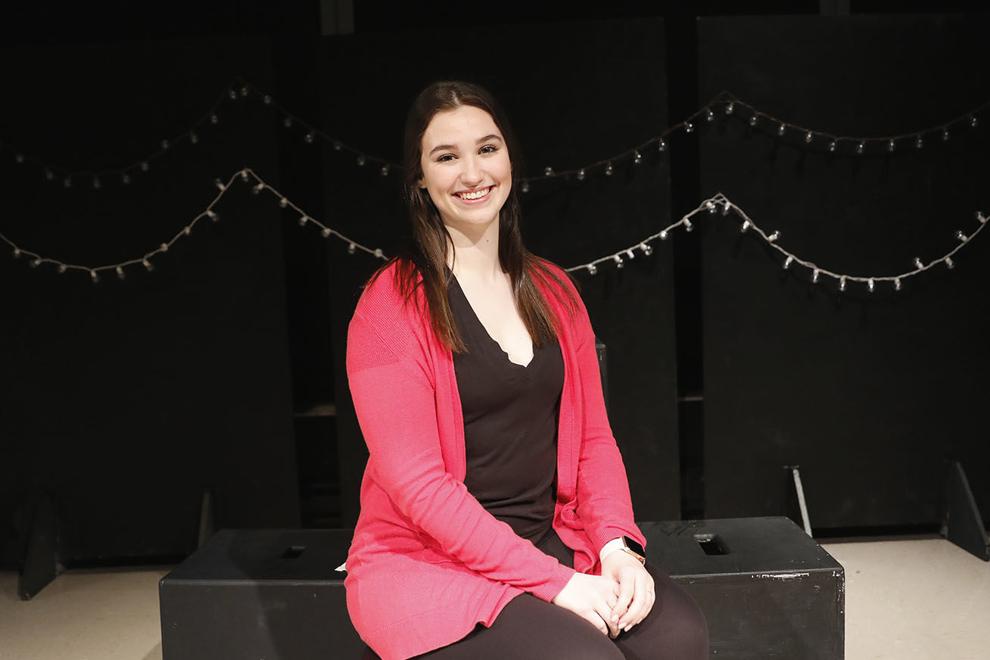 For freshman Sarah Stowell from Scottsdale, Arizona, theater is practically her whole life. Between directing the play "Constellations," double majoring in theater performance and political science, and helping choreograph rock musical "Spring Awakening," Stowell has spent her freshman year actualizing her passion for theater beyond high school. 
When directing, Stowell wants to create and produce artwork that has positive change. She decided to pursue another degree in political science so that her art to become more effective, and she could better understand differing opinions and how they interact.
"Art is so much about the world around you. Knowing the context for the world around you helps you so much as an artist," Stowell said. "There's so much polarizing stuff out there right now. I never want the stuff I direct to cause a person to sit there defensive. I want my art to exist in a way that can be digested, rather than attacking the audience."
Michelle Heffner Hayes, a professor from the department of dance, is working directly with Stowell on the choreography for "Spring Awakening." According to Hayes, Stowell's dedication makes her stand out.
"Sarah is a die-hard worker. After spring break, she got caught on a 36-hour layover after a study abroad, hadn't eaten in so many hours, and she still came to rehearsal," Hayes said. "She's dedicated, and she's a pleasure to work with." 
Before "Constellations" Rehearsal
Stowell usually has classes that run through 9 a.m. to 3 p.m. on a Monday. She has a variety of classes within the theater department, like Acting in Front of the Camera. For the most part, it's all classwork up until 5:30 p.m.
During the week of April 9, Stowell was focusing less on "Spring Awakening," in light of it being tech week for "Constellations." Tech week is the week leading up the opening night of a production, when all of the finishing details of the production are being put together. It's typically the most stressful week for the cast of the production and the crew.
"Constellations" Rehearsal 
Rehearsal for "Constellations" starts at 5:30 p.m. on Mondays. Throughout the week, Stowell will have rehearsals every day, with other people with no association with the production coming in to give feedback, or her mother coming in for some extra support as well.
As the director of the production, Stowell organizes all of the actors and works in conjunction with her stage manager to set the aesthetics of the production.
"When I'm directing, I'm in that space where I'm happy to be in the room and happy to be there. Everyone can find their space in different roles and I just found mine as a director," Stowell said.
Stowell has always been incredibly detail-oriented as a director; she considers it one of her strengths. But, since her arrival at the University, she's learned when it's the right time to just let more things go. 
"I go crazy with all the details. Like is telling her that her lipstick color is one shade off really going to make a difference? Probably not. A lot of what I've found in my approach is balance," Stowell said.
During rehearsals, Stowell approaches everything with a collaborative tone. She wants to open up more conversation with the cast and crew over how to best bring a script to life.
"I'm not going to shut down other good ideas. We have this phrase I really like that is, 'Stay in your lane.' Otherwise, it becomes this giant, massive power struggle. There's a balance between collaboration and chaos," Stowell said.
After "Constellations" Rehearsal
Rehearsals usually run late for Stowell. Back in high school, she would ideally be in bed by 9 p.m, but now with all she has on her plate, she usually doesn't even get home until then. She usually heads back to her residence hall right after "Constellations" rehearsal, staying up until 2 a.m. to work on homework.