Sitting on the corner of Tennessee and 14th streets, Bullwinkles Bar looks rather inconspicuous when casually passing the watering hole. But inside is a place that many students past and present hold dear, especially Kansas basketball fans.
Brothers Pete and Tommy Sorrentino have owned Bullwinkles, known by most as "the Bull," since 2013. The addition of a patio to the southeast section has contributed to the bar's laid-back attitude.
"We are also a smaller bar, which is nice. It allows us to be versatile," Pete Sorrentino said. "When it is not busy, it is fun to be in there, and when it does get busy it is very fun to be in there."
The bar holds 269 people in total, including the patio that can be found filled most Saturday afternoons.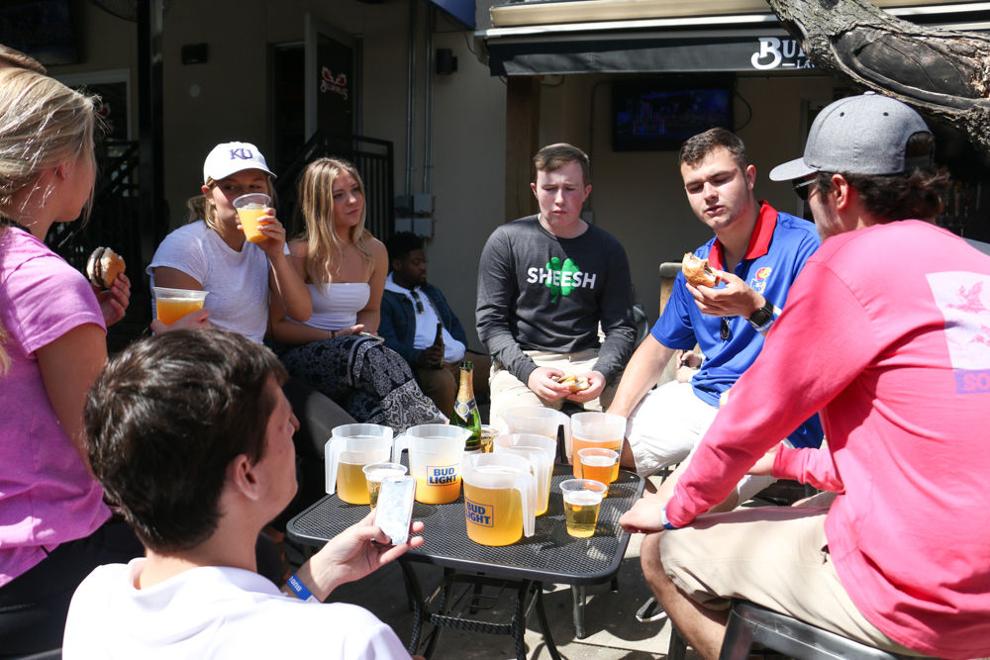 On more relaxed days, two sliding glass doors shield off the bar from the unpredictable Kansas climate. The inside section of the bar can only fit 95 people, but that only adds to the unique climate of the Bull, according to Sorrentino.
"At times we are like a neighborhood corner bar, and other times, like a Final Four game, we are packed and have a line around the corner," Sorrentino said.
Every bar has a go-to drink — for the Bull, that drink is the "Moosebowl."
A blue or red concoction mixed into a large Pepsi cup may not catch someone's eye at first, but after tasting it, Sorrentino says you'll be hooked.
"We put a lot of work into it to perfect the recipe and the image of the Moosebowl to make it something fun," Sorrentino said. "Something where everyone comes in and wants a Moosebowl and knows it is going to taste good and not like a disgusting drink."
The Moosebowl has even received national attention.
In December of 2017, Buzzfeed put a video on its YouTube channel going through the most famous drinks from each state. When it was Kansas' turn, Buzzfeed's Eugene asked for a Moosebowl.
But don't get too ahead of yourself looking for a recipe — there isn't one. The Sorrentinos have kept it a secret for years and only bartenders are allowed to know the recipe. 
For bartender Mitch Ursick, the craze surrounding the Moosebowl is funny.
"At least three or four times a shift I am getting asked about it," Ursick said. "It is the most highly contested secret in Kansas."
Ursick bartends every Saturday during the day and has done so since August 2017.
In that time, he has noticed a trend when it comes to students watching games.
"When the game is actually on and during play, everyone is locked into the screens. But as soon as there is a timeout, everyone starts to rush to the bar or start talking with their friends," Ursick said.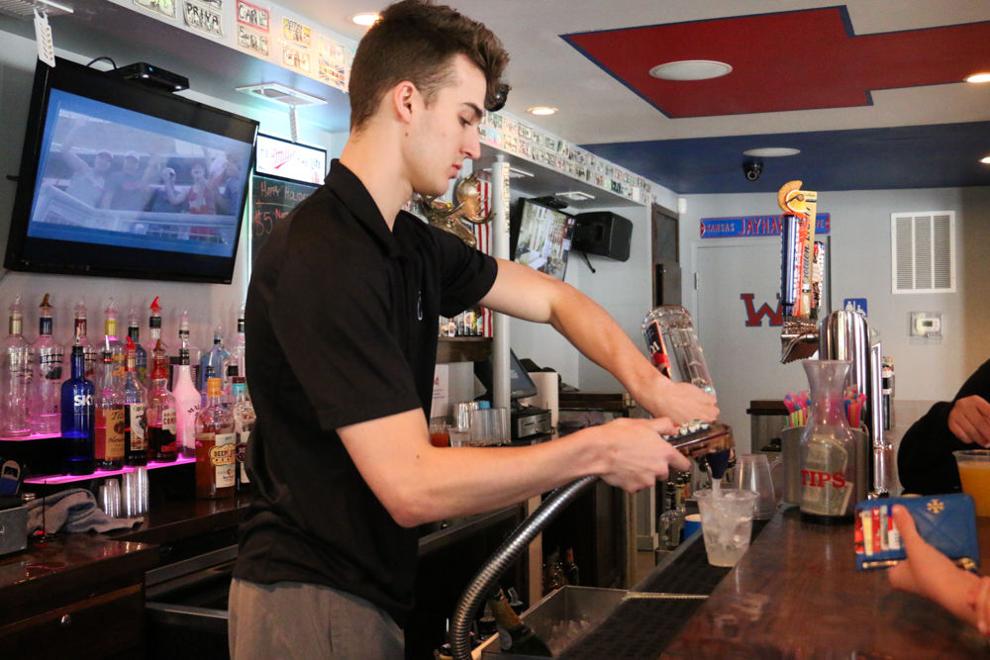 The atmosphere inside the Bull on a game day is what lad University students to vote the establishment the "best sports bar to watch a game," something that Sorrentino takes pride in.
"It's huge for us," Sorrentino said. "It says a lot and it is something we work for."
The Bull is open from 7 p.m. to 2 a.m. from Tuesday through Thursday, and 12 p.m. to 2 a.m. on weekends. The bar also has live music from different local bands on Tuesday nights. The Bull also opens three hours prior to every Kansas basketball and home football game.