Though it's not the number one spot in town for local music, chain store Urban Outfitters supplies residents of Lawrence with music, but with a vintage twist.
The store, located on Massachusetts Street, sells records and cassette tapes in its home section at the front of the store. For the most part, the store offers some recent releases, such as Solange's "A Seat at the Table" and any Lana Del Rey album, but tends to focus on old music, like Pink Floyd and The Beatles. Every record it sells is brand new — no used records are available for purchase.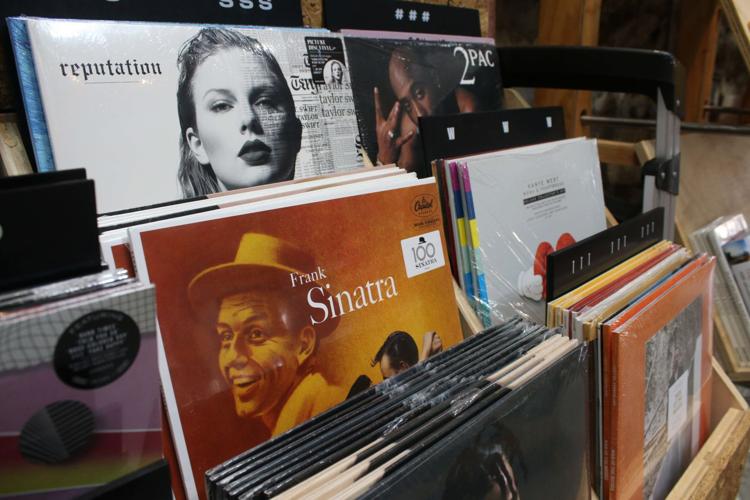 Juniper Valeo, a senior from Atlanta studying journalism and French, is the current assistant manager of accessories and beauty at the store. Valeo explained that selling cassette players, record players, vinyl and cassette tapes falls in line with the store's overall brand.
"The brand is very alternative, and it's trying to look at fashion and creativity in an urban light," Valeo said. "It has a very vintage feel of repurposing the old and turning it into something new and unique. Records are a big thing of what people come to buy. There's definitely an aesthetic when it comes to shopping at Urban."
Valeo explained that the store tries to make it as personal as possible. At the Lawrence location, there's a row of employee picks of records hanging along the wall for shoppers to consider.
"We definitely personalize a lot of things, which is nice when it comes to displaying and merchandising," Valeo said.
The store also sells clothing, accessories and beauty products as well. Music is sold within the home section of the store, on the immediate right once you walk through the doors.
Though the brand is still a top location in Lawrence for residents to buy music, it's less popular than Love Garden Sounds due to Urban's high pricing and lack of used records. Though buying used records can be risky, it's more affordable compared to Urban's $20 average for a record.
Emma Dodge, a junior from Leavenworth studying theater, typically buys their records from Love Garden Sounds instead of Urban Outfitters, since Love Garden has deals like the dollar record bin. They said that their preference tends to lean into much older music, which Love Garden Sounds supplies more often.
"[Urban Outfitters] isn't really my style," Dodge said. "I kind of forget they even have records there."