Sherron Collins and the number 4 are intricately connected.
The winningest four-year player at Kansas. Four-consecutive Big 12 Championships. Four All-Big 12 selections. A trip to the Final Four in 2008. And now his No. 4 jersey hangs in the rafters of Allen Fieldhouse.
The long legacy of the 2008 national championship was apparent Saturday night, especially when the former Kansas center joined the legendary Jayhawks represented in the rafters.
Kansas coach Bill Self called Collins the best guard he has ever recruited. Cole Aldrich has described Collins as the fiercest player he's ever played with.
"What a ride," Collins said, as he took to the court at halftime of Kansas' 104-74 win over Oklahoma for his jersey retirement on Monday. It was all he could muster within the first few seconds he was in the spotlight, holding back emotions.
With the crowd cheering, a group of white letters emerged in the student section that hadn't been seen since 2010.
"Ain't no seats," the letters read, followed by another pair of white cutouts that read "#4". It was a phrase that stuck with Collins ever since his first semester at Kansas.
While many Kansas fans believe it to mean the sold-out nature of Allen Fieldhouse, a story posted by the KU Alumni Association revealed the true meaning in 2015. Kansas alumnus Tyler Doehring, class of 2009, recalls the story briefly in the article: "Legend has it, Sherron Collins came into class a bit late and made his way to the back of the classroom. The professor encouraged him to take a seat in front. Without hesitation, Sherron responded, 'ain't no seats' and a flock of white doves flew out of his bag."
Twelve years later, Collins was faced with the phrase once again, but this time as he stood next to his framed jersey and a spotlight shone upon his name and number on the south side of Allen Fieldhouse.
The moment @SHERRONCOLLINS4 became a #kubball legend. pic.twitter.com/bRDA9P8cXD

— Kansan Sports (@KansanSports) February 20, 2018
With many of the 2008 national championship team still in attendance following Aldrich's jersey retirement on Saturday, Collins thanked members of that team among many others.
"2008 was the best time of my life by far," Collins said. "These guys, and half the guys didn't play that much, and I mean this to them, because without you guys, we wouldn't be able to do what we did. You guys pushed us to get through every day. You made us better."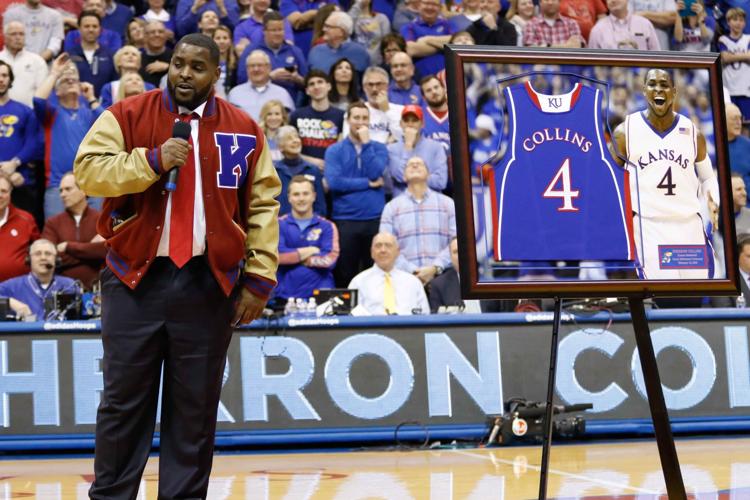 On Feb. 19, former Jayhawk guard and member of the 2008 National Championship team Sherron Collins will have his jersey retired in Allen Fieldhouse. 
Collins is one of the most record-setting players in the Kansas record books, up there with the likes of Danny Manning, Nick Collison and Kirk Hinrich.
Collins sits in the top ten in points (1,888 for fifth), field goals (656 for seventh), free-throw percentage (80.8 percent for seventh), games played (143 for fifth), assists (552 for ninth), three-pointers (232 for fifth) and minutes played (4,071 for fifth).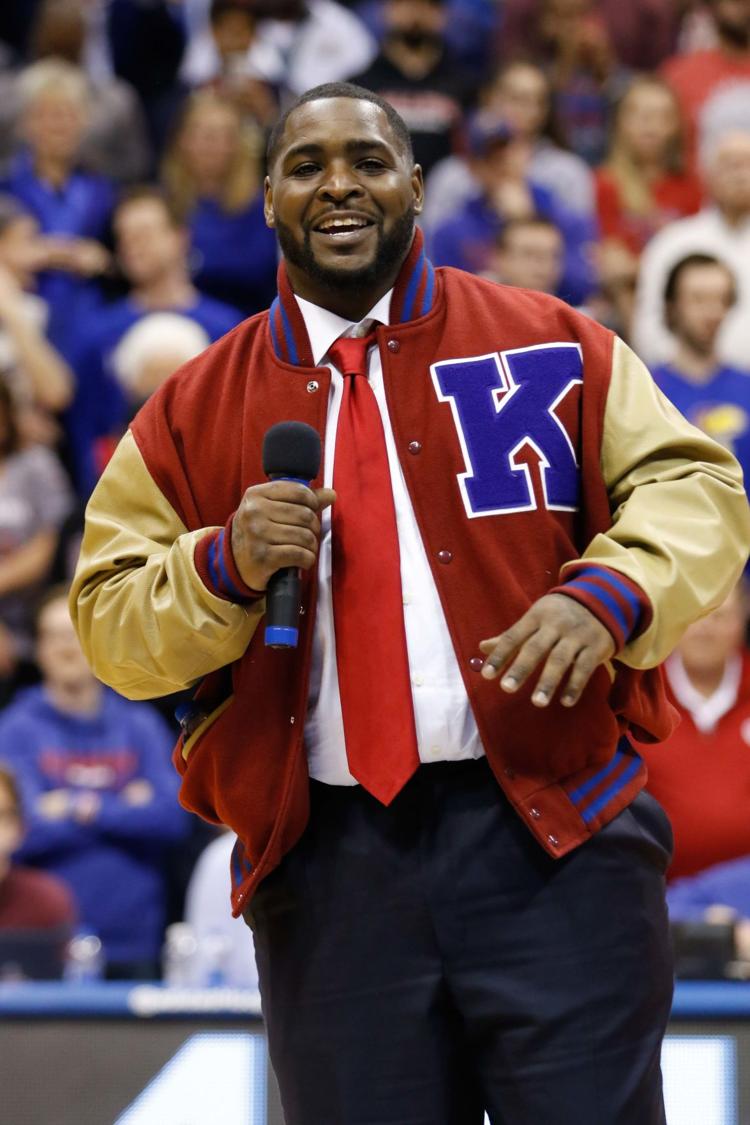 It was an emotional speech for Collins as he thanked everyone from basketball staff to the media. But the nostalgia for Collins began before he even picked up the microphone.
The traditional pop-up video showed in the first half of Kansas' win over Oklahoma, but there was a slight twist — it showed the first-ever pop-up video, which aired in 2010 and featured Collins.
The video claimed that Collins' best talent aside from basketball was making people smile. But on Monday night, it was Collins smiling as he turned toward the student section near the end of his speech.
"Everybody in that section, everybody here," Collins said. "Ain't no seats."
With a traditional "Rock chalk, Jayhawk," Collins was applauded off the court to a fan admiration that was 12 years in the making.