LEXINGTON, Ky. — Kentucky basketball coach John Calipari took a long pause before answering the last question in Friday's press conference.
The conference was held with a large group of reporters the day before his Kentucky Wildcats faced the Kansas Jayhawks in an annual SEC-Big 12 matchup of the top college basketball powers.
It was a question that asked him to take a side.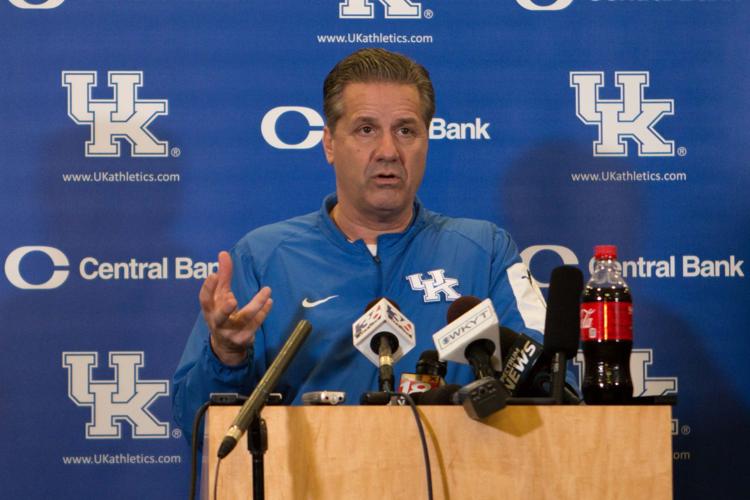 Which basketball tradition is richer: Kansas or Kentucky?
He went back in time to illustrate the history Kansas carries with it into games like these. Calipari was an assistant for Kansas under Ted Owens and Larry Brown from 1982 to 1985.
"We were in Allen Fieldhouse in the old locker room and they had, literally, a shower that was 50 years old, and I'm thinking Phog Allen showered in this shower," Calipari said.
"So they had a good shower and then they had that old one. I always went in the old one. And, you know, from Wilt Chamberlain to you think of JoJo [White], all the guys that played there — I'm hoping [former Kentucky coach Joe B. Hall] was here today, I know I was trying to get those guys to come in too."
Calipari's mentor Owens, Calipari said, would join the team at practice after the press conference.
Since Owens cultivated a coaching mind that went on to accomplish everything, Calipari has operated a basketball mammoth in Lexington that didn't begin with him and certainly won't end either.
---
In Lexington, there is decidedly a more 'basketball royalty' feel to the program.
An image of former Wildcats Anthony Davis and Michael Kidd-Gilchrist smiling on draft day springs off the wall behind Calipari outside Kentucky's practice gym.
At Kansas, images of former Jayhawks from Wilt Chamberlain to Andrew Wiggins cover the gallery near the Kansas locker room, with one common theme: every player is pictured in a Kansas jersey.
Kansas stratifies its program from the rest of the country subtly.
The DeBruce Center makes the arena look a lot more sleek, and perhaps Kansas is stepping it up, but Allen Fieldhouse is modest. For a 16,300-capacity basketball arena, the beige structure looms large after dark, but does little to distinguish itself from the campus buildings it surrounds compared to other stadiums. In fact, KU's state-of-the-art new business school towers as high as the Fieldhouse from across the street.
The Fieldhouse is in pristine condition through diligent renovation, however, the knowledge that Chamberlain, JoJo White or Paul Pierce once occupied that rectangle on the floor — even if it wasn't that specific hardwood — is enough to count it among the venerated college basketball arenas.
Rupp Arena isn't a cathedral. It's a factory.
Davis, Julius Randle and John Wall played there. Rick Pitino and Tubby Smith coached there. The arena is attached to a mall. A college basketball museum is attached, and this one doesn't hold anything written by Dr. James Naismith. The corporate atmosphere of Kentucky basketball is honest: the Wildcats produce and export talent.
The programs look and feel a lot different now, but Kansas' and Kentucky's basketball traditions stem from a coinciding history. When Adolph Rupp took to Kentucky, it was after being a pupil of Kansas' Phog Allen, who revolutionized basketball coaching.
It's only fitting that the men who stand at the helm of these two programs now began at the same place: cutting their teeth as assistants at Kansas. Calipari coached under both Owens and Brown. Bill Self, in theory, replaced Calipari as one of Brown's assistants the following season.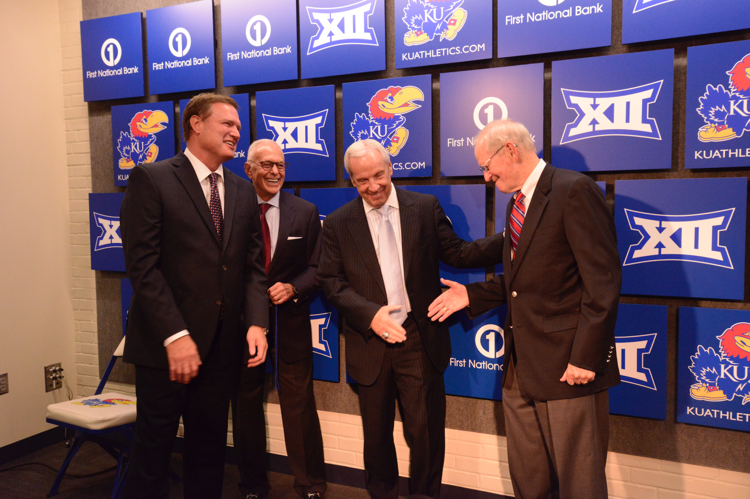 Self and Calipari's origins may have been similar, but their paths to success were vastly different. 
While Calipari's fledgling head coaching career found him coaching in an Elite Eight and Final Four with Massachusetts, Self's career had him recording the first winning season in his three years as Oral Roberts coach. Self left Oral Roberts with an NIT Tournament first-round appearance as his biggest success.
Calipari's Kentucky machine is unabashed and it's also wildly successful.
After Calipari's Memphis team fell to Kansas in the 2008 National Championship, Calipari hit back with a win over Kansas with Kentucky in the 2012 national title game. Self's consistent success over 14 years with Kansas contrasts with Calipari's explosive success: three Final Fours, an NCAA championship and an Elite Eight all in eight years with Kentucky.
Much like Self or any other successful college basketball coach, Calipari is a respected celebrity in Lexington. But that's different, too. Calipari hosts his own radio show called "Cal Cast," where he most recently interviewed Drake. He doesn't tweet at halftime like Nebraska coach Tim Miles, but who'd be surprised if he did?
The Kentucky basketball program wouldn't mean this much without physical proof of it either.
The team built a $7 million dorm for basketball players in 2012 called "the Wildcat Coal Lodge". Kansas' residence hall, McCarthy Hall, cost more at $12 million, but it was built three years later. The Jayhawks' last upgrade in the recruiting arms race likely won them Josh Jackson, who averages 15.5 points in an outstanding freshman season.
Kansas basketball already has Allen Fieldhouse, but now Bill Self and company have something…
A lot has changed since these two programs were born.
Kansas doesn't play in a 5,500 seat auditorium anymore. Kentucky doesn't play in a 2,800 seat auditorium anymore either. More than 4,000 games have been won by Kansas and Kentucky combined. The internet wasn't invented, let alone social media. And there sure weren't lavish residences for basketball players when Phog Allen and Adolph Rupp were coaching. 
But even as the modern college basketball landscape has grown into what it is today, the Kentucky and Kansas brands of basketball set themselves apart.
Though now distinct, the two programs are forever entwined and will be perennially linked each time they challenge each other on the court.