Her uncle always told her she could be one of the best runners in the world if she kept working, kept running. But at 14 years old, Sharon Lokedi grabbed what she needed — a blanket, a jacket and the clothes she was wearing — and ran for her life.
After the Kenyan presidential election results were released late in the night on Dec. 27, 2007, Lokedi and her family fled to the forest and hid.
Burnt Forest, Lokedi's home village with a population of about 5,000, became the nucleus of post-presidential election violence, oft-called the "Kenyan crisis," primarily because its population consists of conflicting tribes. When the results were announced, most of Lokedi's family ran from Burnt Forest, except for the men, who stayed back to protect their tribe and their homes.
She escaped to the outskirts of Burnt Forest, where there was no shelter, no steady source of food and no possessions. She didn't move unless she was sure it was safe. There was no semblance of real life at all.
"You don't do anything," Lokedi said. "There is nothing."
For the next month, Lokedi and her family lived in silence and fear. If they were found by the Kikuyu — the rival tribe of the Kalenjin, which Lokedi and her family belonged to — they'd probably be killed.
"You leave everything," Lokedi said of the Kenyan crisis. "When you start running, you can't bring anything."
The month of hiding came eight years before starting her life over again, 8,306 miles from her childhood home, in Kansas, where she is no longer running out of necessity. A year after coming to Kansas, Lokedi would become a Big 12 cross country champion and, in her sophomore season, already one of the best runners Kansas had ever seen. Just like her uncle believed could happen.
———
After the conflict ended, Lokedi returned home safely with her family. Like so many others in Kenya did every day, she started running three to four kilometers to school again (Kikuyu students would join two semesters later, still worried about the conflict). That was the first way she trained herself — run to school, run home, run when she needed to go somewhere in town, rinse, repeat.
It was the last years of primary school, in seventh and eighth grade, when she learned just how good she could be. She consistently found herself near the top of leaderboards, starting in district races and advancing to national races. That was where she began to get interest from high schools known for running, including Kapkenda Girls High School, a school about 40 kilometers from home — 80 kilometers by matatu, or privately owned bus — where she enrolled.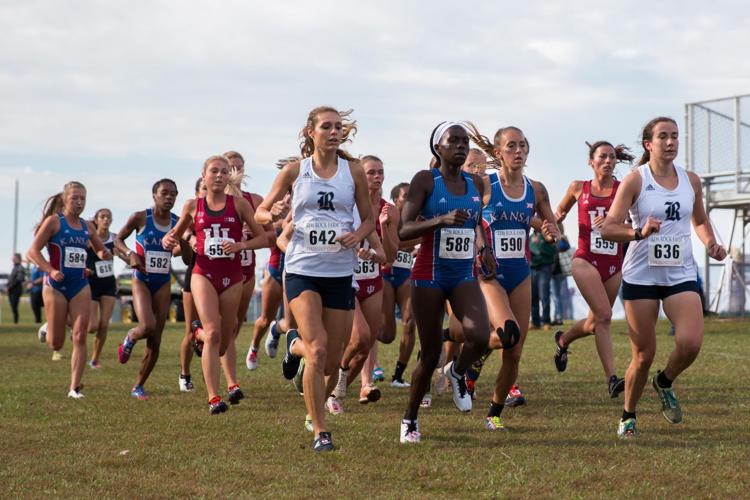 In Kenya, almost every student aspires to become an athlete, and for good reason.
Kenyan men won all but three Boston Marathons between 1991 to 2012, and Kenyan women have won 12 of the 17 Boston Marathons since 2000. Kenyan men hold nine of the fastest 10-kilometer times of all time, and women hold five of the fastest 10. Kalenjin especially dominate. Seventeen men in American history have run a marathon in under 2:10. But, as David Epstein told NPR, "There were 32 Kalenjin who did it in October of 2011."
Nearly all of those runners come from Rift Valley, which is not far east from Lokedi's home, where the elevation is high, diets are simple and runners train barefoot. Outside of farming, running is one of Kenyans' few options.
The Kenyans winning races were people living next to Lokedi, or people from the next town over. When she started running in training camps, she would run next to those world-class runners, just trying to keep up. The dream of becoming a professional runner in Kenya — and with it, many times, a big pay day — is oftentimes inescapable.
"So many lives have changed due to running," said Fred Yego, Lokedi's uncle who pushed her to run again after high school, eventually helping her land in Kansas. "There are athletes from very poor backgrounds who have made [it], and they encourage the upcoming ones to also work hard in training."
———
There was a period after her four years at Kapkenda, about 18 months, when running completely fell out of the picture for Lokedi. She stayed home, waiting to join a college in Kenya, and helped her mother with her business and her siblings. Sometimes she would work on her family's farm, which produced crops like potatoes and maize. With no way to train, she prepared for college in Kenya and a life without running.
But there was one more option.
Lokedi had heard stories of running in America from the girls who had graduated before her and ran at Texas Tech after school. From the time she was in high school, she knew she wanted to go to America, but it didn't seem realistic until her uncle told her about her neighbor's son, Isaac Biwott, who ran cross country and track and Middle Tennessee State from 2007 to 2011.
"I didn't know how I would come to America," Lokedi said. "It was my dream here, but at some point I just thought maybe I should just go to school."
Once Lokedi knew that running in America was feasible, she removed her name for consideration for Kenyan colleges and with the help of her uncle, found a training camp in Kaptagat, an hour away from her home. That was where Kansas distance coach Michael Whittlesey found her on one of his recruiting trips to Kenya, after Lokedi's coach sent him her times and forms.
As a freshman at Kansas, two years after she had finished school at Kapkenda, Lokedi was an All-American, with a 10th-place finish in the six-kilometer race at the NCAA Cross Country Championships. Then, in her sophomore season, she shaved 12 seconds off her time and finished fifth.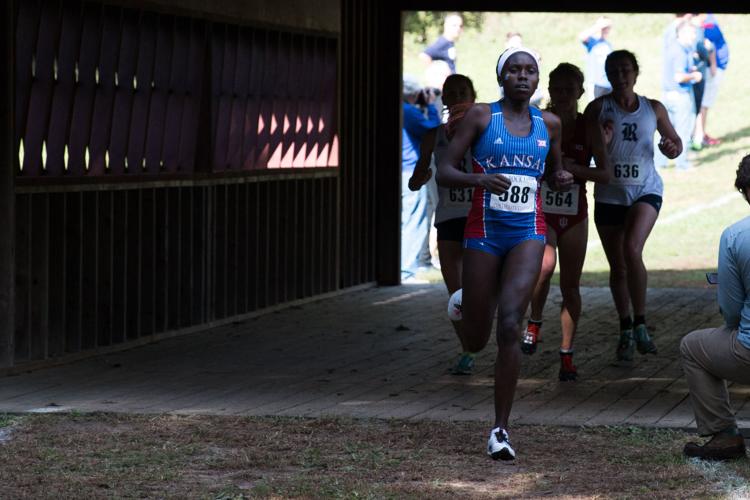 Lokedi admits that, even now, she still isn't fully comfortable in America — she might never be. The homesickness hit the most in the first weeks after she arrived for the track and field season in 2015. She had no phone to call home, no friends, and a weak grasp on the English language. She felt lost.
"You couldn't communicate as well, so sometimes it was hard to get to understand each other, and sometimes you'll feel lonely," Lokedi said, looking back almost two years, to her freshman season. "You miss your parents and you just wish you had your friends, people who can understand you and speak your language."
There was her wistfulness for home, and then there was the pure cultural adjustment — both of which, she admits, might have affected her performance early in her college career.
In Kenya, to ask for "water" is to really ask for milk. In Kansas, she stopped drinking milk every day. Instead, she drank more actual water. She adjusted to an American diet — less vegetable-heavy than in Kenya, where corn and maize were staples. She began speaking almost exclusively English. Less Swahili.
"She was just telling me a story about drinking coffee, and she wasn't sure about how much sugar and everything else to put in the coffee," cross country and track and field coach Stanley Redwine said. "It's just little things that people take for granted that she had to get acclimated to."
But, despite all the differences, America gave her a new dream and mission: an education — that's always been her first priority — and a place to run, but also a slow transition to comfort in a new culture. Now she dreams of being an NCAA cross country champion by the time she leaves Kansas. After that, she wants to run professionally in America, hopefully then adjusted to her American life.
"With time, as it goes by, you know more, you get to understand, you learn a lot," Lokedi said. "It's not that easy to just change like that. I still have a long way to go, but it's better right now."