Brandon Clark started his leg of the distance medley relay just as any other high schooler in the event would. As teammate Max Flower ran down the straight to finish his leg of 400 meters, Clark, a senior from Olathe North, took the handoff and held his team at fourth place in the race throughout his leg.
At 2 minutes flat, it was the fastest 800 meters he had run since the state meet in May 2017.
"I don't know what clicked, but today felt right, today felt good," Clark said after the race, starting to catch his breath.
It didn't break any records — though Clark does hold the Olathe North 800-meter record at 1 minute 56 seconds. It wasn't even the fastest time in the 800-meter leg; that belonged to Daniel Mattern of Omaha Creighton Prep, who kicked his team into first in the relay.
Yet on Halloween of 2017, nobody thought Clark would ever run again. No one knew what was happening, even Clark.
Seventeen-year-old Clark had a blood clot in his brain stem, suffering a stroke after a practice. He needed emergency surgery in the early morning of Nov. 1.
Word spread among the students at Olathe North. Flower was getting a lot of calls but continued to put them aside. It wasn't until Flower picked up the phone call from one of his teammates to inform him that Clark had suffered a stroke. He didn't really know how to react.
"I was just in shock," Flower said. "I went to school the next day, then that following day I went to visit him at KU Med."
Flower joined friends and family, as well as Clark's track coach Levi Huseman, an alumnus Kansas track and field from 2005 to 2009, in visiting Clark as soon as they could. At the time, Clark was paralyzed from the left side of his body over.
"I saw him in the hospital a day later and … I wasn't worried about him running, I was worried about him living," Huseman said. "Then, I didn't think any of that was on the table."
As Flower kept returning, he watched Clark progress. One day he got to see Clark take a lap around the whole office floor. He even recorded it.
For the first seven weeks, Clark attended an out-of-patient rehab program at Ability KC, located in downtown Kansas City. He couldn't run; it wasn't even being considered. He was more focused on working on things like physical, occupational and speech therapy.
But come January, Clark was back up and running and training for the upcoming track season. Going from not being able to move to a racing pace was a lot harder on Clark's mindset than he thought it would be.
Training Clark to race again became a new challenge for Huseman as well. Day by day, Huseman tried to help Clark do a little more.
"The biggest thing we try and do is to not let that be an excuse for him going forward," Huseman said. "We hope that what he's done so far is not all that he's going to do."
Doing nothing turned into a five-minute jog, not really worrying about mileage. Soon after, that turned into a 10-minute run. Then 15 minutes, then 20 minutes. Since track season started, he's been running at his full mileage every week, just like last season.
"He's like the most in-shape person that people know," Flower said. "It's super inspirational and motivational. Huge inspiration to our team ... to me too."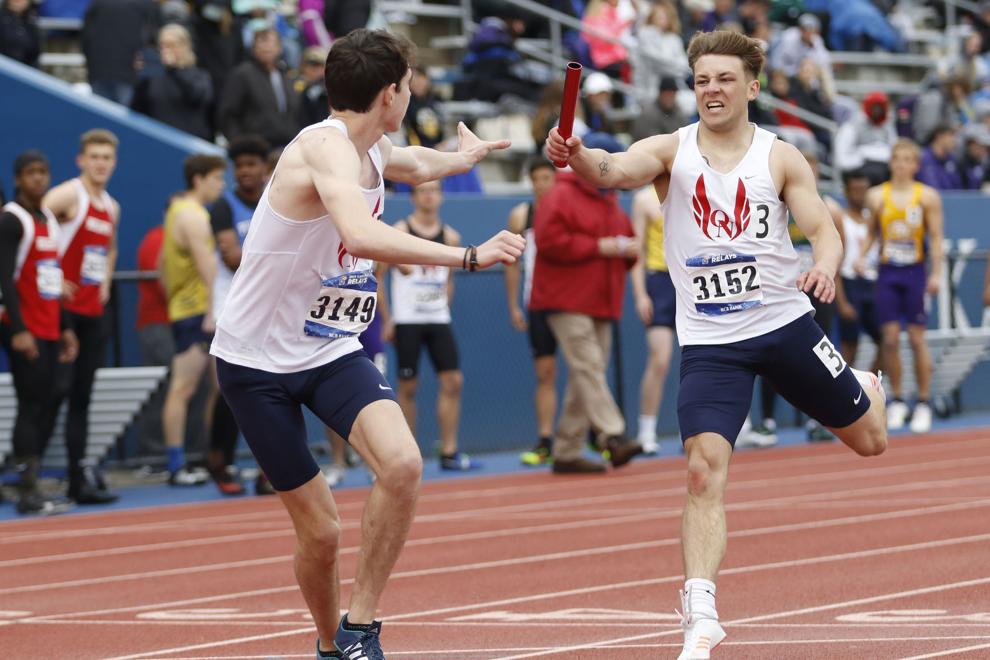 Clark still has his eyes on repeating a state title come late May, with the added the possibility of helping qualify the school's 4x800 meter relay team and take the podium with three of his closest friends.
"It'd mean a lot more this year than it did last year," Clark said.
It seems strange to expect the same considering how much has changed in Clark's life. In fact, that's what makes Clark such an inspiration.
"Everyone thinks he just snapped back, it's been a process for him," Huseman said. "It's just this constant molding of what he's doing and what he's dealing with this."
Next year, Clark is committed to run track and field at Washburn University. Flower has an offer from Kansas Wesleyan, but he's looking into going to Washburn himself.
Clark's end of the season goals have not changed since last year's state championships victory, nor will they as the season continues to roll on.
"It's something that's going to happen to him and not something that is going to define him," Huseman said.