Editor's Note: The writer of this story, Lilly Stewart, is a member of the Kansas rowing team.
It was a sunny 70 degrees in Tulsa, Oklahoma, when junior golfer Ariadna Fonseca Diaz walked onto the course for the Dale McNamara Invitational on April 10, 2017. Nerves shook her to her core until coach Erin O'Neil approached her. Diaz listened as her coach reminded her to trust her preparation because she had worked harder than anyone to gain her spot on the course.
Diaz absorbed the message. She stepped onto the first tee and never looked back. With her coach knowing just how to calm her match day anxiety, Diaz was able to finish in the top five.
"When coach reminded me to trust my preparation, I had all the confidence I needed to go out there and preform my best," Diaz said.
Good coaches play a pivotal role in the development of student athletes. For female athletes, women coaches in particular can relate to their athletes in ways male coaches never could. But four decades after Title IX was created, Kansas has a dearth of women head coaches. Out of 11 women's teams, three are coached by women — rowing, golf and softball — putting KU among Division 1 schools with the fewest women heading teams.
In 1972, when gender equity law Title IX was enacted, women were head coaches of more than 90 percent of women's collegiate teams across two dozen sports. Today, the figure has decreased to about 40 percent. The University of Kansas is down to 27 percent, earning it a grade of "D" in a study comparing 86 Division 1 schools by the Tucker Center for Research on Girls and Women in Sport at the University of Minnesota. This is slightly better than in 2016-2017 when Kansas received an "F."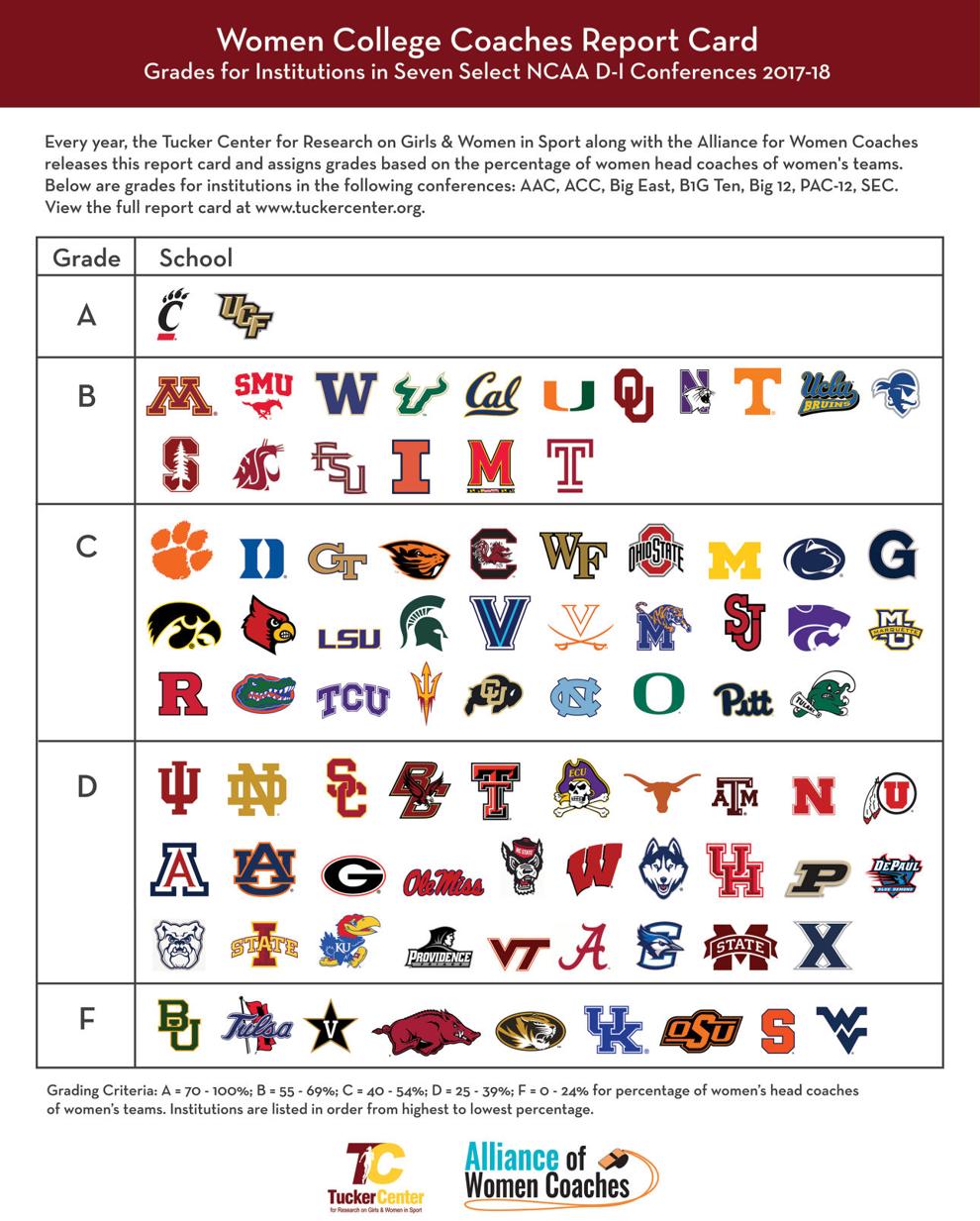 When asked about the poor grade Kansas received from the Tucker Center, Jim Marchiony, Kansas Athletics associate athletic director of public affairs, said, "Every time Kansas Athletics conducts a coaching search we look for the best fit, male or female, to lead our student athletes to success in competition and in their academic pursuits."
But the Tucker Center's codirector said such statements may actually hinder hiring women.
"AD's saying they want 'the best' coach is a statement that automatically privileges and favors male coaches over women whether intended or not," Nicole LaVoi wrote in a recent study she said will soon be published. "The best might also be a coded way AD's can talk about hiring women without putting themselves or the institution at risk for gender biased discrimination litigation by male applicants."
She wrote that that "leadership" is often evaluated in the context of male attributes, meaning there's an "underlying gender bias and gender stereotype."
"To coach" by definition is being assertive and in control, aggressive, ambitious, confident, dominant, self confident, forceful, self reliant and individualistic — all these characteristics are typically associated with men and masculinity," LaVoi said.
Several factors have contributed to the limited number of women coaches at KU and other schools. While Title IX led colleges to expand the number of women's teams to stay on par with what they offered men, experts say it also inadvertently contributed to the decline in women coaches. Pay for coaching women's teams increased, attracting male coaches to the jobs.
"Ever since money was thrown into women's sports, there has been a dramatic decline in women coaching women sports," said Jane Widger-Fulton, former Division 1 softball coach and current senior associate athletic director for student development. "It's sad because women genuinely want the jobs and want to be able to help groom strong young women. A lot of men just want the job for money."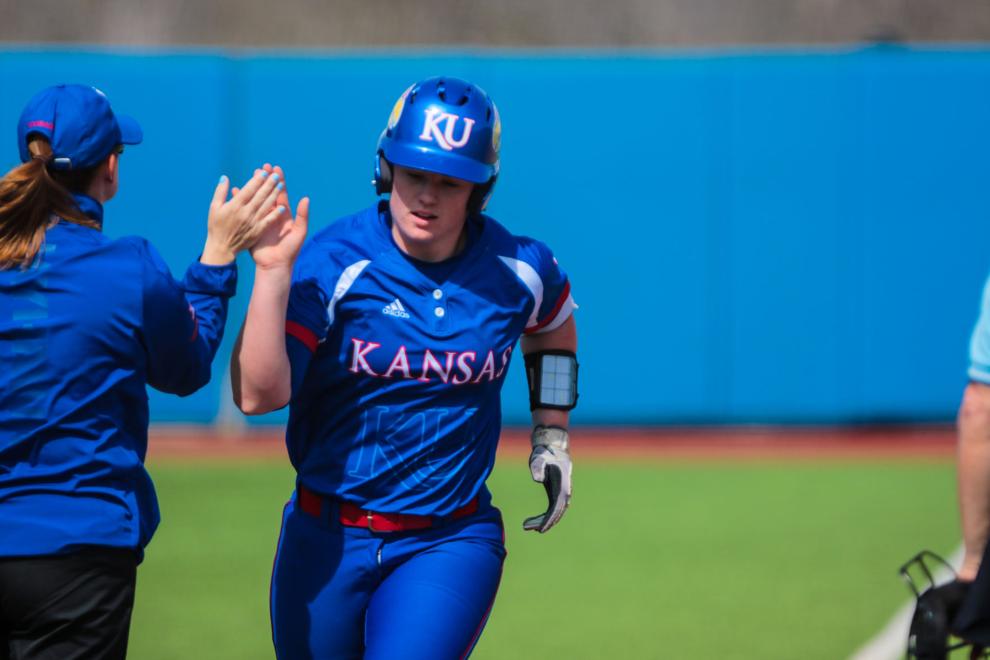 Softball coach Megan Smith said it's slightly "uncomfortable" and a "little weird" when the women coaches all sit down for women's team meetings and she sees only two other women. She said it would be nice to have more women coaches around. Since Smith started coaching in 2010, Kansas has had between two and four women coaching women's sports at one time.
Another reason women do not coach as much at the college level is because of the time commitment, particularly for women with children. Early morning practices and late night practices can leave little family time.
"It's very hard to have children and work in athletics," O'Neil said. "I don't have any children and that was a personal choice, but I have friends that coach at other schools that have children and coaching is very difficult for them. There just is not much time."
Junior track athlete Tara Anderson from Austin, Texas, said it's easier for her to talk to female coaches than males because they have "a little more sympathy" and you can talk about body issues and other personal matters.
Swimming student athlete Zoya Wahlstrom, a senior from Lakeville, Minnesota, said she "enjoys having both male and female coaches, but every female athlete has their girl moments, so it's great to have a female coach to talk to."
Women coaches at the University said it's important for women to coach other women. For softball, it's the relatability and understanding of the sport.
"Everything my athletes are doing, I've already done," said Smith, coach of the softball team.
She also values being a role model.
"If my athlete's mom was not the breadwinner in the family growing up, or the mom wasn't the main person supporting the family, most of the time these girls have not seen or encountered strong women. I want to show these girls that every single one of them can be and is a strong woman," Smith said.
O'Neil also said it's important that her athletes see powerful women. She wants her athletes to be able to say, "Well, hey, if she can do it, I can do it."