In September, Kansas Athletics announced a $350 million plan to renovate several of the University's athletic facilities for its football, volleyball, baseball and basketball teams.
University alumnus David Booth announced Friday night at The Jayhawk Club a $50 million donation to a Kansas Athletics fundraising campaign that is part of a $350 million, five-year strategic vision.
The plan is intended to be carried out over the next five years, and will be financed by a combination of donations, premium seating revenues and other "traditional funding sources." The project has received commitments from two especially generous donors, David Booth ($50 million) and Stewart Horejsi ($10 million).
The $350 million won't be distributed evenly between the four sports. Most will go toward construction of an almost entirely new football stadium. Volleyball and baseball will also find themselves in significantly remodeled homes, with minor additions coming to Allen Fieldhouse and the basketball program.
Here's a look at the venues and what's planned:
FOOTBALL
History
Memorial Stadium was built in 1920.
Multiple renovations were carried out over the next decade to add seating to what originally were just east and west bleachers. Several more upgrades have been made in the years since, including the introduction of artificial turf in 1970, a second video scoreboard in 2005 and most recently the creation of new luxury seating areas this season. In 2014, the track surrounding the field was removed, making Kansas the last power-five conference school to do so.
In 2008, the Anderson Family Football Complex was opened next door. The complex contains offices, athletic training facilities and media/team meeting areas, among other functions. The complex's locker rooms were upgraded in 2016.
Plans for Renovation
The vision for construction on Memorial Stadium has three phases.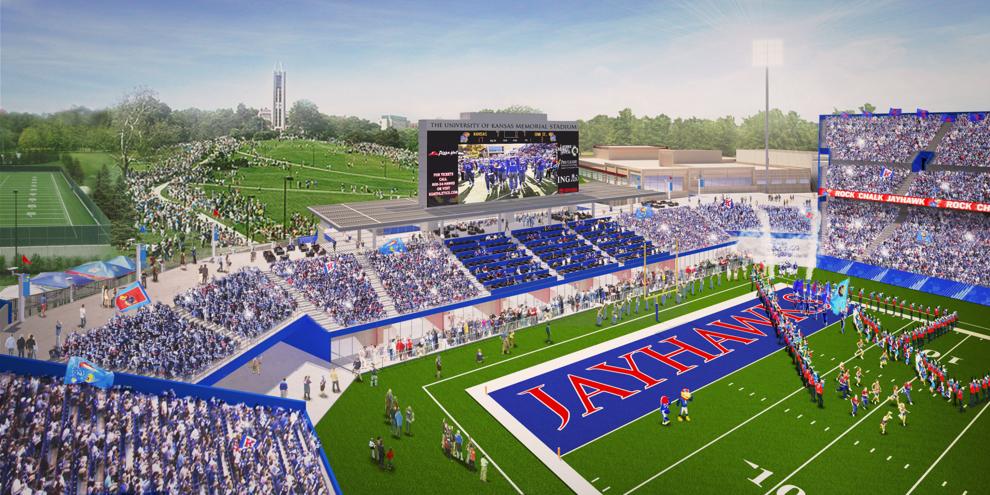 Phase One: Construction of a new 90,000 square-foot indoor practice facility with a high-performing synthetic turf field. Athletics Director Sheahon Zenger said it was important to complete this stage first since it has the potential to  provide the biggest boost to on-field performance. The University put the cost of the facility at about $15 million.
Phase Two: The focus will be on the south and west sides of the stadium, expanding options for luxury seating, concourses and concessions. The price tag is estimated at $170 million.
Phase Three: Consists of a new seating deck on the north and east sides of the stadium and installation of a high-definition video scoreboard. This stage is set to cost $130 million.
Other components of the plan not listed in the three stages include a new lobby and exterior for the Anderson Family Football Complex, cosmetic upgrades to the stadium's exterior and a new "Jayhawk Recruiting Experience Lounge."
Impact
It's no secret the Jayhawks' football team is one of the worst in the country, so why inject this much money into a failing program?
Well, as the old adage goes, you have to spend money to make money. Creating these new facilities won't immediately make the team better at football, but KU officials and coaches believe it will create avenues for them to do so.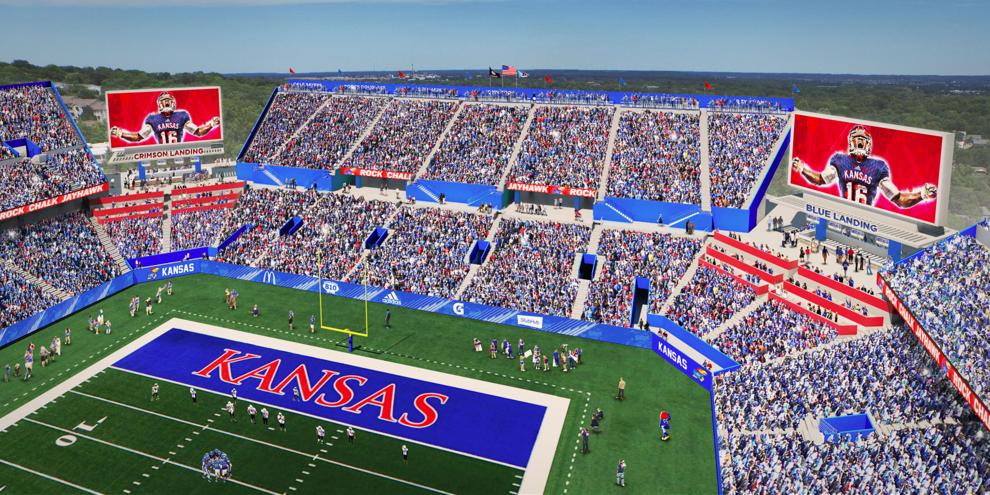 Coach David Beaty brought his reputation of strong recruiting with him to Kansas, and it's hoped his ability to pull in the country's top high school players will be improved by the upgrades. The thinking is that new state-of-the-art facilities will make Kansas a more attractive destination for recruits and also show the university's commitment to restoring the program moving forward.
"The coaches (of recruits) have been like, 'Wow, that is exactly what you guys need, right? It's the investment that you guys needed,'" coach David Beaty said. "You don't get something for nothing in this game. The ones that are able to get it turned, they do it because of their investment. Their investment is there in all areas."
VOLLEYBALL
History
Horejsi Family Athletics Center has housed the Kansas volleyball team since 1999, and is one of five volleyball-only venues in the Big 12.
Renovations have come through the years, including a major project in 2009 that enlarged and remodeled the facility in conjunction with upgrades to the connected Allen Fieldhouse.
Horejsi currently seats 1,300, a far cry from the 4,000-person capacity arena that conference rival Texas plays in and many other facilities nationwide. It has both the competition court and additional space used for practices by both the volleyball team as well as the men's and women's basketball teams.
Plans for Renovation
The existing Center will be replaced by the new Horejsi Family Volleyball Arena, a 3,000-seat venue that will be built on the same site at an estimated cost of $10 million.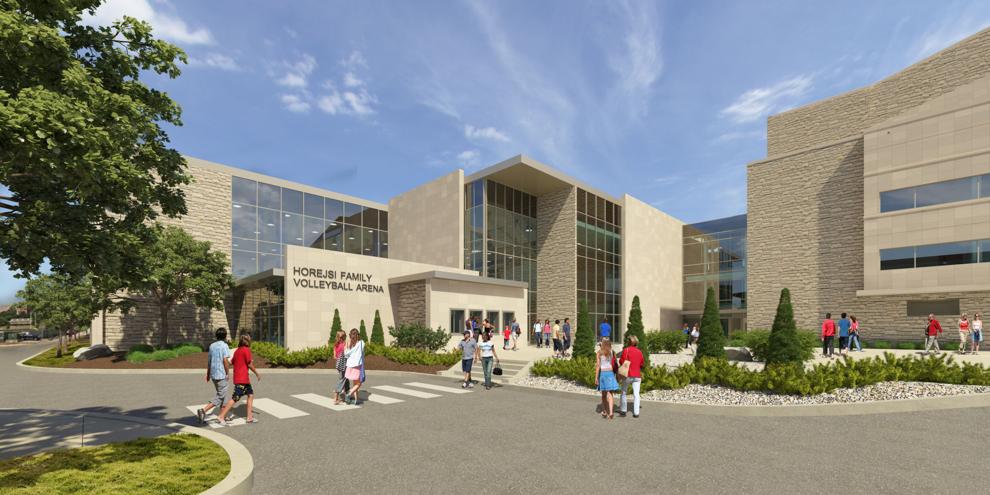 The new arena will  include a new high-definition video board, an upgrade from the analog scoreboard currently in use. The team will be treated to a new home locker room that has "exclusive amenities." An expanded concession concourse, a new donor club and other hospitality space will also be included in the site.
Impact
The main goal of the upgrade to Horejsi is to enable the team to host significant postseason matches.
Last season, Kansas hosted the first two campus-site rounds of the NCAA Tournament in Horejsi, but lost in that second match. Had the Jayhawks won, they would have been slotted to host the next rounds, but according to NCAA policy a facility must be able to seat at least 3,000 to host regional matches.
So, as it currently stands, if Kansas were to host Sweet Sixteen or Elite Eight matches, they'd have to move to Allen Fieldhouse like they did in 2013. However, this the team has said it favors the rowdy, closed-off environment Horejsi provides now to Allen Fieldhouse stands that would be littered with empty seats.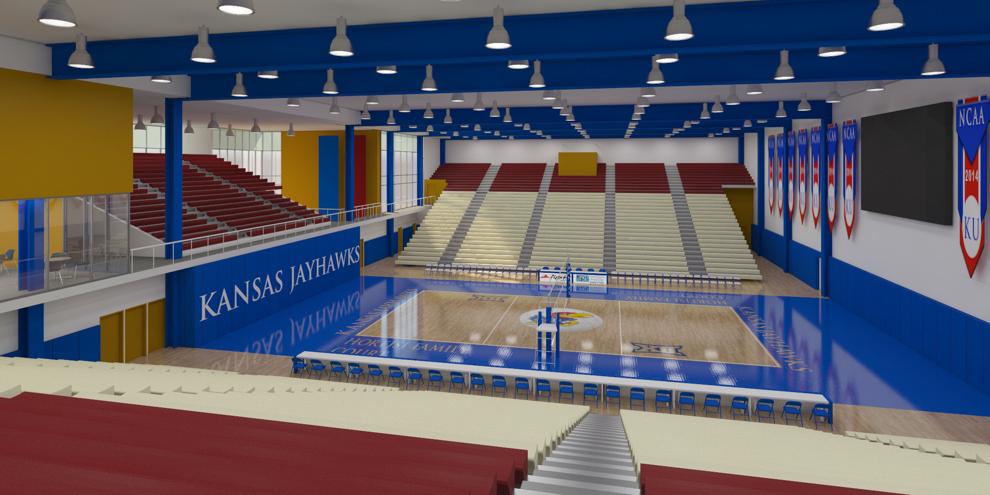 That 3,000-seat mark lands right in the sweet spot between a capably-large facility and an advantageously-small home environment, said coach Ray Bechard.
"We don't want to lose the intimacy of this building, but at the same time we want to open our arms to get a few more fans in here," Bechard said.
BASEBALL
History
Hoglund Ballpark has technically only been open since 1999, but the stadium existed under different names for 40 years before that.
Quigley Field was built in 1958 on the same site across from Allen Fieldhouse. It stood there for 27 years before being renovated in 1987 and renamed Hoglund-Maupin Ballpark. In 1999, the park's namesake and former Kansas baseball player Forrest Hoglund donated more than $1 million for modifications, and the stadium's name became solely Hoglund Ballpark.
The Padgett Family Indoor Facility was added to the ballpark in 2006, housing batting cages and other training areas in a heated and air-conditioned setting. The ballpark was significantly renovated in 2014, adding new turf mounds and décor that celebrated Kansas' 2014 regional championship. A clubhouse was built along the first base side in 2009 that offered a new locker room, student-athlete lounge and a game day patio for fans. AstroTurf was installed in 2010, replacing the grass field.
Plans for Renovation
The metal bleachers of Hoglund will be replaced by 2,000 new stadium seats. A new set of bleachers will be added down the left field line, along with new field level seating as well. Several luxury seating areas will also be constructed.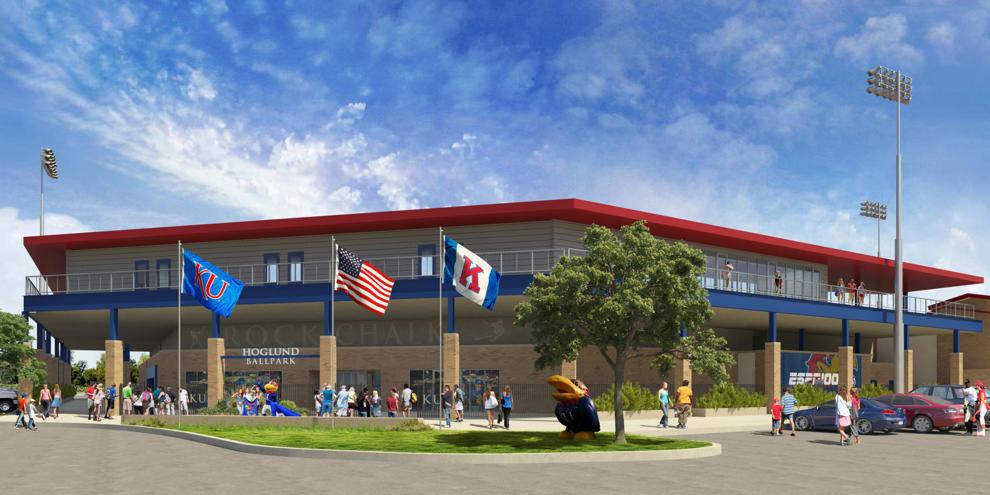 Upgraded concourses and a new press box will be built, along with the addition of a weight room and other new facilities within the clubhouse. Both the locker room for the visitors and umpires will also be renovated, and the visitor's bullpen will be moved to a better location. A team store is also in the plans.
The changes to Hoglund are estimated to cost $12 million.
Impact
The plan calls for a complete remodel of Hoglund, improving both its cosmetic worth and value to the team.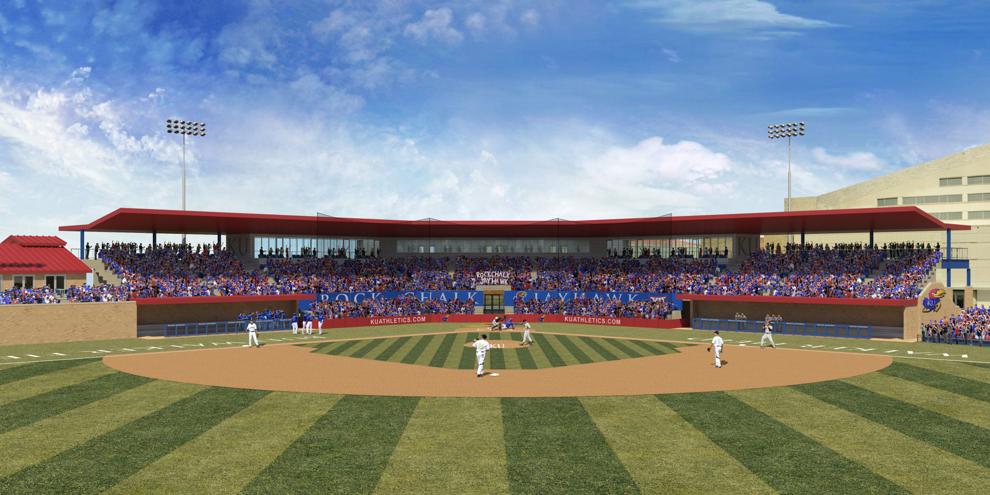 The new seating and concourse design will not only make things more aesthetically pleasing, but also will increase the overall fan experience as a whole. The stadium seats will be far more comfortable, an upgrade from the bleacher-style seating that the park currently houses. Luxury areas and enhanced viewing decks will attract patrons who aren't as interested in what's happening on the diamond, offering another way to enjoy the game.
In a similar vein to football and volleyball, the new park is also expected to help the program's recruiting.
MEN'S BASKETBALL
History
Allen Fieldhouse has stood in its spot on Naismith Drive since 1955. Several interior and exterior renovations have been made over the years, along with the additions of the connected Booth Family Hall of Athletics and McCarthy Hall, a nearby residence hall that houses the men's basketball team and has practice facilities.
Plans for Renovation
The upgrades to Allen Fieldhouse are significantly less major than the other facets of the plan.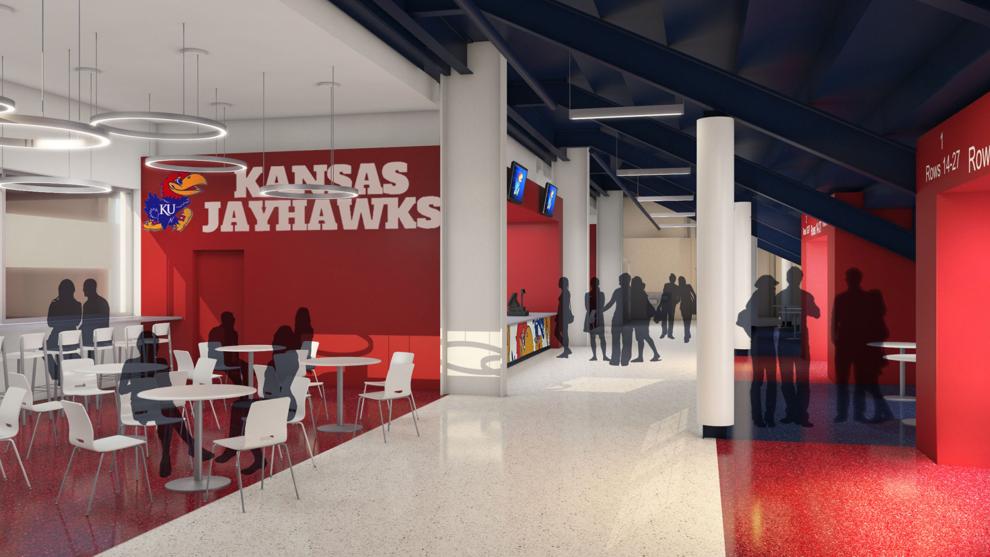 The second and third floor concourses will be remodeled to fit a more modern aesthetic and provide more opportunities for concessions and retail. Eight "Donor Atrium Suites" will also be added.
Impact
These changes are designed to enhance fan experience. The current concourses are a bit outdated, and modernizing the area could draw fans to spend more money.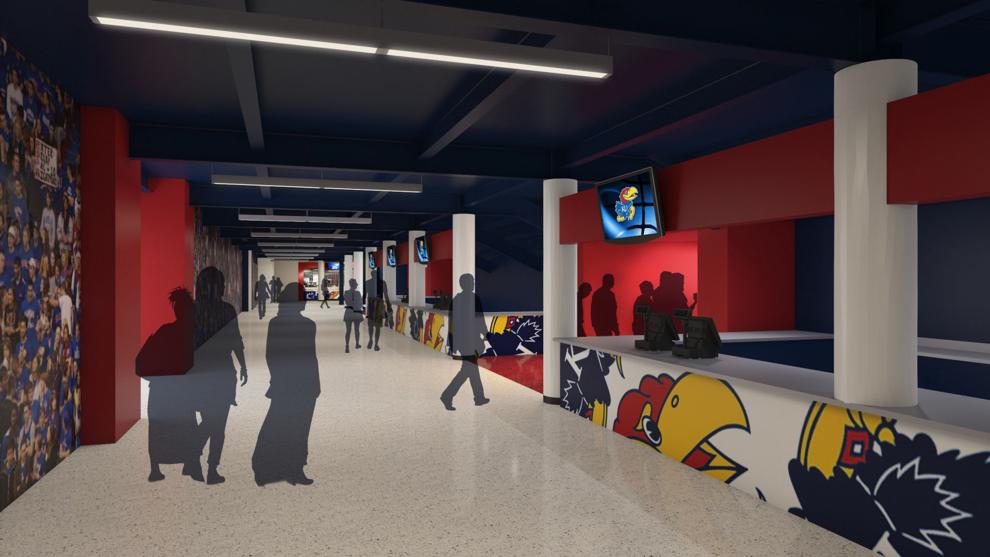 — Edited by Gabrielle Cinnamon