Kansas men's basketball coach Bill Self announced Thursday that the program is pushing back its start date for the 2020-21 season by two weeks. 
The team was originally going to start practice on a voluntary basis on July 6, but now they will not be in person until July 19. The Jayhawks couldn't start practice in-person, per NCAA rules, so moving the date two weeks isn't much of a setback, according to Self.
"I personally didn't think the reward outweighed the risk this early if you can't work with them," Self told the Lawrence Journal-World. "That was our thinking."
Self mentioned that he has talked to each player and their parents individually last week to discuss their return plans. 
Two of the 15 players on the 2020-21 roster are already in Lawrence, Self said. Those players include senior forward Silvio De Sousa, who has been in Lawrence for the entire pandemic, and senior guard Marcus Garrett who recently returned from Dallas.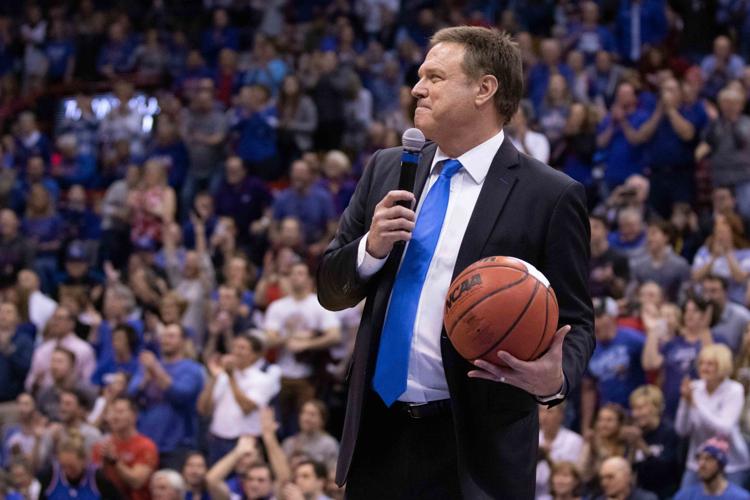 There's also a handful of players who only live within one or two hours away from campus, including junior guard Ochai Agbaji, senior guard Chris Teahan, sophomore guard Christian Braun, sophomore guard Dajuan Harris and incoming freshman guard Tyon Grant-Foster. 
Several other players from out-of-state — including Tulsa native incoming freshman Bryce Thompson and Texas natives sophomore guards Jalen Wilson and Michael Jankovich — still need to safely return to campus.
One Jayhawk that might have an especially hard time of returning is sophomore forward Tristan Enaruna, who is currently in the Netherlands with his family, and will not be allowed to return to the United States until the U.S. government lifts its European travel ban. 
The Centers for Disease Control and Prevention website stated that anyone who has been in the Netherlands in the previous 14 days may not enter the U.S.
Self noted that other teams will likely bring their players back sooner, but he does not see the benefit in that and does not think it will put the Jayhawks at a competitive disadvantage. Most players can workout and do basketball activities where they currently are in a much safer environment.
With basketball season not scheduled to begin until October, there is still plenty of time to work on getting all players back safely for the upcoming season.