The Kansas swimming team opened its season at the CSCAA Open Water Championship at Lone Star Lake on Sept. 14. This 3.1-mile race consisted of three repeated laps, with the women starting at 10 a.m.
Competing for the Jayhawks was senior Jenny Nusbaum, junior Crissie Blomquist and sophomores Katie Callahan and Claire Campbell. The four battled against 23 other teams, 81 swimmers in total. 
The majority of the race was led by a group of five swimmers. Directly behind, leading her own group, was Nusbaum, who had competed in the race twice before. Nusbaum set her personal record last year placing eighth with a time of 1:03:23.85. 
It came down to the final stretch as Nusbaum competed closely with Nebraska's Audrey Coffey. Nusbaum pulled through in the end and edged out Coffey.
Nusbaum finished with a time of 1:05:45, earning her seventh place. She fell within minutes of breaking her personal record of 1:03:23.85 set last year. Campbell finished next for Kansas in 13th with a time of 1:06:17.8, followed by Blomquist finishing in 20th at 1:07:49.7 and Callahan in 23rd at 1:08:12.4.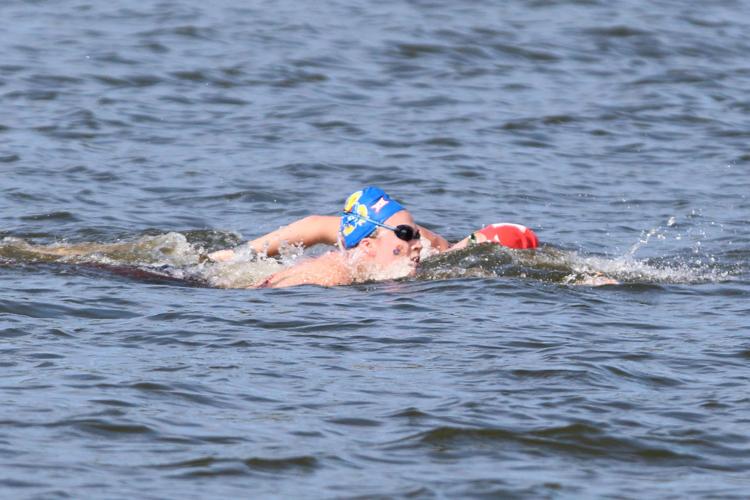 Every swimmer's position mattered in the race, but only the top three on each team were counted for points. The team with the lowest combined score was declared the champion.
Kansas finished in second with 40 points, just eight points short of Rice who earned 32. 
Texas A&M's Taylor Pike was recognized as a CSCAA national champion. The top team and top eight swimmers, with Nusbaum at seventh, were also honored.
The Jayhawks are set to compete again on Oct. 4 in Topeka at the Sunflower Showdown.