Kansas football announced the addition of 18 signees as a part of its 2021 Signing Class Wednesday. 
"We went out to get guys that were winners," Kansas football coach Les Miles said in a media availability Wednesday. "[We signed] guys that have played and competed and understood what it was like to win." 
The Jayhawks currently have the nation's No. 55-ranked recruiting class in 2021 according to 247Sports, led by three-star running back commit Devin Neal. More recruits are expected to sign to play for Kansas, as Wednesday was the first day of the early signing period.
"First of all, he's a very fine athlete and that's the first piece," Miles said of Neal. "Then, he also meets the criteria of being a high school player and a guy that can lead right from Lawrence." 
"We created a great relationship with him, with his family," Miles continued. "We think he's just what we need."
After finishing with the Big 12's No. 10-ranked recruiting class in 2020, Kansas moved up to No. 8 in 2021, moving ahead of TCU and Texas Tech.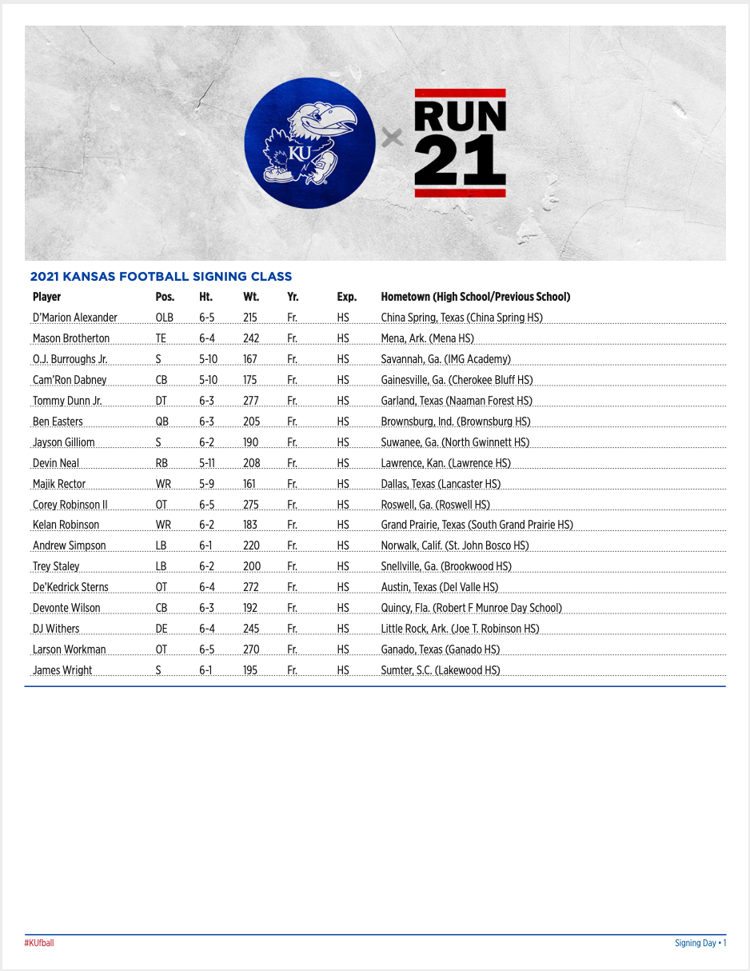 For many, Signing Day was the culmination of years of hard work and effort, especially for three-star cornerback Cam'Ron Dabney. 
"My family has been crying all day and talking to me," Dabney told the Kansan Wednesday. "I'm just happy and blessed to be in this position and have a chance to make my family proud." 
Among the 18 signees, six are expected to enroll early — quarterback Ben Easters; safety Jayson Gilliom; defensive backs O.J. Burroughs and DeVonte Wilson; and offensive linemen De'Kedrick Sterns and Larson Workman. The defensive back additions are key, too, as Miles said safety was Kansas' biggest need in its 2021 class.
Easters, a 6-foot-3, 195-pound pro-style quarterback from Brownsburg High School in Brownsburg, Indiana, is the No. 81-ranked pro-style quarterback in the class of 2021 according to 247Sports. 
"It's been a crazy and exciting day," Easters said. "People have been reaching out to me all day and congratulating me, saying they're excited to see my future."
"I've been waiting for this since I signed 16 months ago," Easters continued. "I can't wait to be a part of the turnaround of this program and put Kansas football back on top."