Softball has been a central focus of Taylor and Kala McElhaney's relationship ever since the beginning.
Taylor is a University of Kansas 2017 graduate and softball alumna, who started every single game, drew 22 walks and batted .226 with 24 hits during her last season playing softball as a Jayhawk, according to the KU athletics website. Toward the end of her final season, she proposed to her girlfriend Kala at Rock Chalk Park when the Jayhawks faced the University of Oklahoma April 15, 2017.
Kala, a former softball player and cheerleader, is a Sooner fan, so it worked out perfectly for Taylor's proposal.  
"A lot of times, I didn't think she'd want to be proposed to on the softball field," Taylor said. "But I got to thinking about it, and softball is what brought us together, and [it's] kind of been in both our lives forever, so I figured, why not do it at the place we both love, and we've both loved since we were like three."
Taylor said planning the proposal was easy thanks to assistance from her team and coaches.
"I was on a plane back from, I don't know where, probably Texas or something, but I was kind of like, 'Okay, I need to start thinking about this.' So I got in the locker room, and I kind of asked my girls, 'Hey, will you guys help me plan this?' And they all geeked out and and started cheering," Taylor said. "They were all excited, ready to plan it, ready for it to happen."
For Kala, the proposal at Rock Chalk Park was a total surprise.
"All of my friends and family came to this game, but like I said, I'm a big OU fan, and so are my friends," she said. "Obviously [we were] watching Taylor, so I did not think anything of it."
Kala said one of the assistant softball coaches asked her to meet near the locker room after the game to show her a slideshow created for Taylor to see on senior night.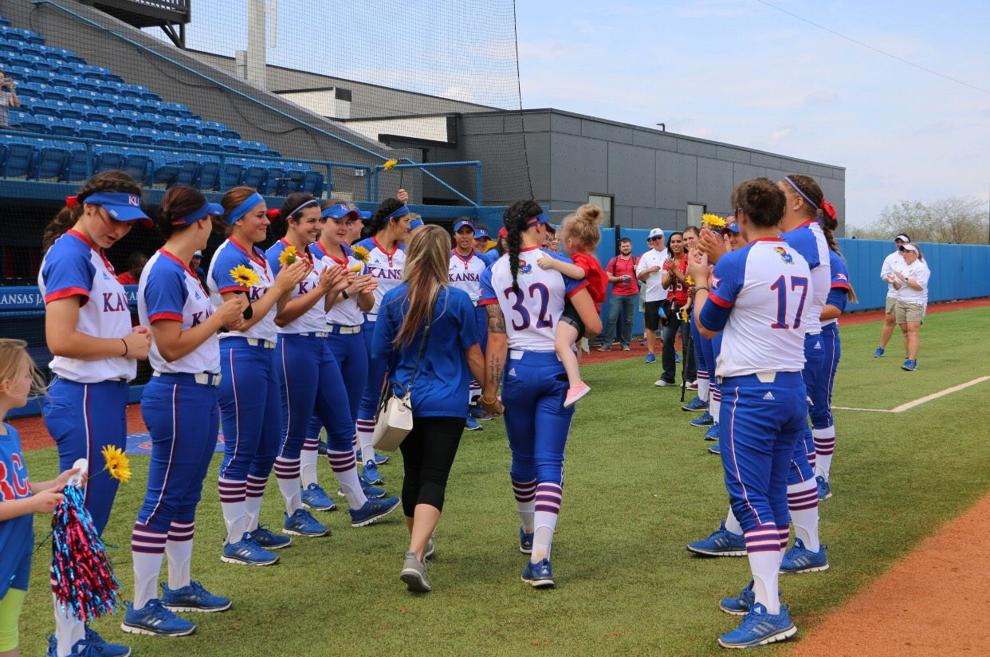 "And then she was like, 'Well you can just come on through on the field, it'll be faster.' So I went through the gate, and all I could see was a lot of people there on the field and music playing, so I was like 'Oh crap, I'm not supposed to be on the field.' So I turned around, and then her coaches were like 'No, no, go,' and then I looked and saw Taylor at home plate, and everybody was lined up, and my current cheer team was there too, so that was super special to me, and my friends and my family and all of her teammates," Kala said. "So yeah, I was beyond surprised."
Kala said she can't imagine life without her wife now; however, she said she wasn't ready for a relationship at first.
"I was super mean to Taylor," she said with a laugh. "I was not ready for anything. I kept trying to push her away."
Kala said she then realized it "was time to grow up and quit being dumb."
"I told her she could finally ask me out," she said. "After that, it was really quick. We got engaged seven months after."
The couple tied the knot Aug. 4, 2018, and currently live in Hutchinson. Kala is the head coach of the Hutchinson Community College Spirit Squad.
"Married life is great, actually," Taylor said. "I mean, it's great because she's my best friend."
After six months of marriage, the couple said they enjoy praying together and staying involved at their church.
In addition, Kala said Taylor is very supportive and involved with her cheer team.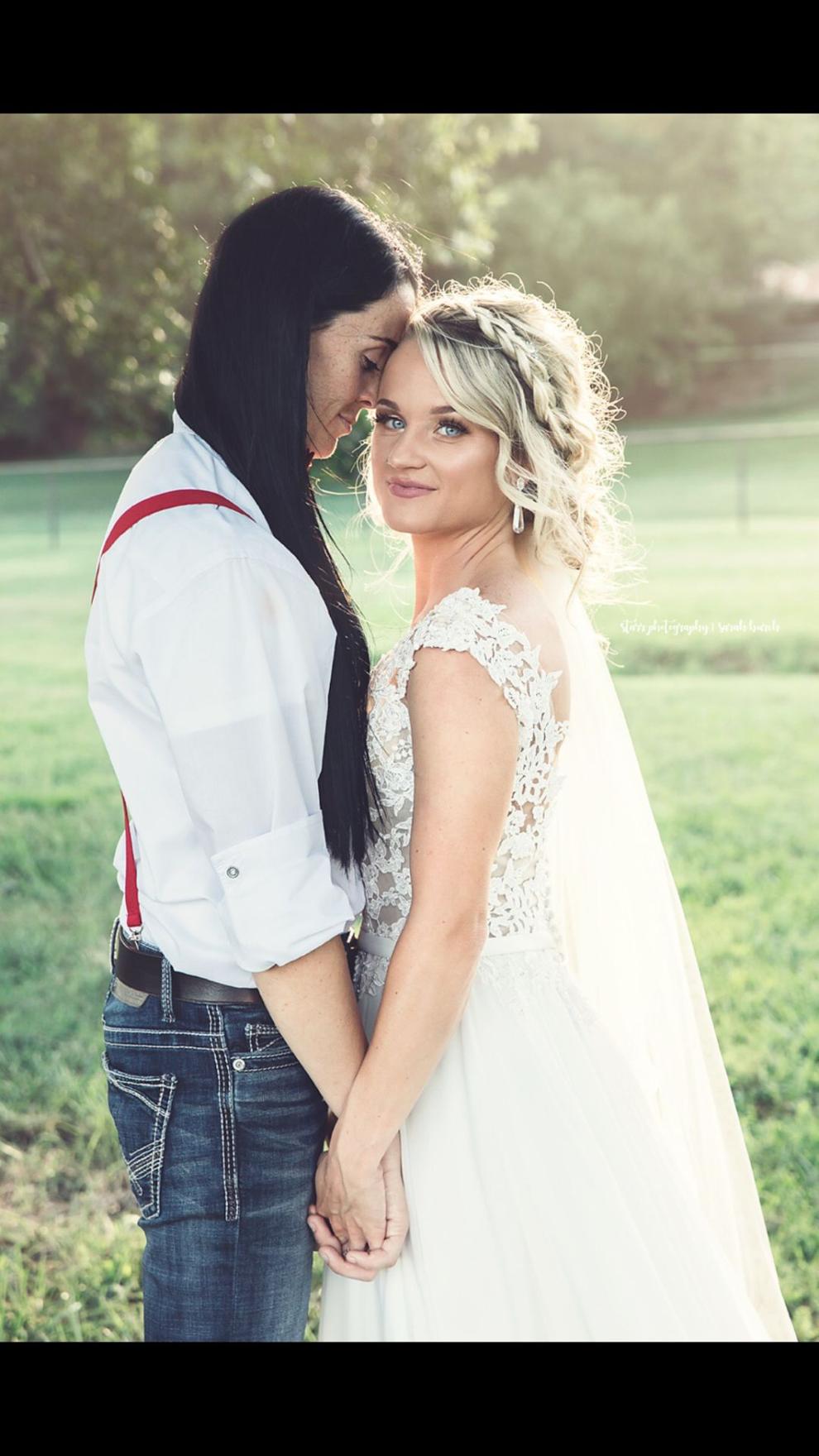 "She comes to practices, and they like love her so much, so that has made it so much easier because Taylor's just part of our team," Kala said.  
The key to a successful marriage, especially for couples involved in athletics or sports, is patience, Taylor said.
"For me, personally, I'm a coach's wife," she said. "Just be patient is what I would say. I'm a very patient person, but it helps tremendously because I know she's stressed out like 23 hours of the day, even when she's sleeping she's stressed. So I mean, just be patient. But definitely find time for the two of you, even if you have kids or anybody else, you've got to put just your relationship first at least once or twice a week."
Ahead of Valentine's Day, the couple plans to spend the evening together with a heart-shaped pizza and bottle of wine to celebrate.