Analysis
This was supposed to be a season of firsts for Kansas softball under new coach Jennifer McFalls, and through 35 games, Kansas has definitely set a few firsts this season.
The season began in a rough way for the Jayhawks as they lost their first five games of the season, and they were 4-14 before they played their first game at Arrocha Ballpark.
However, the tide seems to be shifting as of late, as Kansas now stands at 14-21 by virtue of winning 10 of its last 17 games. The team has also won six of its last seven contests.
To start the season, pitching was a struggle for the Jayhawks as they allowed 49 runs over their first five games.
The staff was unable to find much consistency as senior pitcher Brynn Minor wasn't able to find her groove in the circle, and freshman pitcher Lexy Mills was still trying to find her place in the rotation.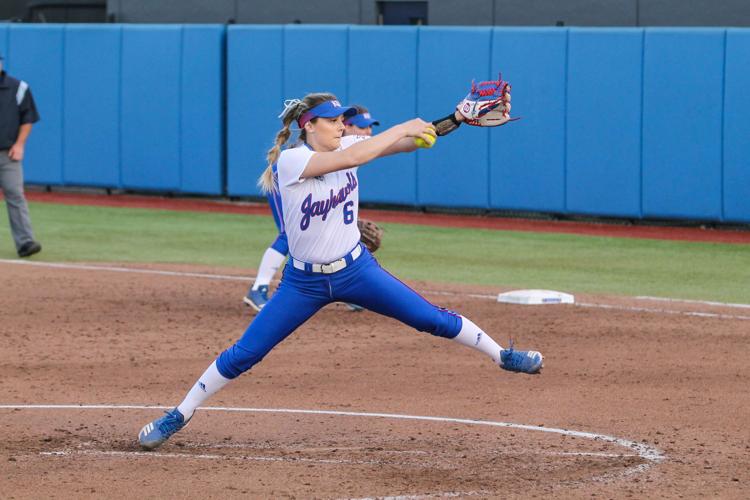 Offensively, Kansas tried to find a lineup that worked, and often it did, but not enough to overcome shaky pitching.
This season in games in which the Kansas pitching staff has allowed four or more runs, Kansas has averaged 4.3 runs per game and has a record of 5-15.
That means when Kansas allows three runs or fewer, Kansas is 9-6.
At this halfway point of the season, one fact has become nearly certain: when Kansas pitches well, it can usually win games, and when it doesn't, the offense has a hard time overcoming the deficit.
Outside of the large numbers, Kansas has had more than a few players surpassing expectations so far this season.
Junior infielder Madison Sykes has been a steady contributor to the lineup since her freshman season, and this year continues to be more of the same.
Sykes is currently hitting .292 with three home runs and 14 RBIs.
Redshirt freshman Sydnee Ramsey is leading the team with 17 RBIs after missing most of last season with a knee injury.
The biggest surprises, however, have been senior outfielder Jennifer Marwitz and freshman infielder Morgyn Wynne.
Marwitz saw little playing time her first two seasons as a Jayhawk and now in her final campaign has really begun heating up.
Marwitz is currently on a six-game hitting streak, batting .300 with 10 RBIs and scoring the first two home runs of her career.
Wynne, on the other hand, began the season slightly cold but has become an absolute offensive mainstay over the past 11 games.
Wynne leads the team in batting average at .309 and in home runs with six. Five of those six home runs came in a six-game span.
Kansas has found pitching stability, turning mainly to Minor and Mills as starters and then primarily using sophomore Hannah Todd as the first reliever out of the bullpen.
Time will tell how strong Kansas can finish this season, but the squad is young and playing with confidence after winning the first opening conference series since 2014 by taking two of three from Baylor.
If Kansas can keep this pace up, the team will make the Big 12 Championship tournament in Oklahoma City for the first time since it was resurrected in 2017.
—Edited by Nolan Brey